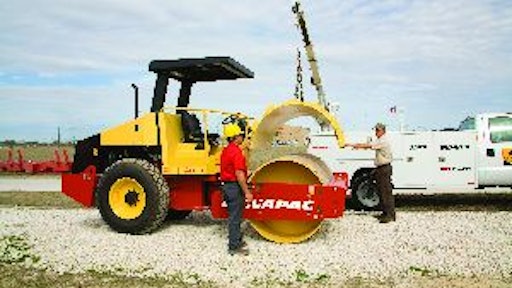 Having the right product for your customer at the right time is one of the keys to success for rental businesses, according to Bobby Griffin, who founded Blue Eagle Equipment in Spartanburg, SC. Multi-function soil compactors that can be quickly converted from one configuration to another are a great example of a versatile product that helps rental businesses do just that.
Drum conversion kits enable one compactor to be used in different applications, preventing the need for investing in more than one machine. They are offered by several leading manufacturers including
Bomag,
Dynapac
and Sakai.
Blue Eagle owns a
BOMAG
BW145DH-3 single-drum roller as part of its rental fleet. When fitted with an optional three-segment, bolt-on shell kit, it can be transformed from a 56-inch-wide smooth-drum roller for final finishing, to a similar-width padfoot soil consolidation compactor.
The concept is simple: The shell fits over the drum and is bolted in place. Kits come in both padfoot and smooth versions.
"The
Dynapac
shell kit is a clam shell design that fits around a smooth drum and converts a smooth drum roller to a padfoot roller," explains Fabian Salinas, product manager for concrete and light compaction equipment at
Dynapac
USA Inc. "The two halves are bolted together as well as bolted to the smooth drum."
Sakai, on the other hand, offers a smooth shell that mounts over the padfoot on
specially designed TF Series models. "These smooth shells bolt on to the existing padfoot, unlike competitive models that bolt the padfoot shell over the smooth," notes Shane Sirmons, marketing manager at Sakai. "This is a big advantage to the contractor, as adding the padfoot on top of the smooth drum dramatically changes the geometry between the drum and the driving wheels which can cause traction problems."
Converting from smooth to padfoot and vice versa takes about two to three hours, depending on the experience level of the technician. "I've seen service people install a shell kit in an hour and as long as four hours," says Salinas. "It depends on the familiarity of the service personnel, as well as being equipped with the right machinery and tools. The tedious part can be changing the scraper blade to the individual teeth version for the padfeet or vice versa."
The list price of a
Dynapac
conversion kit ranges from $11,000 to $17,000, Salinas says, noting that the price differs among manufacturers.
Conversion kits are ideal for rental companies like Blue Eagle, or mid-size operators that have a recurring need for a padfoot or smooth application but can't justify investing in two rollers.
"The ideal owner would be a rental house, contractor or other end user in an area where soil types vary greatly from granular and semi-cohesive soils where the smooth drums would be most productive, to cohesive silts and clays where the padfoot models work best," Sirmons says.
Conversion kits are most often seen on 54-, 66- and 84-inch rollers. "There seems to be a slightly larger volume of shell kits as the size of the machine goes up," Salinas says. "And that may just be the fact that the larger the machine, the larger the capital investment, thus making the flexibility of shell kits more attractive."
Do they affect the productivity of the machine? Maybe.
"Any roller with a shell kit attached will see a slight reduction in centrifugal force on the unit, simply by adding more weight to the front module," Salinas says. "All other parameters will stay generally the same, so typically most operators cannot see a difference in efficiency."
Sirmons says it might actually improve compaction. "There would be some additional static force on models [using a shell kit] over the dedicated models, but nothing intentional. Depending on jobsite circumstances, this may help gain compaction more quickly and thus, aid productivity."
Recipe for success
Bobby Griffin started Blue Eagle Equipment in 2004, after 22 years of experience working for others in the equipment rental industry. Only three years later, he opened a second, 12,000-square-foot branch in the Greenville, SC area, a move that enabled his company to significantly expand its customer base.
Griffin says there are four basic elements to success in the equipment rental business: product, customer service, location and accessibility. "It's imperative that you present your customer not only with the right equipment, but that you offer him the correct amount of service to go along with it," he says. "This includes making your store and its personnel available to your customer with timely rental, sales, information and instruction when it is convenient to him. In other words, don't make rental or sales calls when he is up to his elbows in alligators. Ask in advance when it would be convenient to meet with him, but be there when he needs that help."
Griffin adds that location is another concern. "Locate your store and shop where it is suitable to your customer," he advises. "Like you, he is a busy man. Try your best not to force him to go out of his way to find your place of business. Appropriate signage is important. Let people know who and where you are."
Griffin continues, "Going hand in glove with location is accessibility. The astute independent rental house owner will find a site for his business that is easy to get to and from. Ideally, this means at the uncrowded junction of one or more interstate highways. In so doing, you establish your business where your transport equipment can make timely deliveries and retrievals without undue traffic bottlenecks and delays."
Anything that you can do to facilitate the rental or sales of your equipment will ultimately result in a stronger bottom line for your business, Griffin says.
Another key element in Griffin's success has been in partnering with well-established manufacturers willing to provide essential backup support. Emblematic of this has been
BOMAG,
says John Montgomery, Blue Eagle store manager. "It's simply the best overall compaction value available today for our customers."
Blue Eagle Service Manager Will Tinsley adds, "All compactors are essentially self-destructing machines. They want to shake themselves apart.
BOMAG
produces a unit that will take the daily punishment of the toughest compaction jobs. Our customers want to get their job done fast with a reliable machine that's easy to operate.
The worlds of soil and asphalt compaction are changing rapidly due to advancing technologies, Griffin says. In the competitive business of equipment rental, you must offer your customers well-maintained, reliable, state-of-the-art machinery and tools.
Companies in this article