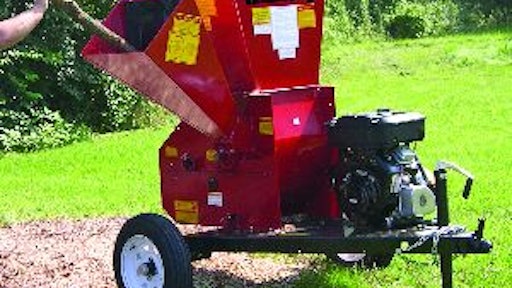 MacKissic SC262-18VERL
Merry Commerial by MacKissic's SC262-VERL Chip N Shred machine with its heavy-gauge, commercial construction, is highway towable with independent, Flexride suspension, 4-in. rapid-feed chipping as well as a shredding chamber with 48 free-swinging hammers. The SC262-18VERL Chip N Shred is powered by a 18-hp twin-cylinder Vanguard engine which features a rotor engagement system with load-free starting and overload protection as well as electric start. Reduces waste by as much as 20 to 1.
Compact Power Boxer 427
The Boxer 427 mini-skid features 9" x 42" rubber tracks for optimum traction and flotation with only 3.7 psi of ground pressure. Unit features a 900-lb. operating capacity and weighs roughly 2,450 lbs. (with operator) with a compact footprint of 44" x 70". Powered by a 27-hp Kohler Command Pro 27 gas engine, the Boxer 427 features a two-pump, 3,000-psi hydraulic operating system that develops 12.6 gpm of hydraulic flow to run the auxiliary and propulsion systems. Standard quick-attach system enables quick, easy switch-out of over 50 universal compact utility attachments.
Hilti Self-Sharpening Chisels
The 1 1/8-in. Hilti hex connection polygon chisels will help make your customers more productive than ever. Designed for use in both demolition hammers and stand-up breakers, the 1 1/8-in. hex connection chisels join the Hilti family of self-sharpening chisels. Made with a unique polygon design, these durable chisels stay sharper to provide a more positive rental experience. Hilti polygon chisels also increase the working length of flat and wide-flat chisels by 100 percent, allowing for deeper penetration. The unique design also helps prevent the chisel from jamming in the base material.
Forkster Multi-Tool System from Kaltec
The Forkster Multi-Tool System fits all mini skid steers and offers quick and easy tool change. It features one adapter plate with countless applications and includes a trencher, garden rake, garden fork, wheel barrow, hitch and spade.
New cab option for Mustang track loaders
Mustang has upgraded its air conditioning/heater system to create an optional pressurized can for each of its three current compact track loader models -- MTL16, MTL20 and MTL25. Mustang track loader cabs equipped with this option now have pressurization similar to modern, upscale agricultural tractor cabs, virtually eliminating entry of dust, dirt and debris. Noise is also kept at a minimum. The Generation II Air Conditioning/Heater included in the cab option is comprised of updated interior ducting, featuring six new adjustable louvers allowing the operator to control the amount and direction of the air flow. New dual, outside air intakes, working in conjunction with inside recirculation filters, minimize the dust and dirt. To maintain optimum visibility in cold weather, there's a special defroster vent located near the front cab door.
Bandit 1890XP
Bandit now offers its 18-in. capacity hydraulic-feed drum-style Model 1890XP brush chipper as a single-axle unit with a 180-hp engine. This engine was previously only available on the Model 1890HD (heavy-duty), whose dual axles and heavier frame often put the machine over the mandatory 10,000-lb. weight restrictions for local infrastructure. The Model 1890XP with 180-hp engine, nicknamed "The Brute," offers the same 18-in. chipper capacity on a single 12,000-lb. axle. Fully loaded, the unit weighs approximately 9,600 lbs. and is 94 in. wide. Like all Bandit hydraulic-feed drum chippes, the 1890XP also features the patented "power slot," which is cut into the belly of the chipper. This allows for proper flow of air through the discharge and provides a slot for chips that might remain in the housing to escape, making the chipper virtually impossible to plug.
Red Box Plus Mini Series
Red Box Plus, known for its patented combination roll-off and portable toilet design, has extended its product line to include the Red Box Plus Mini Series. The Mini Series is a 6-cu.-ft. yard container with two poly lids and attached portable toilets that is designed for events or construction projects with a minimal amount of space or waste. These units are ideal for small-to-medium size events such as block and graduation parties, outdoor wedding receptions, golf tournaments and small construction projects.
Nascent Design Power Shifter
The Power Shifter engine mounting system allows use of a single engine to power a wide range of power implements. Unit features a lightweight, easy-to-handle mount. Unit enables swap-out in seconds to backup engine in the event of engine failure. System is integrated at the manufacturing level in new machines, or retrofit module can be installed in certain existing machines by authorized service centers.
Case CX17B Compact Excavator
The new Case CX17B replaces the CX14 and delivers more power, greater stability and faster cycle times. The CX17B delivers 15.15 net horsepower, a swing speed of zero to 8.6 rpm, a bucket force of 3,417 lbs., an arm force of 2,248 lbs. and a lift capacity over the side of 1,380 lbs. A larger capacity hydraulic pump allows for cycle times to be faster, and a longer boom increases the working range by nearly half a foot.
Acer Safety Glasses from Elvex
The new generation of Acer safety glasses offers an abundance of features with a stylish look. Glasses feature full-coverage lenses, with a floating design; soft, rubber nose bridge; comfortable lightweight fit and they meet ANSI Z87+ high-velocity requirements. They are CE-certified and comply with EN-166 requirements. Available in four different lens versions.
New Accessories for IMT Dominator
Newly announced options make IMT Dominator mechanics trucks more productive and profitable. The CAS2545 compressed air system is a 45-cfm, hydraulically driven, rotary screw compressor with a maximum operating pressure of 150-psi. The unit is a single-stage, pressure-lubricated compressor designed for mobile or industrial applications. IMT also now offers select welder/generators manufactured by Miller Electric. Lastly, drawer sets are available in 13-, 26- and 39-in. widths and utilize 250-lb. slides across the entire range of drawers to meet the needs of the job at hand.
KIOTI DK45SE HST Tractor
KIOTI Tractor's DK45SE HST hydrostatic-drive compact tractor is powered by a four-cylinder Tier III diesel engine delivering 45 gross hp at 2,600 rpm. Unit features a 2,493-lb. lifting capacity and a three-point hitch for easy mounting of attachments or implements for augering, trenching, mowing, tilling, digging, plowing and clearing brush. Other features include 17.7-mph maximum travel speed, hydrostatic, independent PTO, telescopic three-point hitch ends, telescopic stabilizers, foldable ROPS, hydraulic power steering and optional mechanical creep speed gear.
Companies in this article