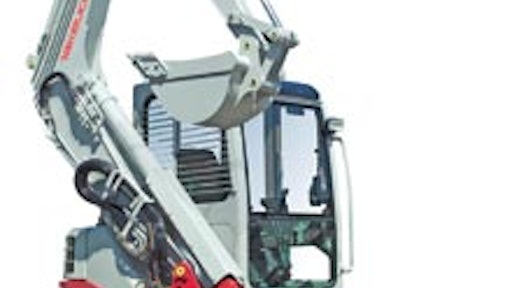 The following are products recently introduced to the rental market, as well as models which have undergone significant changes.
Takeuchi TB153FR Compact Excavator
The 12,450-lb. TB153FR has a 12-ft. 10-in. maximum dig depth and an 11,076-lbf. bucket breakout force. Zero tailswing and a side-to-side (STS) offset boom system enable slewing 360 degrees within inches of the machine width.The Interference Prevention System controls boom range of motion to prevent bucket from contacting the operator's station, while step-down travel motors automatically shift from high to low speed during turning or ascending of a steep grade. Unit is powered by an emissions-compliant, 38.8-hp Yanmar engine.
Systematic 6.0
Texada Software introduces Systematic Rental Management (SRM) Version 6.0 which offers a choice of support for Oracle SQL or Microsoft SQL. Smart Billing provides faster revenue collection and improved cash flow by automatically recognizing the optimal time to bill for a contract. Counter operations have been improved through a new user interface with faster search and contracts workflow that reduces the number of keystrokes needed to serve customers. Also included in the over 160 new features is effective job costing that tracks revenue and expense by customer, site and job thus allowing for accurate budgeting and General Ledger integrated reporting.
Makita 16" Power Cutter
Makita USA offers its new 81cc 16" power cutter featuring a five-stage filter system with Advanced Directional Air Flow. Unit offers a reinforced aluminum blade guard with a 70-degree range of limitless positioning. The starter grip and decompression valve are located on the same side for faster starting.
Rayco Super Crawlers
The C130 • C140 Super Crawlers from Rayco are designed to shred through dense undergrowth or rip through a stump. Powered by 130-hp Deutz or 140-hp John Deere engiens, unit features a two-speed track-driven undercarriage. Other features include load sense hydraulics, pilot-operated joystick controls and ergonomically designed heated/air conditioned cab.
Bandit Beast Recyclers with Extender Teeth
A new feature added to Bandit Beast Recyclers is giving them a stronger grinder: the Extender Teeth (XT) line of Beast teeth. Designed to help punch a higher volume of material through a Beast Recycler, the patent-pending fan teeth feature a raker in front of the cutting device to keep the material riding above it. Under normal operating conditions, the teeth should last hundreds of hours.
Combination Buckets
Combination buckets are available in four different sizes for leveling, dozing, digging, grappling, loading and dumping. Inertia-welded cylinders and hydraulic cushioning provide smooth, consistent operation. Interlocking, serrated grapple edges hold load securely. A clamshell design provides height advantage for loading trucks, while high-carbon steel cutting edges resist wear.
Atlas Copco DP 2800 Demolition Pulverizer
Atlas Copco Construction Tools introduces the DP 2800 hydraulic demolition pulverizer attachment. Featuring a compact design and providing 110 tons of crushing force at the jaw tip, the unit has a service weight of 6,280 lbs. and is designed for carriers in the 55,000- to 77,000-lb. weight class.
Newstripe Rollmaster 5000
Newstripe Inc. introduces the Rollmaster 5000 paint striper that pumps paint directly from a 5-gal. pail. Features include a disposable paint roller and hose for quick clean-up, battery-powered 12-volt gear motor that drives the pump, and an on-board charger for over 24 hours of continuous striping.
Blastrac Shot Blasting System
The Blastrac 1-8DPS30 self-propelled 8-in. shot blasting system is used to prepare concrete surfaces prior to the application of coatings or overlays.Features include self-propelled forward and reverse operation and 220-volt single-phase power option. Unit prepares up to 430 sq. ft. per hour.
Riveer Cyclonator DCX-40T
The Cyclonator DCX-40T drive-through portable wheel wash features durable, heavy-gauge steel construction and simple operation. Unit washes wheels and undercarriages of trucks and equipment up to 20 tons with 300-gpm flow and 60 psi of pressure. The holding tanks supply 800 gal. of washwater that is recycled for use. Unit can be operated with 460-volt three-phase power or dedicated genset and is easily moved to and from jobsites via a flatbed truck.