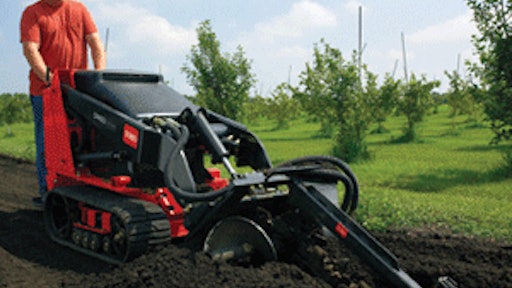 The following are products recently introduced to the rental market, as well as models which have undergone significant changes.
Toro TX 525 Wide Track
The Toro Company introduces the Dingo TX 525 Wide Track compact utility loader that features a 25-hp Kubota diesel engine. Unit is compatible with Toro's 35-plus attachments and offers four independent hydraulic pumps. Weighing 2,127 lbs., the TX 525 has a rated operating capacity of 553 lbs.
JLG 1230ES Aerial Work Platform
The Model 1230ES is an addition to JLG's family of Pro-Fit electric-powered aerial work platforms featuring an electric drive system combined with a multiphase hydraulic cylinder to elevate the mast platform. The hydraulic cylinder provides the power to lift or lower the platform in 12 seconds. Features include a 12-ft. platform height, 500-lb. platform capacity and 1,740-lb. weight. Unit stows to 30 in. wide by 65 1/4-in. high.
Bosch Litheon 36V Flexible Power System
Bosch Power Tools and Accessories offers the new Litheon 36V Flexible Power System (FPS) lithium-ion battery platform that features the option of two different task-specific 36-volt batter packs — the Litheon 36V SlimPack and 36V FatPack. With FPS, users can customize their 36-volt tool to the application based on weight and run time.
SunStar Infrared Spot Heaters
Available in natural and propane gas, the new SunStar RCH Series of spot heaters heat construction sites, large buildings and workshops and can be used in emergency heat situations, thawing applications and freeze protection applications. Units feature heavy gauge steel construction and come in either manual or energy-saving thermostatically controlled models.
Ditch Witch 420sx Vibratory Plow
The new Ditch Witch 420sx ride-on vibratory plow features 40-hp output and a dual-speed attachment drive. The operator's console moves with the operator and a fold-down ROPS enables the unit to maneuver under tree limbs, eaves and other low-hanging obstacles.
Thompson Arctic Knight Pump Package
Thompson Pump & Mfg. debuts the Arctic Knight cold weather pump package which allows a diesel-driven pump to be used in climates as cold as 40 degrees below zero F. The system eliminates the traditional problems of operating pumps in cold climates such as frozen liquids in the pump, cracked pump housings, and engine starting problems. System is completely independent and does not require other equipment such as generators or auxiliary heaters to operate.
Plugr Step Savr
The Plugr Step Savr mounts behind the PL850 Pro HD hydrostatic turf aerator and changes it from a walk-behind to a ride-behind unit. The special receiver hitchmounts to the aerator frame in minutes and permits quick release when not in use. Platform features a 31-in. wheel base, 10-in. pneumatic tires and a non-skid platform.
AIM GPL Buckets
AIM Attachments now offers a complete line of heavy-duty loader buckets for wheel loaders of all sizes. The GPL buckets feature durable construction with an AR400 steel cutting edge and reinforced corners and gussets.
All buckets are pre-drilled to accept optional bolt-on side cutters and teeth. The bucket design also features an abrasion-resistant bottom with thick wear straps.
Caterpillar C2.2 Engine
Caterpillar has added a new 2.2-liter compact diesel engine to its product offering for the construction, turf care and outdoor power equipment markets. The Cat C2.2 four-cylinder turbocharged engine is rated at 66 bhp at 2,800 rpm. Unit occupies 8.8 cu. ft. and weighs 428 lbs.