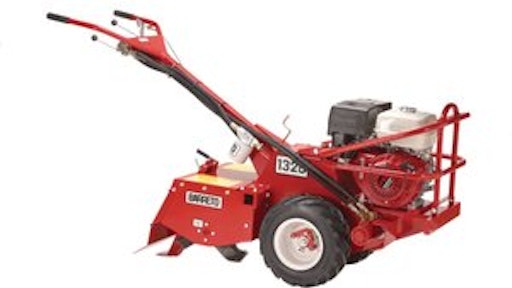 1320/1620 Rear-Tine Tiller
All-hydraulic technology - no belts, gears or chains
Simple control panel
Tine rotate in forward and reverse
Safety clutch
Barreto Manufacturing Inc.
25Qi AVP
Vandermolen Wood-Pro 25Qi AVP
38" x 70" footprint
2-cylinder, 16-hp electric-start Briggs Stratton OHV Vanguard engine
Processes any type of vegetation through one hopper
For leaves, weeds, clippings and general garden waste to 4-in. fully-dressed limbs or brush
Vandermolen Corp.
AE400H aerator
4-hp Honda GX engine
Proprietary water tank is desgined to fill and drain easily and holds up to 50 lbs. of water
Optimum weight placement makes lifting the tine assembly out of the ground easy and yields the greatest tine penetration
Billy Goat Ind. Inc.
E-System
Collection of electric-powered landscaping tools for professional and residential use, including a pruner, edger, line trimmer and hedge trimmer
Tools use E-System Power Head featuring a 850W double-insulated motor that offers a max speed of 8,000 rpm and a shaft length of 36 in.
Can be purchased as a complete system or mix and match to suit needs
Mantis
FRC800
Rear-tine tiller
Overall weight of 275 lbs.
8-hp GX Series engine
Clutch disengagement lever
Four-position handle adjustment
219-rpm tine speed
20-in. tilling width
12-in. tines for deep tilling
American Honda Motor Co.
Hydrostatic-Drive Sod Cutters
The new hydrostatic-drive sod cutters from Classen offer smooth, consistent power flow with infinitely variable transport speeds of up to 4.7 mph. Features include powered reverse, multiple cutting widths (12, 18, 20 or 24 in.), simple controls within easy reach and center blade placement that ensures a more consistent cutting depth. New sod cutters also offer easy depth adjustment up to 2.5 in.
Classen
JR. Sod Cutters
12- or 18-in. cutting widths
Self-propelled with knob-tread drive wheels
135 ft. per minute speed
5.5- or 6-hp Briggs & Stratton engines
Optional trenching and mole blade attachments
Optional tote trailer for on-road trailer use
Ryan
Mighty Mac Walk-behind Blowers
Light, compact design
Quiet, balanced, high-speed poly impeller with up to 200 mph and 2,000 cfm
Loop adjustable handle assembly with cushioned antivibe grip
Kickable discharge to divert air up, down, forward, or sideways
MacKissic Inc.
T282 Trimmer
The T282 features an ergonomically designed, softer loop handle with an 8° angle providing reduced operator fatigue and a more natural wrist position.
28.9 cc displacement, 1.4 hp (1.0 kW) horsepower
Quality two-ring piston and chrome-plated cylinder for maximum durability
Hollow, 8mm steel mainshaft for reduced weight and ultimate power transfer to the cutting attachment
Electronic ignition system for easy starts every time
Popular Speed-Feed® trimmer head standard equipment
Shindaiwa Inc.
Tillers
All-gear driven, rear-tine tillers
8-in. dig depth
Easily adjusted handles
Power unit can become a sweeper, rotary brush mower or flail mower
BCS America, Inc.
Titan Hydroseeder
The Titan Hydroseeder is suited for extremely large coverage areas, steep slopes and hard-to-reach areas of the jobsite.
Powered by a 170-hp Cummins QSB turbo diesel, Tier III-compliant engine
Spraying distances of up to 320 ft. from the discharge tower
Tank sizes range from working capacities of 2,500 to 3,600 gal.
Handles tougher material mixtures and heavier products, such as bonded fiber mixtures
Finn Corporation
Companies in this article