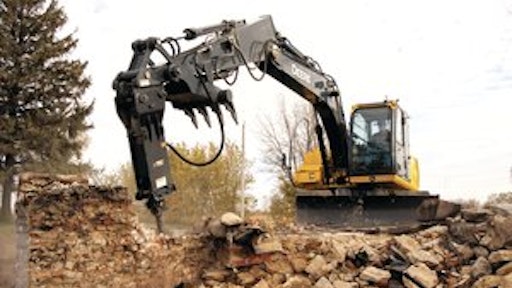 120D and 135D
12- to 13.5-metric-ton models
Tier III-certified diesel engines
Hydraulic recirculation system
Three modes can be selected to match the engine rpm to the operating conditions and application
John Deere Construction and Forestry Division
4-Stroke Backpack Blower
Makitas new back-pack blower (model BBX7600) features a 4-stroke, 75.6cc commercial-duty engine, which requires no fuel mix, and is EPA Phase II, CARB Tier III-compliant. The blower is equipped with a large capacity muffler for quieter operation. Unit will deliver up to 80 minutes of continuous operation on a 64-oz. fuel tank. Maximum air speed is 195 mpg and maximum air volume is 526 cubic feet per minute.
Makita USA, Inc.
Bobcat 225 Welder Generator
The Bobcat 225 gas engine-driven welder generator now has a fully enclosed case for added protection and quieter, cooler operation.
Directs hot air away from engine for cooler operation in hot weather or when mounted in a confined space with restricted airflow, such as in a truck bed
Sound levels reduced by 33%
Provides 10,500 watts of generator power and up to 225 amps of welding output (Stick, flux cored, MIG, TIG and air carbon arc gouging)
23-hp Kohler or 22-hp Subaru/Robin gas engine
MILLER ELECTRIC MFG CO
Common attachments for JLG, SkyTrak & Lull Telehandlers
JLG introduces a new family of common attachments for JLG, SkyTrak and Lull branded telehandlers, including a grapple bucket, an 8-ft. tower and fork-mounted work platform plus a variety of material buckets, truss booms and carriages of varying sizes and fork options. The family of attachments uses a common quick-attach coupler across all product lines, increasing commonality and fleet cross-utilization so customers can maximize their fleet flexibility. The introduction of this line of attachments will simplify attachment ordering and stocking for customers.
JLG Industries, Inc.
D-5 Drain Cleaning Machine
The new Model D-5 combines professional quality and affordability in a continuous cable drum machine for cleaning 3- to 10-in. diameter lines up to 100 ft. and runs 3/4"-diameter Tri-Max cable. The High density polyethylene drum and belt guard will not rust or dent. Three sealed heavy-duty ball bearings support the drum and a thick wall guide tube extends wear. Powered by a heavy-duty 1/2 H.P. capacitor-type motor to provide more torque. The power feed and drum can be quickly removed. Loading wheel is built into the handle.
Electric Eel
HH225c
The HH225c 8-in. pump produces large flows and high discharge heads for applications including sewer bypass, mine/quarry dewatering and temporary fire protection systems.
Hydraulic efficiency up to 82%
Handles solids up to 3 3/8 in.
Capable of producing flows up to 5400 gpm and discharge head up to 405-ft.
Engine and pump mounted on galvanized skids to protect against rust and corrosion


The HH225c 8-inch pump from Rain for Rent produces large flows and high discharge heads for applications including sewer bypass, mine/quarry dewatering, and temporary fire protection systems. With superior hydraulic efficiency up to 82%, this pump is able to move more gallons of water at a lower fuel-cost. The versatile HH225c can handle solids up to 3 3/8-inch. The pump is capable of producing flows up to 5400 GPM and discharge head up to 405-feet. The engine and pump are mounted on galvanized skids to protect against rust and corrosion. Combine this 8-inch pump with other Rain for Rent products for a complete system to solve your unique liquid handling problems.
Rain For Rent
Merry Commercial Mini Stump Cutter
The new MacKissic Merry Commercial Mini Stump Cutter, like its big brother, features a unique operator position that allows the user to see the stump and cutter head at all times during operation. The cutter head orientation provides smooth stump removal and the ability to see the work in progress, resulting in faster and safer stump removal. MacKissics product-category exclusive braking system stops the cutter head in less than three seconds.
MacKissic Inc.
Model 1K Compact Articulating Loader
The model 1K features a 48-hp Cummins diesel engine with an easy-access transverse mounting.
Two-speed hydrostatics
Planetary reduction hubs on each of the four drive wheels
Drive system includes a 45

° limited slip function

No-scuff articulated steering for work on sensitive surfaces

Universal tool carrier and 17.3 gpm auxiliary hydraulics
Swinger Compact Loaders (formerly NMC Wollard)
Partymoon
Powermoon introduces the Partymoon, an inflatable balloon-light for parties, weddings, marketing and more. Starting at a retail price of $790 and equipped with energy-saving lamps, the partymoon is very low in both acquisition and operating costs. Replacement bulbs cost about $4 and are available in most department stores. The color of a Partymoon can be easily changed by using colored filter foils that wrap around the energy-saving bulbs. There are more than 1,000 colors to choose from and adhesive decals can be easily applied and pulled off again without leaving a trace. The partymoon can be used indoors and out and available in three power versions.
Powermoon Enterprises, Inc.
PC88MR-8 Mid-Sized Hydraulic Excavator
Komatsu America Corp. (KAC) announces the PC88MR-8 mid-sized hydraulic excavator designed to bring increased production and added operator comfort to contractors in a wide variety of construction, utility, landscaping and other excavating applications. The eight ton class (8.4 metric tons) unit bridges the gap between "compact" and "construction" -sized units. The PC88MR-8 is equipped with the latest KOMTRAXTM technology which sends machine operating information to a secure website utilizing wireless technology. Real-time data including machine operating hours, machine location and fuel levels are relayed to the web application for customer viewing and analysis. The PC88MR-8 gets it power from a Komatsu Tier 3, 65-HP diesel engine, which has an increase of 17 percent more power than the prior model PC78MR-6. It also features increased drawbar pull, faster travel speed, 10 percent more arm digging force and a significant improvement in dozer blade travel to enhance grading and backfill operations. The PC88MR-8 has an operating weight of 18,558 pounds and features a maximum digging depth of 15 ft. 2 in., with a maximum reach of 23 ft. 5 in. The standard auxiliary hydraulic system flow of 33 GPM can be easily changed from single direction flow to bi-directional flow to provide superior hydraulic attachment productivity.
Komatsu America Corp.
Pressure Washer Engines
Honda Engines recently debuted its new series of general purpose engines specifically and solely designed for pressure washer applications. Hondas GX200TQAPW, GX390T1QAPW and GCV190LAN5AP engines are uniquely designed to provide smooth and reliable power to a variety of residential and commercial pressure washers. All three engines have been expressly tuned to provide maximum pressure washer output and feature exclusive components designed to match the needs of pressure washer users. Maximum power for the engines is achieved via improved engine cooling, while special induction components enhance engine breathing. In addition to meeting new, more stringent California emission requirements, Honda Engines meet or exceed all EPA requirements.
American Honda Motor Co.
SmarterDVR 150
Smarter Security Systems, provider of intelligent entrance control and outdoor security solutions, announces the availability of the SmarterDVR 150, a self-powered camera, DVR, and wireless communication system that secures valuable and vulnerable outdoor assets. SmarterDVR 150 is an all-inclusive, discreet box that includes a still camera, a video camera, invisible IR for nighttime security, a flash-based DVR, and a GSM cellular modem that can send alarm alerts via text messages or via emails with snapshot evidence. SmarterDVR 150 is powered by a rechargeable battery which can be charged by an optional solar panel for perpetual use. The integrated cell modem allows SmarterDVR 150 to send email notifications and text messages to multiple people when there is an alarm. With an intuitive website to remotely manage multiple SmarterDVR 150s and view all still camera images, the systems can easily be placed in remote locations and left unattended for extended periods.
Smarter Security Systems, Ltd.
STT80 Tow Forklift
Sellick unveils the all-new STT80 Tow Forklift, designed primarily for the modular home manufacturing industry. Able to tow heavy or extremely large loads efficiently and safely in rough terrain environments, the STT80 is available in two- and four-wheel drive and has a lift capacity of 13,000 lbs. at 12-ft. load center and an 8,000-lb. drawbar pull. Powered by a Dieselmax Turbocharged 444 Tier III compliant diesel engine, the STT80 features a powershift transmission and slider-type no-bearing mast with 2-5/16-in. ball hitch for easy engagement.
Sellick Equipment Ltd
T30 Super Quiet Generator
Terex announces a brand new addition to its generator line, the T30 Super Quiet Generator. The T30 comes standard with 110 percent spill containment, simple user-friendly controls and a fuel tank sized for 24 hours of continuous operation. Powered by a Tier 4 compliant 37.7-hp Kubota diesel engine, the T30 is designed to deliver consistent power for common uses, like construction jobsites, to unique applications, like cellular phone tower support. The T30 provides 29 kilovolt amps of prime three-phase power. Operators have the flexibility to use three-phase power, single-phase power or both simultaneously as the situation demands. Three-phase voltages include 208/220/240/440/480 while single-phase voltages are 120/240.
Terex Corp
VC20-U and VC40-U vacuums
The new Hilti VC20-U and VC40-U vacuums allow your work to be virtually dust and dirt free. Designed specifically for building and construction, mechanical, electrical and interior finishing, the units are for dry and wet cutting, grinding, drilling and dry coring, wet coring, angle grinding, and wood applications. Equipped with 1,200-watt power and automatic power filter cleaning technology, units feature a valve that opens automatically every 15 seconds, reversing the air flow three times per millisecond, shaking the filter clean.
Hilti Inc
Zaxis 60USB-3
Hitachis new ZX60USB-3 ultra-short excavator has a swing boom toat moves 80 degrees to the left and 60 degrees to the right. The new excavator is powered by a Yanmar 4TNV98 Tier-IV certified engine and features an Exhaust Gas Recirculation system, an electronic governor to adjust fuel-injection volume and enigne speed, and an isochronous control electronic governor to reduce fuel consumption and noise. The cab is TOPS/ROPS/OPG designed, and the Zaxis 60USB-3 is abaialbe with rubber or steel tracks.
Hitachi Construction Equipment