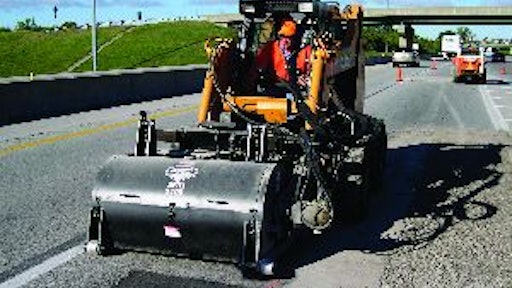 CONEXPO-CON/AGG will have plenty of new construction equipment and technology on display for the rental industry. Here's what you'll see at the show:
125,000 construction industry professionals
More than 2,000 exhibits
2.2 million net square feet of exhibit space
120 education sessions, certification programs and conferences
Here's a look at some of the products you'll be able to see on the exhibit floor. For more information, just circle the inquiry number on the reader service card included in this issue.
Coneqtec AP Cold Planers
High-torque, direct-drive motors
Fastest cutting drum head available (no remilling)
Chews up the road into chunks, not powder
Skid steer weight placed directly on drum
12- to 48-in. width sizes available
Booth #G-180
Bobcat T320 Compact Track Loader
92-hp diesel engine
Vertical lift path loader
3,200-lb. rated operating capacity
18-in. wide rubber tracks produce low ground disturbance, reduce ground pressure and provide extra traction
10-ft. 9-in. lift height
Equipped with hydraulic system that produces 21.2 gpm
Permanently lubricated idlers and rollers
Features include fully adjustable suspension seat and state-of-the-art instrument panels
Booth # G-100
Weber CR 3 Hd & CR 3 Diesel
Lower hand/arm vibrations, reduced noise level through protection covers, and adjustable handle bar
Optimized air intake system with cyclone filter to protect engine against dust and premature wear
Equipped with the compaction control system from Weber MT (COMPATROL)
Operating weight of 448 to 522 lbs.; operating width of 20 or 24 in. with extension plates
Honda GX 270 (gasoline 9 hp) or Hatz 1 B 20 (diesel 4.6 hp)
Working speed up to 66 fpm
Booth #629
Leading Attachments Ripper Bucket
Allows the excavator operator to rip through rock, pry stumps or dig V trenches
Saves digging time, backfill time and backfill material
Powerful like a single-pointed ripper, but allows operator to scoop
Supplied with one powerful MTG KingMet tooth
Available for any excavator above 6,000 lbs.
Booth # N-1100
The Equipment Lock Co. Skidsteer Lock
Locks both drive controls of all skid-steer loaders
Available with barrel-style key
Order multiple units keyed alike
Also available with built-in changeable combination lock; set your own four-digit code
Durable baked-on powder coat finish
Booth # C-4645
Sage Oil 11126 Lube Trailer
Patented vacuum and pressure system
One 120-gal. used product tank and five fresh fluid tanks with 360-gal. capacity
Reel Cabinet with 25-ft. spring-retractable hose reels
8-hp on-board air compressor
Used Filter Receptacle and Filter Stinger
Booth # S-9643
Cummins Product Line
Full lineup of engines extending from the compact 1.7-liter A Series to the powerful 15-liter QSX
Fluid and air products from Cummins Filtration
Power pack capability from Cummins Power Products
Genset technology from Cummins Power Generation
Booth # S-16013
Volvo ECR88 Compact Excavator
56.8-hp engine
Weighs 18,078 lbs.
Digging depth of 13 ft., 7 in.
Digging force bucket 12,589 lbs.
Tail swing radius of 47.6 in.
Designed to meet the needs of operators who work in confining, narrow and restricted-space sites
Auto-idling system gives the operater lower fuel consumption and longer engine life
Hydraulic system supplies power and flow to the cylinders as needed
Booth # N-2059 (indoor); G-134 (outdoor)
Manitou Maniscopics
18 models of fixed-frame and rotating telescopic forklifts
Manufactures and distributes vertical-masted forklifts, telescopic handlers, truck-mounted forklifts, and masts to dealers and OEM customers throughout the United States
Booth # G-195
Atlas Copco CC 2500 Demolition Attachment
Provides more than 300 tons maximum cutting force at the jaw tip
Single-pin jaw retention design improves operator visibility and reduces time needed to switch jaws
Advanced speed valve for shorter cycle times and increased production
Ideal for building and steel structure demolition, secondary reduction and material separation
Available with both universal and steel-cutting jaws
Booth # C-7321
Mi-T-M Combination Air Compressor/Generator
Unique air compressor with built-in generator system
13-hp/389-cc displacement Honda OHV engine
Cast-iron crankcase, 120-volt alternator
Industrial 3,500-watt generator, 15.7 cfm at 175 psi
Two-stage compressor
Seven-gauge base plate to reduce vibration
Powder coated two-piece belt guard
Powder coated 8-gal. twin tank receivers
Booth #S-11328
John Deere 313 and 315 Skid Steers
Operating capacities of 1,300 and 1,500 lbs.
Bucket breakout force of 3,300 lbs.
59 in. wide for confined spaces (56-in. width optional)
10 in. by 16.5 in. tires for traction and flotation (7 x 15 in. tires optional)
Heavy-duty drive chains never need adjusting
360-degree visibility
Booth # N-1541
Allmand TLB-6235
Full-time mechanical four-wheel-drive system and a servo-controlled hydrostatic transmission
35-hp Isuzu liquid-cooled diesel engine
ESL (Extended Service Life) backhoe with up to a 9-ft. 10-in. digging depth and a 6,000-lb. bucket digging force
1/2-cu.-yd. loader bucket
Load-sensing hydraulic steering system
Planetary rear axle assembly
Booth #G-184
RGC HydraSaws
Four models with cutting depths from 5 1/4 to 9 1/2 in.
Cut concrete, stone, masonry, brick, block, rebar, pipe, etc.
For horizontal, vertical, wet, dry and underwater cutting and in confined spaces
Hydraulic direct drive power maintains constant cutting speeds and torque
Use with RGCs HydraCart for continuous floor and slab cutting
Booth # S-8833
Subaru EX Series Engines
First to utilize chain-driven OHC technology in the industrial air-cooled market
Four models ranging from 4.5 to 9 hp
OHC design and optimized-capacity rigid mufflers make EX engines quieter than other same-class engines
Pent-roof-type combustion chamber allows a high compression ratio, which produces higher power and torque while limiting exhaust and fuel consumption
Easier starts with an automatic decompression system, which reduces the required recoil pulling force by 30% to 40%
Booth # S-16204
BJM KZN
Constructed with the following abrasive-resistant 28% chrome iron components: agitator, wear plate and semi-open impeller
Model is protected by Class H motor insulation, double silicon carbide mechanical seals, heavy-duty lip seal, stainless-steel shaft and shaft sleeve, and pump volutes cast from hardened ductile iron
Top discharge pump
Booth # S-10220
IronPlant Online Auction
For buying and selling used heavy equipment and trucks
Provide detailed inspection reports on hundreds of items and guarantee equipment condition with the IronClad Assurance
Facilitates the sale and purchase of each item on its website to provide a secure transaction
Booth # C-5522
Miller Electric CST 280 Stick/TIG Welders
Now available in 8-pack rack
Puts eight superior inverter welding machines in a rugged, lightweight rack
At 653 lbs., it's light enough to be lifted in an elevator
Features lift eye and lift truck fork pockets
Small footprint takes up minimal jobsite space
Booth #S-660
General Equipment Hand-Held Floor Covering Scraper
Electric-powered
Removes carpet, tile, linoleum, mastics and more
5-in. cutting width
Operates on standard 115-volt power source
1.2-hp electric motor
Booth # S-11229
Sneller Stump Mill & Shredder
Self-powered, not hydraulic
Mounted with no modifications to an existing excavator or Sneller's Multi-Task Carrier
Bearing life up to 7,000 hours
Attachments are ideal for wet jobs
Booth # N-1903
Takeuchi TL120 Compact Track Loader
Tipping load of 3,549 lbs., with a 4,821-lb. bucket breakout force in the bucket cylinders or 5,042 lbs. in the lift arm cylinders
52-hp turbo diesel engine with emergency engine shutdown system
High sprocket planetary drive system provides efficient speed reduction and torque amplification, while eliminating drive chains, chain cases, axles and hubs
Pilot-operated joystick controls provide precise fingertip control of loader and travel functions
59.5-in. operating width and 126.8-in. length allow for easy transport
Booth #N-2659
Mody Top Discharge Dewatering Pumps
Designed to fit in 6.5-, 8-, 12-, 16-, or 18-in. well casings
Capable of handling contaminated fluids at most construction sites
Rugged, epoxy-coated, stainless steel-fitted pumps
Also available in complete 304/316 stainless-steel construction
Booth # C-4737
Bandit Model 3590 Whole Tree Chipper
For converting tops from logging and land clearing operations into dimensional chips
Engine options up to 1,000-hp
30-in. chipping capacity with 30" x 48" chipper opening
Track-style infeed conveyor easily pulls in whole trees
New style discharge system fully loads end-opening chip vans
Booth # C-7355
Wyco Internal Concrete Vibrator
Pantented Square Head vibrator head design
Provides 20 to 50% faster consolidation (square head versus round head)
Delivers more torque with less amps
Retains speed under heavier load
Exceeds industry standards to assure safety
Booth # S-9245
Terex PB16 & PB21 Power Buggies
Simultaneous, variable-hydraulic dump and hydrostatic drive capability allow for feathering of loads in forward and reverse
Two models available have a load capacity of 16 and 21 cu. ft.
Power supplied through heavy-duty hydraulic pump and two efficiency driver motors for high speeds up to 7.25 mph at 4,000 rpm
PB16 can carry a maximum load of 2,500 lbs., has a 3.5-in. discharge height, 13-hp Honda engine and 1,260-lb. operating weight
PB21 carries a maximum load of 3,200 lbs., has a 4.75-in. discharge height, an 18-hp B&S engine and a 1,480-lb. operating weight
Booth # G-200
Mustang Pressurized Cab Option
Upgraded air conditioning/heater system to create an optional pressurized cab for Mustang compact track loaders models MTL16, MTL20, MTL25
Virtually eliminates entry of dust, dirt and debris
Noise kept at a minimum
System comprised of updated interior ducting, featuring six adjustable louvers
Special defroster vent located near front cab door
Booth # N-2741
Work Area Protection Nite Lite
Provides a non-glaring white light for all moving and static nighttime construction projects
Lightweight and easily transportable
Microprocessor-controlled electronics ignite the 400-watt Pulse Start Metal Halide lamp
Draws only 4 amps at 120 volts AC from a 60-Hz electrical source
Light output rated at 42,000 lumens for lighting up to a 15,000-sq.-ft. area
Booth # S-11039
Genie GS-1930 Electric Scissor Lifts
Standard with low-emission electric drives deliver quiet, convenient method for operation in sound-sensitive environments
2-ft. 6-in. profile allows for unit to pass easily through standard doorways
Ideal for working in office buildings, shopping malls, hotels, schools and more
Works to a height of 25 ft. and lifts up to 500 lbs.
30% gradeability
Booth # G-200
Companies in this article