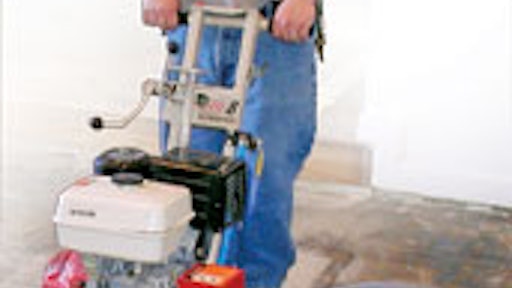 Concrete surface preparation is a mechanical or chemical process that modifies the profile of a surface. The applications for surface preparation equipment are very diverse and can range from removing coatings from floors to leveling concrete.
The equipment used in surface prep is as diverse as the applications: scarifiers (or surface planers), strippers, surface grinders, shot-blasting equipment, and acids and chemicals. Chemicals and acids are used for stripping floors, but as concerns about disposal grow, there is an increased demand for scarifiers and grinders.
A scarifier uses flails and an enormous amount of energy to impact a surface to either change the profile or remove a coating. It can remove a layer of concrete or be used to texture or groove. It's usually used to level a surface that will be covered with a cementatious type of product, coating or topping.
A stripper machine will remove old glues or other types of adhesive residue. It will also scrape off any type of floor covering that might be on top of the concrete.
A surface grinder uses horizontally rotating discs to level, smooth or clean the top surface of a concrete slab. Most suppliers offer single- or dual-head machines, while EDCO offers a quad. This machine can remove humps, crowns, peaks and curls in concrete. It can remove thin coatings while leveling and smoothing the surface. It can also be fitted with silicon carbide stones for grinding and cleaning.
Shot-blasting equipment throws or sprays small steel shot (BBs) at a very high velocity toward the surface being prepared. The shot knocks away the paint or other coatings and rebounds into the machine. A vacuum system sucks up the debris and the shot is recycled. Different sized shot, shot rate and machine speed can be adjusted for different coatings and concrete hardness.
"Shot blasting can be used alone or in combination with scraping, scarifying or grinding," says Amy Flanagan with Blastrac, a supplier of surface preparation equipment. "In many projects, it's very common to use one or more types of surface preparation tools."
Figuring it all out
Each surface preparation technology has its pros and cons, and many times a combination of surface prep methods is best for the job at hand. One way to make sure your customers receive the proper equipment is to make sure you understand the scope of their project.
"Everyone's needs are different," says Dennis Von Ruden with General Equipment. "You can have projects as small as a closet to projects as large as a convention center. Who is using the equipment is important to know, too. Is it a Saturday morning commando or a surface prep contractor? The equipment is easy enough to run for either customer, but the applications will definitely be different."
Other questions to ask include:
What type of material is the customer trying to remove? Knowing the right material can help determine the right process to remove the coating.
How thick is the material they're removing? Generally speaking, a thick substance is easier to remove because it will have a weaker mechanical bond to the cap surface.
What type of base surface is it? Concrete or asphalt?
What is the condition of the base surface? If it's relatively new and smooth, it will be fairly easy to remove a coating. Conversely, the surface might be cracked, broken or eroded, making it difficult to remove material from the hills and valleys in the concrete.
What are the environmental factors of the application? If the customer is removing material inside a building, engine exhaust and chemical fumes might be a concern. In that case, the customer could rent an electric-powered machine.
"Surface preparation is a very subjective process," says Von Ruden. "There are so many different coatings that you never really know what you're getting into until you start the job."
With the answers to these questions, however, you'll be better able to provide customers the right solution to their surface prep job.
Don't forget accessories
Some sources say grinders and scarifiers will take care of 70 to 80 percent of all surface preparation requirements. "A dual-headed surface grinder does many things well," says Von Ruden with General. "You can also put various systems on these machines, such as diamond inserts for grinding concrete, coating removal systems, wire brushes for scarifying and more."
EDCO also offers accessories for its grinders. Chuck Hommey with EDCO says, "We offer accessories that will grind materials off a surface as well as accessories that will grind into the concrete."
Accessories are key to creating versatility with your surface prep equipment. Pearl Abrasives Co. doesn't make stand-alone equipment, but it does produce its Hexpin System, which can be used on floor buffers and grinders.
Designed to be used as a scraper, grinder, sander or polisher on various surfaces, the Hexpin System is a 15-inch plate ("Hexplate") with carbide scraper attachments for scraping thinset, mastic, epoxy, paint, glue and more. The same Hexplates with a diamond segment pad attachment lightly grinds and sands the concrete surface, preparing the surface for the next floor.
Other attachments for the Hexplates are Turbo Cut discs, which remove paint and epoxy from concrete, and diamond polishing pads, which polish marble, granite and concrete. There is also an 11-inch Hexplate for use on single-head floor grinders, which can be used for grinding concrete.
Because the system can be used on various size floor machines to scrape, sand, grind and polish surfaces from concrete to marble to terrazzo, rental dealers can enjoy a healthy return on investment, says Ted Skaff with Pearl.
"There's a great demand for surface preparation equipment," he says. "This system is very versatile and, with a variety of attachments for one Hexplate, the return on investment is great for rental dealers."
If you've got it, flaunt it
Concrete surface prep equipment is still a very niche product area, says Hommey with EDCO, so if you have it in inventory, you've got to let the world know. "When people think of general rental businesses, carpet cleaners and lawn & grounds equipment come to mind," says Hommey. "Concrete surface prep equipment usually won't be at the top of the list, so you have to let your market know you have it.
"There's no doubt these products will make a rental business money," he continues. "They're easy to use and low maintenance. And because of their niche status, you can command a high rental rate. But potential customers have to know you have the equipment first."
Von Ruden with General Equipment agrees that awareness is key to making money with concrete surface prep equipment. "To bring awareness to your community, work with local flooring and carpet retailers. Ask them to recommend your rental business if a customer is looking to remove flooring or carpet themselves," he says. "Exhibiting at area home shows is also a great way to expose more potential customers to your equipment solutions. It's really just 'common sense' marketing."
Other marketing ideas include invoice stuffers, direct mail and even in-store promotions, such as counter cards, posters and banners, to direct current customers to new solutions they might not know about. Hommey says to use your supplier as a marketing partner.
"As a supplier, we might already have banners and posters you can use, or we can help design invoice stuffers," he says. "We can also come out to an open house that you might sponsor to help demo equipment. Don't forget to utilize us as a resource."
Looking forward
"The surface prep industry is going to explode in the next 10 to 20 years," says Von Ruden. "As infrastructures continue to decay, we'll have to figure out ways to restore — not destroy — the surface to get more life out of it. The decorative concrete trend will also affect this industry. As suppliers, we'll have to figure out solutions that will help users with both installation and restoration of decorative concrete."
Smaller, lighter machines that are more productive and easier to transport will become the norm, he says.
EDCO's Hommey says the basic design of grinders hasn't changed a lot in recent years. He notes that there is a definite trend in the industry toward dry grinding, which has brought about advancements in dust containment systems, but for the most part the machines have stayed the same.
Hommey says advancements in the grinding industry have come in the form of specialty machines, such as an edging machine which can get tight against any vertical surface. He also says there have been advancements in machine accessories.
"If 10 years ago there was one disc that did all the grinding, now there are maybe 10 versions of that disc," Hommey says. "There are different levels of grit that you can use to achieve smoother or flatter surfaces."
Hommey says this trend toward finer grits has come about because people want nicer, smoother finishes on their floors.
About 13 years ago, VIC International brought the technique of concrete polishing to the United States. This technique uses a grinder, a densifier and a series of progressively finer-grit diamond polishing discs to give a concrete floor a mirror-like shine.
Many companies now offer grinders that both grind and polish, and many different suppliers offer the polishing disc systems.
Poinsettia Byrd with VIC International says she has seen the concrete polishing market increase 150 percent over the last three years, and is expecting it to grow even more. She says with this growth, the industry has seen better technology and a better end product for the customer.
Byrd with VIC International, which makes the VIC 3200 grinder/polisher that both grinds and polishes, says the tooling that goes under the machines has had some great advancements in recent years. For instance, VIC sells a RipperMax that can turn a floor coating into "confetti," and the Mastic Master that takes chemicals and floor scrapers out of the mastics removal process.
As with all your equipment, a thorough understanding of your concrete surface prep equipment will help you become the expert your customers turn to when they need a solution. The best way to do this is to use your suppliers and ask your customers what they need from you. This can turn a niche product into a profitable inventory.