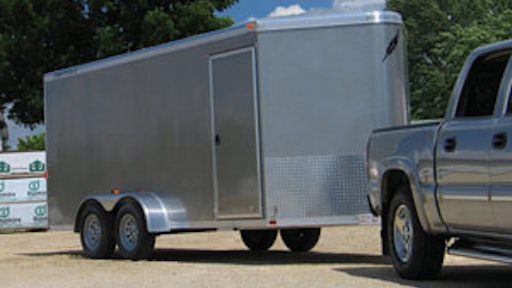 Featherlite Model 1610
The newly redesigned Model 1610 is an enclosed, all-aluminum trailer designed for hauling construction equipment, parts, tools and more. Manufactured with premium, corrosion-resistant aluminum, the 1610 is lighter and easier to tow while being very durable. Features include moisture-resistant wood flooring with thermally fused protective liner. Model 1610 comes in lengths up to 18 ft. and is available with rear load ramp.
Allied Extreme Ho-Pacs
The all-new Extreme Ho-Pacs now deliver more impact energy, multiple bolt-on base plates, an errorless four-function valve, a variety of mounting configurations and maintenance-free oil splash bearing lubrication. Features include worry-free "plug-and-go" installation, tough-coat hoses to prevent cuts and extend wear-life and new hose routing for better protection against sheared or damaged hoses. Available in four models: 500, 1000, 1600 and 2300.
Vermeer S600TX
The S600TX is a versatile, labor-saving machine that helps finish a wide range of job applications while using less manual labor. Equipped with a universal mounting plate, operators can hook up various attachments more easily. Unit is available with 7- or 9-in. tracks.
Earlex Spray Port
Earlex introduces the new Spray Port, an HVLP paint stripper for the professional and DIY rental markets that makers claim achieves a perfect "piano" finish without leaving visible brush marks. The Spray Port is an alternative to buzz guns offering benefits such as versatility and easy use, minimal over spray, less paint waste and greater control. The unit is unique since it offers a durable disposable plastic spray gun sold as a consumable item that the consumer keeps, cleans and maintains for the next rental to reduce overall costs.
Atlas Copco HB 4200 Hydraulic Breaker
The new HB 4200 features Krupp percussion technology and a service weight of more than 4 tons, making it ideal for demolition, tunneling, trenching, foundation work and more. Accepting a maximum hydraulic flow of 84 gpm at 2,610 psi, the HB4200 delivers an impact rate of up to 530 bpm. Unit comes standard with AutoControl, a monitoring system that allows the hammer to adapt its frequency and power output to match operating conditions. Also features StartSelect, a system which allows start-up and shut-off to be adjusted to fit jobsite conditions.
Manitou MLT 627 Maniscopic
The MLT 627 Maniscopic incorporates a 101-hp Perkins Tier II-compliant diesel engine to power its 6,000-lb. capacity with an 18-ft. lift height and 11-ft. forward reach. Features include a torque converter transmission with electro-hydraulic reversing lever, a standard auxiliary hydraulic circuit that provides a flow rate of 28 gpm at 3,600 psi, and Mono Ultra joystick control.
Garrett Metal Detectors Ace 250 and 150
The new Ace units are designed for locating lost, hidden or abandoned treasure and other metal objects. Both the 250 and 150 units feature Garrett's exclusive Graphic Target Analyzer (GTA) technology, sensitivity adjustments, continuous coin depth indicator and target ID legend. The Ace 250 also offers accept/reject trash elimination, electronic pinpoint and continuous battery life indicator. Both units include the 6.5- by 9-in. PROformance submersible searchcoil with two optional coils including the 4.5-in. Sniper searchcoil and 9- by 12-in. PROformance searchcoil.
Wap Attix 19 Series from Alto
The Wap Attix 19 Series of wet and dry vacuums boasts a 19-gal. canister, steel frame, stainless-steel canister, and two-stage turbines as well as an exclusive tilting, removable container. The tilt feature allows the operator to easily empty the canister without having to turn over the entire vacuum, while the removable container gives the operator one more emptying option. Vacuum operates with an air flow of 140 CFM and a water lift of 105 inches, while producing only 57 dB(A).
HydroPro Plugr from SourceOne
The PL850 HydroPro is a new addition to the Plugr line of reciprocating power turf aerators. This hydrostatic Plugr is designed to reduce operator fatigue on uphill grades, loose and sandy soils and highly cushioned turf grasses. Adjustable operating speed allows aeration suitable for the terrain, turf condition and operator comfort. With the tines disengaged, this aerator can be operated in either forward or reverse for easier transport and loading. Available with 5.5-hp Honda OHV or 6.5-hp Briggs & Stratton Intek engine.
Redzaw Diamond Blades from ICS Blount
ICS introduces a line of high-quality, laser-welded diamond blades to complement the Redzaw product line and particularly the Redzaw RZ60C chop saw. The Redzaw Blade line includes a broad selection of 14-in. blades to cut concrete, masonry, stone, ductile iron, concrete pipe, asphalt and more. Redzaw blades use MBS Series top-grade diamonds and are designed for consistent cutting performance. All come with a 1-in. arbor with a knockout ring for a 20mm arbor.