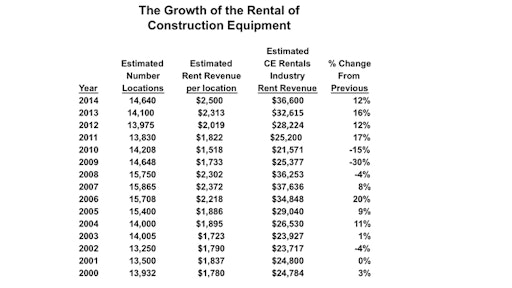 The equipment rental business is a major bright spot in an otherwise lackluster U.S. business environment. I forecast the market will grow 12% in 2014 to an estimated $36.6 billion total revenues. My figure does not include other types of rentals such as party or medical equipment.  
Figure 1
Equipment rentals have grown in each of the past 3 years because of the uncertain business outlook facing equipment users. Renting equipment is a good option for contractors whose project backlog outlook is a little murky. Couple that uncertainty with the increased equipment costs due to U.S. emission regulations, and the case for renting versus buying becomes very compelling. It appears to me, however, that the business outlook is firming up and some of that uncertainty will be removed. Offsetting an improved economy will be a decline in used equipment values (residual values). This will come as a result of the higher cost of machines equipped with the new emission devices, and the probability that used equipment will be difficult to sell in overseas markets as has been the case in the past. So, I believe the trends still favor rent versus buy.
We are seeing a good improvement in overall U.S. construction. The U.S. Government publishes statistics that track construction. The time-series is called Put-In-Place construction, and it's a measure of how much construction was completed in prior time periods. For the first time in several years, I believe both residential and non-residential construction will grow and lift total construction by 10 to 12% compared with 2013.
Figure 2
Both residential and nonresidential construction can be divided into private and public. I forecast that the public sector will not make a major contribution in 2014. 
There are now stories in the financial and trade press of trade labor shortages slowing down projects. Construction employment is beginning to approach 6 million workers. Rising employment is an important measure of construction activity. It's a sure sign that construction-related markets are starting to rebound. I expect construction employment to reach 6 million people by the first half of 2014. Improvements in home construction projects and non-residential projects has resulted in shortages of skilled labor, especially machine operators and in trades such as carpenters, electricians and plumbers. The Associated General Contractors (AGC) has issued a number of reports about the shortages. The graph that follows illustrates clearly that the construction industry lost 2 million jobs in the four years between 2007 and 2011. It appears that contractors are overcoming the lack of employees by substituting investment in equipment – substituting capital (investments in machines) -- for labor. I call this shift jobsite automation.
Figure 3
Renting equipment for specialized applications has always been a good option for equipment users. But during the Great Recession equipment rental has become a much more common method of obtaining the use of machines on a regular basis. The uncertainty caused by the recession and the higher prices of machines due to the new EPA emission regulations have made it economically sound for users to rent rather than own machinery. This is especially true when utilization rates drop below 50% and when you factor in the shift to jobsite automation I mentioned earlier. It's easy to see this pattern clearly by calculating the rental revenues per employee in the construction business. After a pause in 2010, I estimate the expenditures of contractors for renting machinery from the national rental companies (as well as local rental companies and equipment dealers that also have rental fleets) has increased dramatically from $4,000 per year for each employee to $6,000 per year for each employee.
Figure 4
New markets, big potential
Natural gas drilling, also known as hydraulic fracking, has gotten to be big business. The fracking sites offer significant potential for the operators and also for equipment suppliers. The whole fracking process is very equipment intensive. The drill site must be leveled. Sometimes starter trenches are dug. The projects require earthmoving and lifting equipment, huge pumps, air compressors and generator sets. I've been hearing anecdotes about the equipment intensity of the process. One equipment dealer in Western Pennsylvania told me he was asked by a fracking customer to rent, not purchase, 50 excavators and 20 bulldozers. The dealer complied but was required to make an investment of more than $300 million just to satisfy one customer!
Will consolidation start again?
Strong market conditions are once again beginning to attract investors. For example, Wall Street has driven up the price of United Rentals stock to almost $70 per share. The company now has a market capitalization of $6.5 billion, which exceeds the value of the company's fleet. The share price is important because the stock could be used to make acquisitions in the future. 
The major publicly owned U.S. rental companies reported spectacular third quarter results. A summary of their performance follows:
Figure 5
The strength of the rental market is causing speculation there will be another round of consolidations within the industry. Volvo just announced it has negotiated to sell its Volvo Rents business for slightly more than $1 billion to Platinum Equity Partners, a private equity firm that also owns Maxim Crane and a small aerial platform rental company in Indiana called Nesco. Platinum also owns Keene Transport, a heavy hauler trucking company.
Rumors have been floating around for at least the past year that a number of companies are for sale. Ahern Rentals went through bankruptcy and it wasn't clear whether the company ownership would remain the same or whether Don Ahern, the majority shareholder, would have to take in a partner (he did not).  Neff Rentals is owned by Wayzata and is probably on someone's list of acquisition candidates. NES Rentals is owned by a private equity group and could be an acquisition candidate. Gerry Plescia, the former president of Hertz Equipment Rental Corporation (HERC), recently joined Cross Country Pipeline Supply Company as president from PH Global Consulting, a private equity group that invested in Cross Country. Cross Country is an equipment and supplies provider to the domestic oil and gas pipeline construction industry, a niche segment of the equipment rental business. There have been rumors since he left HERC that Plescia has been out and about gathering money commitments to make large equipment rental company acquisitions. Maybe Cross Country will become an acquisition platform. And finally, every time the rental industry heats up, Hertz Corporation floats a trial balloon to see what the value is of its equipment rental business, HERC.