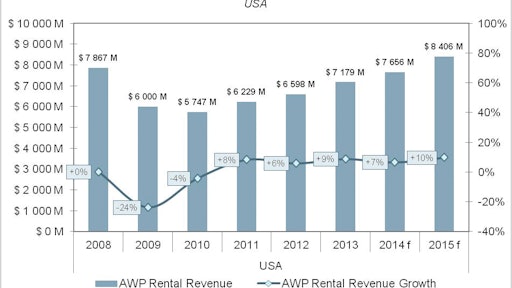 The U.S. aerial work platform (AWP) rental market rebounded with strong growth of 9% in 2013 to reach approximately $7.2 billion, according to the IPAF US Powered Access Rental Market Report 2014.
Interviews conducted with rental companies in the U.S. confirm forecasts made in last year's report, even surpassing the growth rates predicted. Rental companies expect the market to follow similar growth trends in 2014 and 2015.
The U.S. AWP rental fleet expanded by 6 percent in 2013 and has now reached pre-recession levels. This rebound is flanked by two factors: a slight increase in new machine investment coupled with a reduction in fleet sell-offs. Similarly, the worldwide rental fleet increased by 6 percent on the previous year to a total of 1,020,000 AWPs, mainly driven by growth in Asia and Latin America.
Only 10 percent of the U.S. fleet is Tier 4 compliant. Tier 4 machines are seen as significantly more expensive, as they require additional maintenance and specific customer training.
While the U.S. AWP fleet has returned to its pre-recession size, rental companies did not increase the share of their business in construction applications. Instead, companies kept up their rental operations in other sectors such as industrial, maintenance, utilities, leisure, events, etc. This shows that rental companies have become more cautious over the years and are keeping a good level of diversification to avoid potential business risks.
U.S. rental companies used all levers to improve revenue in 2013: expanding fleets and improving rental rates while enhancing utilization rates.
For the first time, IPAF has conducted research on China, which registered 20-percent growth. The trend is set to continue in this market where there are approximately 6,000 AWPs and scissor lifts make up an estimated 65 precent of the fleet.
The European AWP rental market in the 10 countries surveyed remained stable in 2013 (+0%) and is estimated at approximately €2.3 billion, according to the IPAF European Powered Access Rental Market Report 2014. The 10 European countries surveyed were: Denmark, Finland, France, Germany, Italy, the Netherlands, Norway, Spain, Sweden and the UK.
The European rental market shows mixed results and is marked by three groups: those who struggled in 2013 (Spain, the Netherlands, Italy, Finland and, to a lesser extent, Denmark and France), those who slightly increased rental revenues (Sweden and the UK), and those who experienced significant growth (Germany and Norway).
Some countries achieved positive growth. Germany, Norway, Sweden and the UK saw their rental revenue increase around 5 percent.
The UK AWP rental fleet appears to have reached its pre-recession levels. However, rental companies remained cautious and kept an unchanged split between construction and non-construction applications.
Meanwhile, In Germany, both fleet size and rental rates increased slightly and the trend toward non-construction applications is continuing. In Sweden, fleet size and rental revenue increased while rental rates were maintained at a relatively stable level. Other countries such as Denmark and France saw the AWP rental market remain flat or decrease slightly.
In Denmark, neither the fleet nor the rental rates increased. Despite a slight increase in fleet size, overall rental revenue did not increase for France due to a decrease in utilization rate and rental rates. Marking the contrasts across Europe, the AWP rental market decreased in Finland, Italy, the Netherlands and Spain.
Trying to counter this negative trend, rental companies de-fleeted and also kept reducing their rates. Only Finland, which experienced positive growth during the past years, kept expanding the rental fleet.
Overall, growth is expected in the European AWP rental market in 2014 but the report predicts growth marked by contrasts among countries. Germany and the UK should lead the growth while Italy and Spain bear hope for stabilization in 2014.