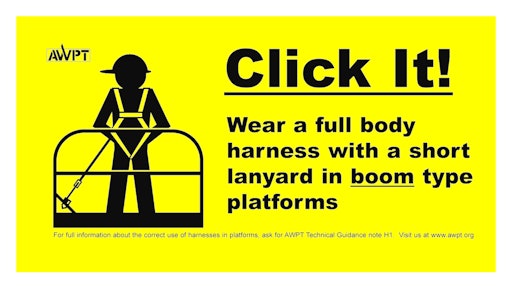 Contrary to the perception by some that it is a training organization, IPAF is much more – it is a global movement to ensure the safety of people in the powered access industry and to keep the industry up to date with the latest technical and safety advice in aerial lifts and mast climbing work platforms.
The International Powered Access Federation (IPAF) exists to promote the safe and effective use of powered access equipment worldwide. That was the objective of its founding members and it is a theme that IPAF is returning to strongly in its 30th year.
The not-for-profit organization is owned by its more than 1,000 members who include manufacturers, rental companies, contractors and users of powered access. IPAF members reaffirmed the Federation's original objectives and re-adopted them into the Federation's rules at the annual general meeting in April.
Among others, IPAF's objectives are:
"To encourage the highest standards of safety and good trading by members"
"To encourage technical efficiency in the industry by cooperation in the establishment of standards"
"People tend to see IPAF as a training organization, but we are much more," says IPAF CEO Tim Whiteman. "IPAF's members cooperate to protect the safety of people in the access industry. By re-adopting the founding principles, IPAF members make very clear what IPAF stands for and what it sets out to do and deliver. Work at height is inherently dangerous, but powered access is a safe and effective tool, and IPAF is there to keep the industry safe."
What makes IPAF unique is its ability to unite manufacturers, rental companies and end-users into one member organization dedicated to promoting the safe and effective use of powered access.
IPAF's founding managing director, Paul Adorian, provides insight into the early years: "At that time, manufacturing and user organizations tended to keep each other at arm's length. However, the benefits that would accrue to all concerned by establishing an organization where manufacturers and their customers could rub shoulders regularly soon became apparent. This situation was certainly unique then and has led to an enormous amount of harmony and goodwill within the industry ever since. By manufacturers and rental companies joining forces, the flow of information on safety related topics has obviously been beneficial in promoting safety. The feedback from the companies that buy, use and rent the products relayed directly back to the manufacturers was a tremendous contribution to the continuing development of safer products."
That early enthusiasm has transformed into a full palette of IPAF services:
Technical advice and information
For those new to the industry, IPAF offers guidance documents and videos covering topics ranging from training and familiarization, personal fall protection, and risk assessment, to avoiding trapping/crushing and conducting daily pre-start inspections.
Major manufacturers represented in the IPAF Manufacturers' Technical Committee provide a rich source of industry expertise.
Information from and for the industry is highlighted and distributed through a range of magazines and publications, including the IPAF Powered Access Rental Market Reports and Elevating Safety magazine, which is sent to more than 141,000 readers every year.
Safety promotion and development
IPAF runs campaigns such as Spread the Load (www.ipaf.org/spreaders), which calls for the proper assessment of ground conditions and the correct use of stabilizers, outriggers and spreader plates, and Click It!, which calls for all users of boom type platforms to wear a full body harness with a short restraint lanyard attached to a suitable anchor point.
IPAF's accident reporting project (www.ipaf.org/accident) collects data on worldwide fatalities involving AWPs, with the aim of identifying key causes and developing further safety initiatives.
IPAF members in the US and Canada participate in the active and influential IPAF North American Regional Council.
Promoting the powered access industry
Conferences and events including the IPAF North American Convention and the IPAF Summit and International Awards for Powered Access (IAPAs) give IPAF members the opportunity to showcase their products and services, and to network and do business with other associates. The next IPAF North American Convention (www.ipaf.org/usconvention) takes place October 1 to 2, 2014 in Toronto.
IPAF also exhibits in major trade shows such as CONEXPO-CON/AGG and The Rental Show (ARA).
IPAF subject experts also contribute articles to the trade press to promote powered access as the safest way to do temporary work at height.
Influencing and interpreting legislation and standards
IPAF is involved in developing AWP and MCWP related standards, including US ANSI standards, Canadian CSA standards, ISO standards and European EN standards.
IPAF's members are represented by our North American representative Tony Groat on the ANSI A92 main committee, as well as the sub-committees A92.20, A92.22, A92.24, A92.3, A92.5 and A92.6. Tony Groat also serves as the vice-chair for the Canadian CSA B354 technical committee and task force chair for the development of the AWP safe use and training standards, and is a member of the AWP design and MCWP training standard teams.
In addition, IPAF monitors international regulations that govern equipment use and cooperates with health and safety authorities worldwide.
Management and operator training programs
Training is just one means by which IPAF promotes the safe and effective use of powered access. A full range of training programs is available for use by members. Courses delivered by member approved training centers range from "AWPs for Managers," which enables supervisors and managers to prepare for and safely coordinate various types of AWPs on site, to "operator training" from an instructor or via eLearning, both are available in English and Spanish. Successful completion of the practical and theory sections of the operator training leads to the issue of the PAL Card (Powered Access Licensed-Registration) which proves the operator has been trained to the required level.
These complete training programs are backed up by regular auditing, quality control checks, and professional development seminars for all IPAF instructors.
IPAF also offers the AWP Operator Training Support Kit, which can be purchased and used by qualified personnel to create their own program to deliver consistent and effective training to aerial lift operators.
The range of activities and services is growing and if you work with aerials, you should be part of it. Join IPAF and be part of the global movement to ensure the safe use of powered access.
Companies in this article