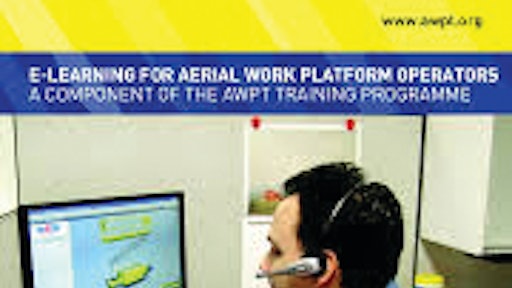 Getting North American contractors to view training as a professional priority has always been a challenge. Persuading them to invest time and money on high-quality training is even more difficult, but with programs such as IPAF's eLearning module, excuses for going untrained hold less and less weight.
No one knows this better than Tony Radke, manager of the Safety Education Group at NES Rentals, a national rental chain that piloted the eLearning module which was introduced by IPAF in 2013, and Brad Boehler, president of Skyjack and immediate past chairman of the IPAF Manufacturers Technical Committee. Both are outspoken advocates for training within the aerial industry.
"NES has been an IPAF training center for years, and took the lead in piloting the development of the eLearning module in the fall of 2012," explains Radke. "We started by training about 70 employees as evaluators in a little over a month. Then we piloted the eLearning and used those evaluators to train all 1,100 NES employees. From there we began to offer the program to customers in the marketplace."
For his part, Boehler has en engineering background and also has experience working with standards and regulations. He brought this understanding with him to Skyjack, where he has become an advocate for aerial work platform training. "Over the years, I have come to believe that the equipment produced can be used safely, and the most important method of ensuring that is communication through training," he says.
Making training more accessible
IPAF's training program has been in existence for more than a decade and has always offered an in-depth, high-quality option to aerial work platform operators, including both a classroom theory component and a practical demonstration component and test. The eLearning module was designed around the same program, but allows trainees to do the theory portion of the training online, at their own pace, instead of in the classroom.
"It allows you to stop, start, leave, come back; basically do it at a pace that works for the individual," Radke explains. "The beauty of it is the consistency. All trainees get the same message, delivered in the same way, covering the same, complete information."
After finishing the online component, trainees make arrangements to schedule the practical evaluation component. There, they're given a written test to confirm their classroom learning, and once they pass it, they're taken through how to perform a daily workplace inspection and a pre-start inspection. Afterwards, they must operate the machine through a comprehensive course in front of a qualified evaluator to demonstrate proficiency with the machine.
"eLearning becomes the basis for the tools and information they will use in the practical portion of the training program," Radke says. "When someone comes out of the training and gets their PAL card, there's an assurance they've had a very high-quality, in-depth level of training. There's evidence that their training has shown them more than how to go up and down, forward and back, that they've actually demonstrated proficiency with the equipment."
He adds, "Feedback on the program has been overwhelmingly positive. Even workers that have operated machines for 20-plus years say they learned something they didn't know before."
Radke's commitment to training was honored last spring when IPAF presented him with an International Award for Powered Access (IAPA) for Instructor of the Year. "It's really about the development of the eLearning module," he says. "We're taking IPAF's program and trying to advance it in the North American market by coming up with a system that provides another way of delivering the training with increased flexibility. It was a big shift, and a big change, but it's opened up a new avenue for people to get IPAF training. It took a tremendous amount of work, but the program has really furthered my company and my CEO's commitment to improving safety in the industry and trying to create an avenue for everybody to get a really high-quality training experience."
Gaining momentum
Radke says progress toward getting operators to try the program is picking up steam. "It's continuing to improve," he says. "We've seen it taking some good roots in certain geographic areas."
Those areas have predominantly been wherever there's a solid base of heavy industrial employers. "We struggle a little with contractors, which are more mobile employees. We haven't had the same success with it yet, but it's certainly where we want to go."
It remains a challenge to get North American contractors to spend time and spend money for high-quality training. The reasons why can be difficult to pin down.
"Often I think operators think what they're already doing is quality training. We're trying to show them what is exactly required by the standards and what they should be doing in their training. A general contractor might be controlling his site with multiple subs. Often somebody shows them a card and there's the assumption that they're trained, without really knowing what that training was."
Boehler says it's a tough sell, but North American contractors are becoming more and more cognizant of their requirements and that training improves productivity as well as the obvious safety gains. "They still sometimes put immediate operational needs over proper training of personnel," he says, "Continuing to educate everyone associated with AWPs regarding requirements and the benefits of proper training will help alleviate the issue."
When someone receives a PAL card, it proves they've completed IPAF training, and there's the assurance they've met the requirements outlined in ANSI standards for training, and that they've demonstrated proficiency with the equipment in front of a qualified evaluator.
"Many employers have a false sense of security because their people have operated the machines for a long time, they're skilled and they haven't had a lot of accidents, so they feel like what they're doing for training is sufficient. Obviously the mistake is that they might have just been lucky. Once we can show them what they need to know and then put them through the program, almost without exception, people say they've learned things they didn't now. We know if we can continue to get to those people and educate them about what they need to do, we're going to get good results."
It starts with managers
High-quality training starts with educating employers about its importance. IPAF's AWPs for Managers course does just that by educating managers and supervisors about what operators need to know. "It goes over the rules, requirements, ANSI standards and manufacturer guidelines," Radke says. "Using a course like AWPs for Managers lets us teach employers exactly what is required and show them what is contained in the actual IPAF training program. We can tell them exactly what their guys are going to go through."
He continues, "Actually having to operate the machines through a comprehensive course with a qualified instructor or evaluator, being coached on how to do a pre-start inspection properly or how to do a workplace inspection... these are things operators might not have been shown before, so if we can show people that's what they're going to get by going through this program, we're able to sway people's opinions."
A surprising number of contractors are still unaware of the high-quality training options available to them. Due to time and monetary constraints, many resort to using low-cost read/written training programs that can be found online with a simple Google search.
"Very rarely do we come across anybody who knows very much about the IPAF training program, and certainly not the AWPs for Managers course," Radke admits. "When we ask people what they're doing for training, the answers are all across the board. Some are doing only a read or written safety training where there's no actual operation or pre-start inspection component. The majority of the time we're having to educate them on what IPAF is and what the program is. But it is getting better. We've been able to reach a lot of people and talk to a lot of people. The message is getting out there."
One obstacle that continues to stand in the way of progress is getting people to understand that they get what they pay for with training. High-quality programs cost money.
"Some companies are fully prepared and understand there's a cost for training," Radke says. "Others say they've never paid for training before and don't plan on paying for it now. Then it really becomes a discussion of 'let the buyer beware.' They need to understand what they're getting."
Boehler says IPAF training is well crafted program that encompasses all the necessary aspects of AWP training and delivers those required topics in a repeatable and professional manner. "Many associations, manufacturers, rental companies and training companies also provide very professional and appropriate training courses as well," he says. "Unfortunately, there are still those out there who provide training that does not meet a minimum standard, and does not result in a properly trained operator. We, as an industry, need to ensure that the users and owners of the equipment understand that this training provides them a false sense of security and is ultimately dangerous to their employees and their business."
Program benefits
IPAF's new eLearning module alleviates many of the objections to an investment in high-quality training. "We can say now that the days when you have to give up 30 employees to go sit in a classroom to do aerial training for four to six hours are gone. You can control when and where and how your employees are taking the training," Radke says. "That flexibility allows employers to get their employees through a quality training program at a pace that works with their schedule."
Also, IPAF's training is audited to ensure conformance to standards. "Basically, this ensures consistency in the program's delivery, and guarantees it meets requirements and that all of the instructors and evaluators have met certain qualifications. In a lot of cases, the auditing of the program is a good selling point." 
As noted, getting the industry to embrace the program is getting easier. "As an industry membership organization, IPAF is continually promoting the safe and effective use of powered access," Boehler notes. "This promotion obviously occurs with training, but also with education about all facets of safe use, from maintenance to selection, and training of those who will be managing the use of AWPs on site."?