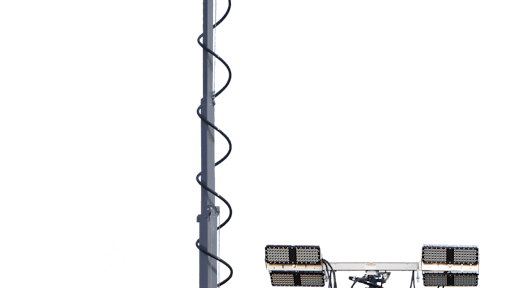 Light towers are a staple on every jobsite, and what they offer is pretty straightforward, but the technology behind these tools is not as simple as you might think. Today's models offer a range of different light options, and manufacturers are continuously coming up with new advancements to improve the safety, productivity and profitability of these machines. To let you know what the current and future trends are with this type of equipment, we asked leading suppliers for their input. Following is an excerpt from that discussion.
Rental: What trends are currently driving product development?
Bronwyn Gillespie, Allmand Bros.: Safety is a big driver in the portable lighting sector. While companies are expecting highly efficient pieces of equipment, safety is the number one priority. The U.S. Environmental Protection Agency has a lot of pull in the portable lighting industry as well, and gas prices also drive product development. Buyers want to buy less fuel to keep the light towers going.
Bruce Coleman, product manager for lighting products, Multiquip: Multiquip provides a wide diversity of product offerings that permit the opportunity to study and support on-site lighting requirements. Surrounding the fields of construction, area security, entertainment, and special events, we have witnessed an increased penchant for diffused lighting solutions and light-emitting diode (LED) lighting options. Glare-free lighting requirements are often written into Department of Transportation specifications; plus, non-caustic diffused lighting options add untold value for operators and by-standers alike. Additionally, with design advantages of greater clarity, longevity, lessened power requirements, and safety, LED lighting options are becoming more practical and popular.
James Courtney, associate product manager – utility products, Wacker Neuson Corp.: Two growing trends we are seeing in the temporary lighting segment are LED lights and vertical mast light towers. First, LED lights are becoming more common in both light towers and light balloons. There are a number of advantages to using LED lights, such as instant strike on and off bulbs, longer run times due to lower fuel consumption rates, and longer bulb life. Vertical mast light towers are becoming more preferred in rental applications largely because the design of the total footprint is smaller, allowing for more units to be transported on a flatbed and stored in a rental yard, decreasing the rental company's total cost of ownership.
Rental: What are manufacturers offering to meet serve these trends?
Coleman: To meet the challenge of providing diffused glare-free and LED lighting solutions, Multiquip offers its GloBug line of lighting products. This series includes stand-alone units ranging from 300W LED to 400W to 1,000W metal halide. Also, more powerful glare-free units (2000W and 4000W) are available that affix atop conventional light tower masts for an alternative means of providing clean luminance to the jobsite.
Courtney: Manufacturers are starting to offer vertical mast light towers in addition to the traditional lay-down mast versions. Wacker Neuson offers two lines of vertical mast towers for all narrow and wide-body models, a premium and standard version. The premium models have gained acceptance in the industrial, oil and gas segments while the standard models are well fit for the general construction rental dealers. Both vertical masts are powered by a hydraulic system, decreasing the time it takes to extend and retract the tower, which increases the total uptime for the end customer.
Manufacturers are starting to offer vertical mast light towers in addition to the traditional lay-down mast versions. Whether the mast is powered by an electric winch or a hydraulic system, the time it takes to extend and retract the tower has been significantly decreased, which increases the total uptime for the end customer.
Gillespie: Manufacturers are focusing on the safety and well-being of people and the environment. Options from a fire extinguisher to wheel chocks and reflective striping can all help make a light tower safer. We offer an operational beacon to let the operator know the engine is running. Fan and belt guards along with exhaust shields and muffler wraps protect operators from potentially hazardous moving or hot parts. A secondary fixture retention system to provide additional safety on work sites is also available. We offer 1,250-watt lights to light an area with more lumens, allowing for a safer work environment.
In order to protect the environment, manufacturers are offering fluid containment systems. These systems ensure that if a fuel tank were to leak, all of the fuel would be enclosed in the fluid containment system instead of leaking onto the ground. LED light offers the option to not use nearly as much fuel.  
Rental: What future product trends do you see on the horizon?
Courtney: I would expect to see manufacturers continue to offer different light options and alternatively powered light towers. Our research has confirmed that jobsites are starting to specify unique lighting requirements more than in the recent past. The goal of the manufacturer is to be innovative and meet those needs with the most efficient and cost-effective solution possible. LED lights and vertical mast light towers are perfect examples of that type of response to changing customer specifications.
Coleman: The value of diffused and LED lighting cannot be understated. As advancements in design pace upwards, and both product and operational costs go down, we can see a time where specifying these types of lighting solutions will be common place. 
Diffused lighting systems have a more finite luminance range compared to the conventional lamps of light towers, but their greater lucidity and glare-free signature significantly enhance the work or event site. Safety, as it relates to jobsite operations and surrounding activity, is particularly enriched with diffused lighting.
Gillespie: Some LSC options are able to completely turn on and shut down the light tower and warn when the fuel is low without someone having to go out on the work site and monitor those things. Hazardous gas accumulation is a real problem in the oil and gas industries and gas monitoring systems warn of any accumulation by triggering lights, warning sirens, and shutting down the light tower. Smaller engines and noise reduction will also be trends in the future.