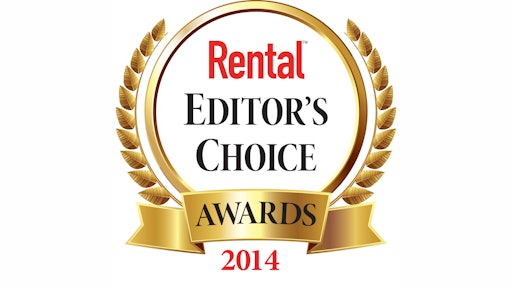 The average rental inventory contains just over 400 different items in stock, from skid steers and excavators to chainsaws and rotary drills, and everything in between.
Every rental professional has his or her favorite - that loyal servant that never wears out and earns more than its share of profits. There are those products which are popular with customers because they're easy to use and offer high productivity. And there are those exciting new introductions which offer never-before-imagined innovations.
To honor those products which achieve these ideals, we bring you the 2014 Editor's Choice Awards. On the following pages, you will find a selection of equipment and tools chosen by our editorial staff for meeting a set of criteria including innovation, longevity and consistency in the market, utility, versatility and productivity.
To gauge our audience's preferences, we also factored in how much interest these products recieved on the Buyers Guide at ForConstructionPros.com/Rental. The results were very much what we expected: a balanced mix of the tried and true with the latest and greatest.
We invite you to browse the following list for key points of interest about the features and benefits of each of our winners. For more information about winning companies and their other product offerings, visit the Buyers Guide, your go-to source for product information.
Barreto 1320/1620 Rear-Tine Tiller
Bobcat T450/S550 Compact Loader-Backhoe
Briggs & Stratton Vanguard Single-Cylinder Engines with TransportGuard
CEAttachments Edge Inverted Log Splitter
Ditch Witch Walk-Behind Trenchers
Doosan Platinum P185 Compressor
General Pipe Cleaners SpeedRooter 92
Genie SX-180 Telescopic Boom Lift 
JLG X550AJ Compact Crawler Boom
Little Beaver Kwik Trench Mini Trencher
Sims Cab Aftermarket Skid Steer Enclosures 
Skyjack SJ6832 RTE Rough-Terrain Electric Scissor Lift
Stihl GS 461 Rock Boss Concrete Chainsaw
Terex PT75 Compact Track Loader
Terramite Compact Tractor Backhoes
Vermeer S450TX Mini Track Loader
Wacker Neuson SW 24 & SW 28 Skid Steers