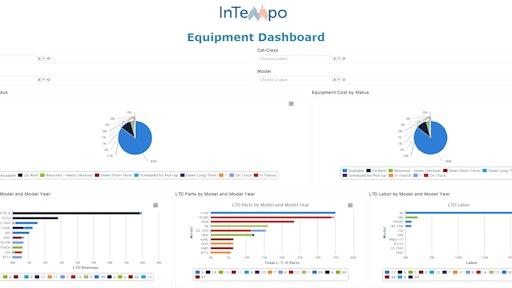 It's no secret that all rental businesses need the ability to access and analyze data specific to their operations. In today's day and age, it's crucial to success. But with so much information available, it can be overwhelming to think about what reports are the most important to monitor. By focusing on three broad areas — the "three Ps" of people, process and product — you can ensure that you keep a 360-degree view of the most critical aspects of your rental business.
People
An often underreported topic, metrics and trends relating to people is perhaps the single most important category to track. Your report should focus on both employees and customers. Employees are the face of your business, so keeping them happy is a key to your long-term success. You can gather data on employee satisfaction by administering pulse surveys every few months to measure engagement.
In order to gauge morale, the survey can hone in on a variety of topics, including work-life balance, stress levels, fairness, teamwork, respect for management, focus on the customer, communication, opportunities for growth, personal expression and compensation. Here's the catch: If you ask employees about their opinions and then do nothing with the results, you risk losing their trust and goodwill. So it's important to come up with a post-survey action plan to address any issues that emerge.
When it comes to your customers, you can and should send satisfaction surveys on a regular basis. Not only will you better understand the main reasons why customers turn to your business, but you'll also identify areas where your business and employees can improve. Plus, just the mere fact that you are surveying your customers will signal to them that you care about delivering quality service. There are many different routes you can go with customer surveys; questions can focus on their experiences at the rental store or on a jobsite, using the equipment, being advised on the right item to rent or interacting with specific employees.
Process
How efficiently are you utilizing your rental assets? Which items are driving your profitability and which ones are costing you money? By keeping a report that enables you to answer these questions accurately, you can maximize your ROI. Equipment utilization reports can help you make informed decisions on whether, for example, to order more of a certain type of equipment or, conversely, reduce your inventory of a certain item. Let's say you rent different types of lifts — boom, scissor and aerial lifts. You should be able to analyze both time and dollar utilization across the different types of equipment so you can keep the right mix. Doing so can also help you drive strategic decisions around sales and marketing. Most rental software systems allow you to roll up data into "classes" of equipment such as lifts, and also to drill down at the individual equipment level.
Product
The last thing anyone wants is to be is understocked (or overstocked) from a product perspective. Sales forecasting enables you to project your future equipment needs against what you have available in your fleet. If, for example, you need 30 portable power units for a job coming up in three months, how does that fit in with what you expect to have available? Can you meet the needs of all upcoming jobs? If not, will you need to buy more equipment or should you look into re-renting from another vendor? With a proper sales forecast pipeline, you'll ensure that your customers get the equipment they need, when they need it.
Tacking reports related to the three Ps onto the wall of your office or posting them behind the counter can help you and other employees keep sight of key performance metrics. After all, with the right data at your fingertips, you can make decisions that enable you to increase profitability, decrease suboptimal spending, and, most importantly, keep your customers loyal.