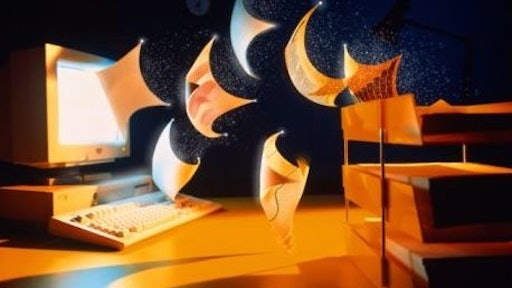 Twenty years ago, the typical rental business probably had a spiral notebook under the counter where employees kept track of missed rentals. Reservations were taken over the phone, and contracts and customer billing statements were kept in a file cabinet in alphabetical order. These days, all of these things can be taken care of electronically, stored in the cloud and easily accessed from anywhere in the world. How can these capabilities benefit your bottom line? Have you taken full advantage of what rental business management software providers can offer?
We asked some of today's leading software companies for their thoughts on this topic. Following are their responses: 
Rental: How is the rental transaction evolving in response to advancing technology?
Matt Hopp, general manager, InTempo Software: The evolution to paperless technology is something that rental operators request and expect. They're searching for ways to go paperless in several respects, including archiving of documents. The trend is toward formats such as PDFs and CSVs that don't have to be printed and can be archived electronically. Even a method as traditional as faxing can now go to an email account or a web-based fax number. Customers want all of their records at a finger's click, instead of keeping endless reams of paper. Ultimately, they see the cost efficiency of moving to a paperless environment.
Patrice Boivin, President & CEO, Orion Software: At Orion, we developed Sirius e's architecture as a platform in order to enable various access to the same information from any device in a secured manner. This allows the Rental web cart, the Asset Management module, the Mobile Application and the online e-signature of documents to all be integrated seamlessly in real-time with complete functions.
Tim Levron, vice president of sales, Corporate Services: We're seeing things like electronic signature capture, GPS telemetry integrations, and location-based alerts with cell phone apps based on proximity to assets and customers.
Technology is allowing rental companies to loop operational and management feedback into their process more readily. For example, updates from the maintenance shop on the condition and quantity of tools can be fed directly to the availability queue for sales and dispatchers looking for equipment to commit to a job. What may have required spreadsheet updates by one department and distributed via file download or email to another, can now be accomplished with mobile device updates on both sides of the process.
Rental: What are some specific examples of technology that is being used and/or will be used in the near future that could eliminate the need for a paper-based transaction?
Levron: Clients now have the ability to generate a PDF or image of a contract/invoice and email it to the client or salesperson in the field in order to obtain the client's signature, which is then automatically sent back to headquarters for processing and reconciling. Using GPS integration to pull down run hours, odometer readings, etc. helps maintenance supervisors and technicians keep up with their work based on alerts triggered from these devices. It eliminates the need to keep paper records on the items.
Boivin: The integration of e-signature is the main technology being deployed. By integrating the technology within the application directly, we can attach documents directly in the transaction as soon as it's signed online by the client. An alarm is automatically triggered to advise the users that the client signed. It resolves a big problem for rental companies. The document management is all done automatically. The signature is only one email away and the customers are very pleased with the simplicity of dealing with the rental company.
The mobile application used in the field to take pictures and confirm deliveries with the touch screen signature is increasing the efficiency and the accuracy of the logistics process. In real-time, the logistics staff gets updates on upcoming deliveries and pickups with a map for route planning.
Hopp: There are a number of technology advances that will aid rental businesses in the quest to go paperless, many of which have been gaining popularity within the rental industry. Some examples include software for archiving, document distribution, document tracking and signature capture for remote transactions and deliveries.
Rental: What benefits do these changes provide for rental companies and their customers?
Boivin: Eliminating paper is directly leading to greater efficiency and accuracy. With the functions available from many devices with a central platform, there is no need to carry paper and print documents. The information is available anywhere. This is only possible with the newest software with a secured architecture. Otherwise, rental companies could expose their confidential information to outsiders. Thus, it's important to select the right vendor.
Rental companies can use the paperless platform to differentiate themselves in the market, where delivering the right equipment on time is key to developing a reputation as a quality provider. The stakes are higher than just reducing paper. It can be a strategic advantage. Some clients direct their customers to their web cart to eliminate multiple phone calls and are able to reduce their staff as a result. In today's world, customers want to be able to order equipment at any time during the day and night. The younger generation is particularly keen on using technology instead of a phone call. This is a good way for rental companies to capture more customers in their market.
Levron: There will be significant benefit for all aspects of the equipment rental business, such as gathering of utilization data by field personnel, faster and more accurate repair and maintenance status, streamlining of billing information and receivables processing, and faster and more accurate reporting for management.
Customers will benefit from the expansion of mobile data delivery services designed to gather information on equipment condition, location, movement and operation with less human intervention. Personalized data delivery strategies will continue to improve the ability for management personnel to tailor their feedback needs.
Hopp: The number one benefit is cost savings for rental companies and a speedier, better experience for their customers. There's a considerable amount of money tied up in everything "paper" — fax machines, printers, filing systems, storage systems and the paper itself, to name a few. When rental businesses transition to technology solutions, they can streamline processes internally and get information out to customers faster. It's not hard for them to see that the time and labor savings are significant. 
Rental: Where does the software provider's role fit into this scenario?
Hopp: A software provider should foresee new technology solutions, develop or integrate them to benefit a diverse range of rental businesses, and ensure that the solutions can communicate with other systems. A rental business that has the ability to send PDFs to its customers, use third-party software to archive documents, and turn mountains of data into actionable information through electronic reporting, is well on the way to being paperless.
Boivin: The software provider plays an important role as a partner to the rental companies. A vendor with many years of experience has likely come across similar challenges that other rental companies are facing. If the vendor has new generation solutions, the software provider can use its in-depth expertise and new technology to implement the best business processes for its clients.
Levron: The ability to integrate all of these benefits into a single easy-to-use system, or to make multiple systems interact with minimal user awareness, is a key delivery for software solution providers.
Rental: What will the future bring?
Boivin: In our case, the future is now. We put a lot of thought in creating a platform that is at the same time easy to use, robust and scalable to any company size. With our mobile and SAAS versions, we manage to address the need of any prospects within our field. Eventually, we foresee that all software solutions will be developed as an open platform in order to enable the access of the system's functions anywhere, anytime in a secured manner.
Levron: Remote delivery and acquisition applications will get better and more job specific, clients will become more accepting of initiating and accepting paperless transactions, GPS will get less expensive to apply and configure for assets, which will allow better tracking of data. Setting geo-location "fences" around the rental yards and job locations will increase in use for automatically tracking when assets leave or return, where they are being utilized, and when they are returned back to the yard.
Hopp: Looking ahead, the core benefits our software has provided since day one — namely, allowing rental owners to run their operations more efficiently and grow their businesses — will not change. Rather, the constant evolution of technology gives us newer and faster ways to serve these goals. We'll see acceleration of the speed with which our customers can conduct business, integration with other software packages, ease of implementation, mobility and the availability of real-time data. It's exciting to think about all the many benefits that future rental technology will bring.