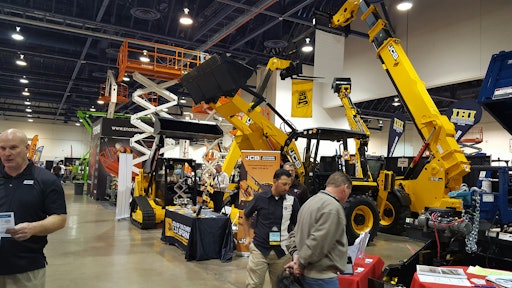 The California Rental Association's 2016 Equipment and Party Rental Rally Trade Show was held in Las Vegas last week, and preliminary numbers suggest significant growth for the regional event.
According to Executive Director Dale Blackwell, the official attendance is still being calculated, but preliminary numbers indicate there were over 400 preregistered attendees from over 18 states, Canada and Australia. The attendee count should rise to around 450 total after on site registrations are compiled, Blackwell says. Last year we had 300 total attendees.
He adds that there were 308 vendor booths displayed this year, up from 187 last year, a significant jump.
"We have a great partnership with attendees and vendors," Blackwell says. "We continue to grow these alliances. Many thanks to the Mid Atlantic Tent Renters Associaton, Scaffold Access Industry Association and Industrial Fabric Association International for their contributions to our show this year. It is a win-win for all. This would not be possible without all of vendors' and attendees' support. We look forward to next year at the South Point Casino Hotel in Las Vegas Jan. 30 through Feb. 1, 2017."