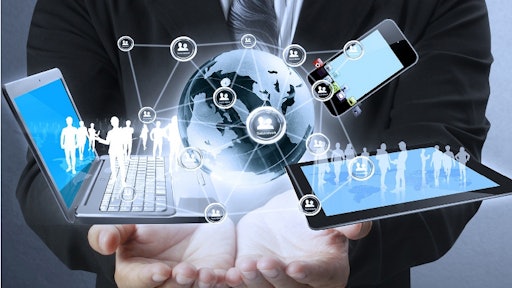 In the latest installment of Market Watch, we asked rental companies around the country to tell us how much of a factor mobile technology is in the way they currently do business. Here's what they had to say:
Massachusetts: Smart phones play several roles
Grant's Rental in Bridgewater, MA is a general tool and party rental store. Company owner Brian Grant said his store takes advantage of its smart phones in a number of ways. Among them, cell phones are used for finding directions to jobsites, for processing credit cards both at jobsites and at the store, and for communication, e.g., to change delivery location or if the site needs another item.
"We send pictures of the site before and after if there could be possible issues (liability, equipment getting dented, and so forth)," he noted. "We also take pictures of tents at set up and equipment when it's dropped off and compare at contract close – just to keep everybody honest."
The owner said Grant's Rental still receives most reservations via the phone, although party email requests often turn into reservations. "When people email us from our website, we respond and ask them to call us with the details. Having customers speak with someone at the store sorts out the many variables and allows a rental transaction to go smoothly."
Grant's Rental does not have GPS on any of its equipment or vehicles. Explained Grant, "Our market is a 15- to 20-mile radius and we traditionally deliver equipment. Hence, we know where it is. When contractors pick up at the store, they're usually regular customers, people who've been pre-screened. We feel confident the equipment will stay in their possession during the time of rental. Conversion coverage in our insurance policy gives us additional protection, if needed.
"I have looked into putting GPS on mobile equipment to track hours of use, but we currently have systems in place that control this manually without having to invest in the additional costs."
Grant's Rental has been in business since 1986. The store has 10 employees and a customer mix comprised of 50 percent homeowners, 40 percent small contractors, and 10 percent industrial. Through August of this year, rental sales have been divided between 70 percent tools and equipment and 30 percent party.
Georgia: Keeping track of equipment
Gary Bonds, owner of Advanced Rental Center in Canton, GA, has seen the ups and downs of the rental business. He sold his original store to a company that went bankrupt, weathered through a five-year non-compete agreement, and started a new company in 2005. 
"I looked like a genius, then," he laughed.  "The economy was booming and equipment was flying out the door. Well, that quickly changed in 2008." This owner weathered the great recession, too, adding that the first five months of this year have been, in his words, "fantastic" until July, the second month of a drought.
As good as all the new technology and smart phones in the world are, they come in a distant second to Mother Nature for generating business. In Bonds' case, and as other rental store owners know, it's a waiting game until the weather cooperates.
When it breaks, Bonds admits he won't be relying all that much on new technology to generate sales. "We're definitely not as tech savvy as other rental stores," he remarked. "Yes we have smart phones and use them to communicate with our customers, but we don't take advantage of all the features they offer."
What his store does, however, is put GPS tracking on equipment rented to customers he doesn't know. "We've never had a problem with theft, but collection can be and has been an issue with a few customers," Bonds related. "If we think there's a potential concern, we will put a GPS device on the equipment. Then if a customer doesn't stay current, we can locate the equipment and pick it up."
Advanced Rental Center has five full-time employees and does business primarily with contractors. Its rental lineup includes everything from skid steer/track loaders, mini excavators and trenchers to lifts, saws, generators and a wide assortment of other tools.
Wisconsin: Technology helps drive sales in rec hot spot
The tag line for M & M Rental in Hayward, WI is "More Than a Rental Store." This is because the store provides an array of services such a shrink wrapping and winterizing boats, thawing out septic lines, retailing recreation products and power equipment, and even selling beverages and pizza.
But with over $1 million in inventory, it is more than anything else a rental store, renting everything from skid-steer loaders to ski boats and most everything in between. Owner Mike Hadley has been renting equipment and tools, recreational products and party goods to both contractors and homeowners for 33 years in northern Wisconsin. "We have every conceivable tool customers would want," said Hadley. "If we don't, we will get it for them."
He continued, "We really don't do any advertising but rely instead on our reputation, website, and being on Facebook. "My sister, Ann Berard, manages our Facebook account and uses it effectively to post new products and in-store specials. She also handles the recreational side of the business. My son Jacob runs the equipment side."
Facebook comes in handy both for renting unusual items like boat motors, floats, paddle boards and other products that keep summer vacationers entertained, and for introducing customers to new products like the Toro power equipment line it just took on. 
M & M is a bit unusual in other ways, too. "All of our contracts are done on paper," said Hadley. "If we did them electronically, we would need a half dozen computers at the counter or be forced to keep customers waiting."
He also prefers to have customers call or come into the store to rent something rather than reserve it online. As he put it, it's not just a matter of making sure a product meets a specific application. The large number of area lakes requires detailed instructions so delivery drivers can find a customer.
But finding his store is no problem for them, something that M & M's website and social media help ensure. 
Indiana: From walkie talkies to smart phones
Twenty three years ago, when Stephen Lee started his equipment business, walkie talkies were popular. Today, smart phones have not only replaced them, but provide an array of other services.
"To say that technology has changed the way we do business today is an understatement," said the owner of Hoosier Tools in Indianapolis, Indiana. "Just as an example, years ago we hand-counted our inventory. Today you can purchase software programs that will track your inventory and remind you when something needs to be reordered."
Advances in mobile technology, more specifically smart phones, are even more dramatic, he pointed out. "Customers can access our website 24 hours a day with their phones and check availability of equipment and reserve it online. They can ask questions with the phones and I can even send them a YouTube instruction video to help walk them through an issue."
He noted that the smart phone's camera comes in handy, too. If a driver finds that a piece of equipment he is picking up is damaged in some way or has three flat tires, he can take a photo of it to ensure there will be no dispute with the customer later on.
Seeing is believing in other ways, too. The store chips about 20 pieces of its larger equipment. Lee can track the equipment on his phone and even determine how many hours a machine has been running. "You can do much more than that with this technology," he said, "but we're primarily concerned about knowing where our equipment is."
A general rental store, Hoosier Tools employs five full-time employees and has a customer mix that is 65 percent commercial and 35 percent homeowner. "We've been having a really good summer," added Lee. "The weather has been cooperative and despite being an election year, customers seem to be confident enough to spend money. In addition to renting equipment, we sell Husqvarna and Toro lawn equipment, diamond blades, sand paper, and an assortment of other products."
Colorado: Younger generation is more informed
One could say Mike Leiser is high on the rental business. He and his two partners operate Indian Peaks Rental in Tabernash, CO, where the elevation is a cool 8,700 feet. He's also spent 48 years in the rental business, having logged time in the industry on both the east and west coasts before settling in this resort community about one and a half hours from Denver.
"We're not like most rental stores," said Leiser. "The population in our county is only 15,000 and, after being in business 11 years here, we know most of our customers. We see them regularly and most all business is conducted either face to face or over the phone. There's very little emailing or texting, and our website is informational versus interactive. We include prices but customers cannot reserve equipment online.
"The one change we have seen over the years is that younger customers often spend time on our website before calling or coming in. So, as a general rule they are more informed than our older, less tech-savvy customers.
Indian Peaks Rental is a general tool rental store that caters to both contractors and homeowners. Leiser said business is currently very strong, although the recovery has been slow to come. Much of the new activity, he pointed out, comes from homeowners building second homes in what is one of the closest resorts to Denver.
"Our business is very seasonal, he added. "Peak season lasts only five months. Ground thawing equipment, heaters, and snow removal equipment are among popular winter rentals for an area that receives well over 300 inches of snow annually.
Wisconsin: Ten Years Later
When Scott Hopkinson opened his rental store in Woodruff, WI, in 2005, 99 percent of his website hits were from laptop or desktop computers. Today, less than 20 percent come that way; the rest are from smart phones and tablets. That alone shows the extent of the mobile revolution. Customers can have 24/7 access to your website from virtually any place in the world.
The owner of Sam's Rental, a general rental store with an emphasis on party supplies, has not only developed his website to be mobile friendly, but it alerts him when someone is accessing it. He can then get an idea of the customers' demographics and what they are searching for, and be ready to answer their questions when they call or come into the store.
"People want to do business with us because we try to make it easy for them," said Hopkinson. "One way we do that is to be especially responsive, something that customers have come to expect."
But there's a limit to how much actual business he conducts over the Internet. He doesn't, for example, take reservations online. There's a chance a customer might be using a stolen credit card or can become confused and reserve the wrong item -- that applies equally to party goods and equipment.
Hopkinson is not a fan of the "cloud" either. "I want to have control of my data," he emphasized. "Once you go onto the cloud, you lose control. What happens if the Internet goes down? Having our own server allows us to retain control."
Next year, he wants to implement GPS tracking of his vehicles and keep a history of where his vehicles have been.
Technology aside, this owner said his store is having a fantastic year, with August through October completely booked and one month next year already completely filled up by parties and weddings. "We've never experienced a volume like this," said Hopkinson. "But in this business, every year is different and you have to be ready to react."