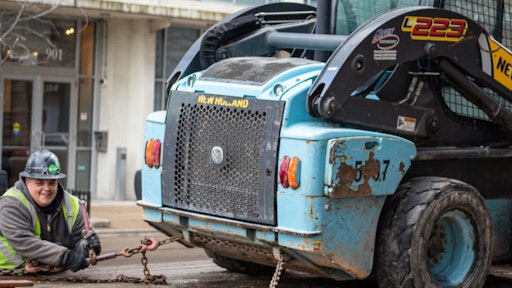 Gearflow
Original article from Gearflow was repurposed for the Rental audience.
The convenience, accessibility, and transparency that the internet affords us in our everyday purchases has fundamentally changed our expectations in how we do business. Gary Vaynerchuk has stressed the importance of e-commerce for all transactional businesses in order to adapt to life during and after COVID 19.  "I just can't imagine anybody not recognizing the need for an e-commerce presence in 2020," he emphasized in a recent LinkedIn article.
There is still a belief that the construction equipment industry is immune to the shift towards e-commerce — people prefer to do business over the phone, so e-commerce will never work. Many customers do, in fact, prefer to do business over the phone and that will not change no matter how great your website is.
However, digital transformation in the heavy equipment and parts industry had already begun prior to the pandemic and will only accelerate over the next five years. The pandemic simply makes the need to digitize impossible to ignore.
I am not here to say that people not embracing e-commerce will change their ways overnight. I am saying that at least 50% of your customers are changing if they haven't already. Some suppliers in the heavy equipment industry are using the stereotype of the "old school" customer to define all customers, which justifies deprioritizing e-commerce.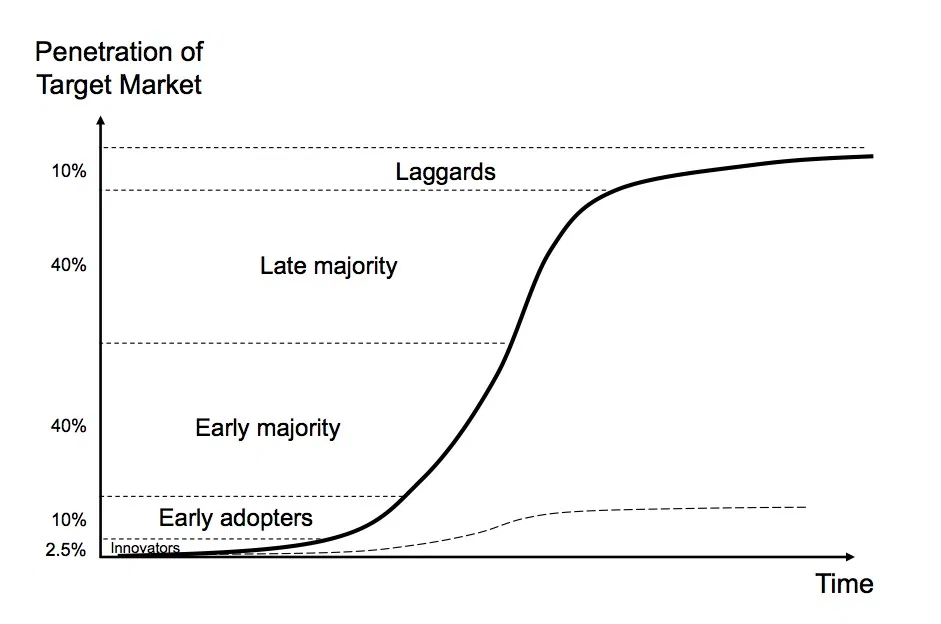 Don't let laggards define how you think your customers act. Take a look at the Technology Adoption Curve.
This is a huge mistake.
Just like with all technology, these customers fall into the "laggard" category in the technology adoption curve. They will be the last people to buy or rent heavy equipment and parts online. What these suppliers are ignoring are all of the signs that point to the fact we are just at the beginning of the e-commerce adoption curve in the construction equipment industry.
This means that the longer suppliers put off e-commerce, the more they risk missing out on or losing the customers that are innovators, early adopters, early majority, and late majority. The heavy equipment and parts industry is just beginning to ascend the adoption curve, and these are the signs:
1. Buyers Adapt to Innovation Patterns
Heavy equipment rental seems to be following the same patterns as car rental — just 40 years behind.
The introduction of car rental came soon after the rapid adoption of the automobile. Hertz was founded in Chicago in 1918, originally as Rent-a-Car Inc., with a fleet of 12 Model T Fords. Following WWII, the rental car industry was flooded with rental companies. Several powerhouse companies emerged making it tough for the thousands of independents to compete. Consolidation began as large rental companies and manufacturers started snatching up the independents. Therefore, the availability of cars had been addressed. Accessibility was next.
Expedia, one of the first online travel agencies, was founded in 1996. By 2003, 21% of car rental bookings came from online travel agencies and 15% direct from the companies' websites. Then came the sharing economy and beyond.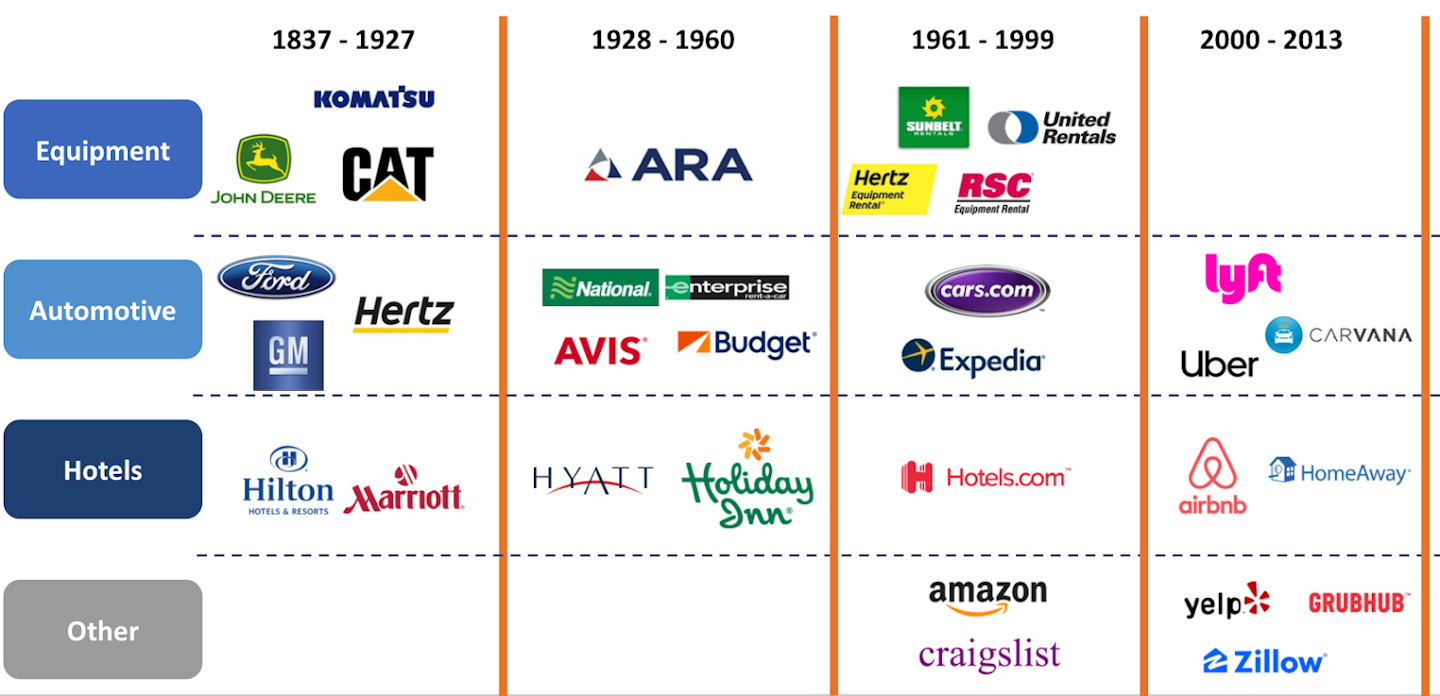 Heavy equipment rental seems to be a period behind what car rental and hotels has gone through.GearflowFrom manufacturing to rapid rental business creation, to consolidation and platforms, heavy equipment rental seems to be a period behind. However, there is one key distinction that will keep equipment rental from being "platformized" like in car rental – more is at stake in a heavy equipment rental than a car rental. 
The human element in the equipment rental transaction is absolutely vital—something many tech companies overlook. The customer service and category expertise that comes with independent rental will keep the independent business thriving as long as rental companies make it a precedent to provide the same digital experience that the largest players do.
The temptation for your customers to switch purely out of convenience will grow as the largest rental companies continue to invest in their e-commerce channels. Now is the time to focus on mitigating that temptation.
2. Amazon Business is Growing Fast
You know that consumers in your industry are shifting towards e-commerce when Amazon makes your customer it's core focus.
According to a report by Applico, Amazon Business reported $10 billion in total sales in 2018, $6 billion of which came from maintenance, repair, and operations supply—their leading category. 
Eighteen million of the 56 million products they have listed are in that category. To put it in perspective, Amazon Business is already fourth in MRO revenue. Not only that, Amazon Business is forecasting $75 billion gross merchandise value by 2023, growing at a 115% compound annual growth rate from the $10 billion they reported in 2018. Compared to the 28% growth rate in Amazon Retail, this is massive. This would make Amazon Business the number one industrial distributor in the U.S.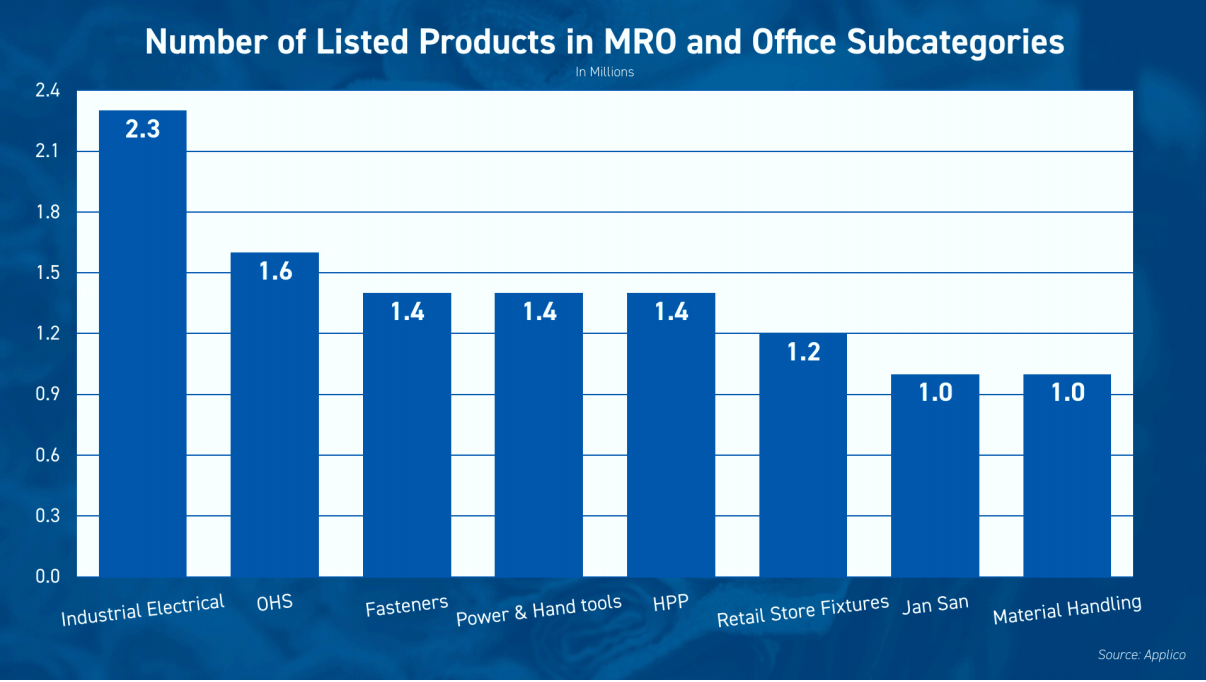 A breakdown of SKU count for Amazon Business's MRO category.ApplicoSuppliers in these categories need to act quickly in order to compete. Amazon is undoubtedly learning from every transaction as to what parts they should replicate and offer at a cheaper price like they have done in retail. It will be impossible for any single supplier to compete with Amazon's SKU selection.
Suppliers need to band together and work with a marketplace platform that won't get in between them and their customers.
3. The Biggest Industrial Suppliers are Focused on E-commerce
E-commerce is already the preferred method for buying parts. Grainger expects that 80% of their revenue will come from e-commerce by 2023. They continue to invest in their e-commerce channel and its complimenting in-person service.
Fastenal's e-commerce revenue has grown 27% year-over-year and now makes up 35% of their total sales. "I see e-commerce being 60%, 70%, and 80% of our business," said Holden Lewis, CFO of Fastenal.
Across 300 B2B distributor businesses, e-commerce sales has grown by 11% year-over-year, bringing the total north of $700 billion in revenue.
It's clear that some of the biggest manufacturers and distributors are putting a focus on growing their e-commerce channels, especially in reaction to this pandemic. 
4. Contractors are Changing their Buying Behavior
According to the American Rental Association's 2019 consumer survey, 34% of contractors already expect that their rental transactions will be done completely online. Catering to these customers is a focus for the top rental companies. 
Although only 2.5% of their revenue is coming through the digital channels, United Rentals has seen a greater than 50% year-over-year growth rate in self-service e-commerce revenue, according to their 2018 annual report. 
United Rentals
For 80% of rental companies, an online transaction isn't even possible. This is not an easy expectation to deliver on.The rental transaction is a complex transaction that is very difficult to be done without human intervention. Most contractors already have relationships with a few rental businesses and tend to stay loyal to them because of the familiarity the rental company has with the work their customers do.
As a result, a large percentage of revenue for these rental businesses is from repeat customers. Therefore, e-commerce in rental should be implemented to retain and enhance their existing customer relationships first and foremost, not just to bring in new business.
Sales reps will be able to spend less time on the phone answering questions that they get all day long, like: 
Is this in stock?
Where is the truck?
Can you come pick this up?
For sales reps, less time on the phone means more time to find new business. Incremental business by way of an e-commerce presence would simply be icing on the cake.
5. Buyers are Getting Younger
According to a Merit study, up to 73% of all B2B buyers are now millennials. The millennial generation is defined as people born from 1981 to 1995, which means they are currently between the ages of 25 and 39. Why does this matter?
They prefer to research and buy what they need online. As of 2019, Millennials do 60% of their shopping online. This is carrying over to their business needs as well. This trend will continue as more Baby Boomer business owners pass their businesses on to the next generation.
6. Buyers Research Online First
The digital representation of your business is now more important than how your store looks in person. Everything from your website to the reviews about your business to your social media presence needs to be an accurate reflection of the business that you are proud of.
According to Demand Gen's B2B Buyer's Survey, peer reviews are just as important as pricing (67% vs 75%). That's huge.
It also makes sense, especially in heavy equipment and parts. The cost of down equipment is much higher than the price saved on lower quality equipment, low quality customer service, or slow to ship parts. Contractors need to be assured that the part they are buying is a high quality part from a reliable supplier, so peer reviews are massively important in building that reputation and trust.
According to a study by G2 Crowd, 92.4% of B2B buyers are more likely to purchase a product or service if they have read trusted reviews about it. Positive reviews can increase conversion rates by 380% and spending by 31%, and 85% of buyers trust reviews as much as personal recommendations.
Trust in a supplier that contractors rely on to keep business moving is invaluable. Your online reputation is a major factor in building and maintaining that trust.
7. Buyers Use Phones to Research and Purchase

BCG
It's not enough to have a great website; it has to be equally user-friendly on mobile devices as well. Why? According to a recent BCG study, up to 70% of B2B search queries are made via a mobile device.
B2B buyers use their phones to research you, so a poor mobile experience can be detrimental to your business. As reported by BCG, over 90% of surveyed users would buy again from a business with a superior mobile experience, whereas only 50% of users would buy again from a business with a poor mobile experience.
This data comes from a typical B2B software buyer, so you may be thinking that this is all well and good, but it doesn't apply to the heavy equipment and parts market. Actually, it's quite the opposite.
Think of your typical contractor. They are out on jobsites working during the day and are rarely behind a computer. They work hard to avoid downtime and the cost that comes with it, so they value accessibility, availability, and convenience above all else. If equipment goes down, they want the parts they need as soon as possible. If they are renting, they want to be sure they are working with a rental company that will reliably be there for them when they need them.
Offering a mobile experience that makes working with you faster than a phone call will keep contractors coming back again and again.
8. Buyers Prefer Self-Service
The next generation of customer (remember: millenials) doesn't want to call a sales rep. According to a McKinsey study, 85% of B2B buyers prefer using self-service tools for reordering over talking to a sales rep. I am not saying that technology is here to replace the sales rep like some reports are suggesting. In fact, e-commerce makes the sales rep more effective. 
Sales reps should focus on converting new business instead of spending their time handling transactions that will happen anyways. However, businesses in the heavy equipment industry cannot attempt to become an e-commerce company because it will not work. Instead, heavy equipment and parts suppliers need to focus on becoming e-commerce enabled. 
E-commerce needs to be thought of as a job enhancement, not replacement. Humans are an important part of the sales process. According to the same McKinsey study, 76% of B2B buyers find it helpful to speak to someone when buying a completely new product or service. This is even more true in the heavy equipment industry. 
Businesses will be able to drastically increase output per sales rep, while simultaneously increasing customer retention and satisfaction once the concept of becoming e-commerce enabled is embraced.
9. Boom in Construction Technology Funding
There is a giant bullseye in Silicon Valley on construction technology. Manual tasks will be made easier with online tools as entrepreneurs continue to eye construction as the next industry ripe for innovation.
Many of the construction technology companies on the other end of the funding explosion are on the building side of construction. However, suppliers will need to keep up as contractors continue to digitize. Behavior and expectations from buyers will continue to shift as digital adoption increases, so suppliers that do not adopt to this shift in behavior will risk getting left behind by those that do.
10. OEM Distribution is Evolving
In March, JLG announced the launch of Online Express, their direct-to-consumer e-commerce platform for parts and attachments. This may not seem like a breakthrough, but it is. JLG, an aerial lift manufacturer, is one of the first to create a completely digital direct to consumer e-commerce channel where any customer can buy any part they need and ship it direct to their location.
The site also allows JLG to capture valuable information about their customers and their competitors' customers such as the equipment they own, the type of work they do, etc. Other OEMs have online parts ordering sites, but not like this. The traditional OEM parts ordering process is done through dealers behind an account log-in. The gold standard has been CAT's parts ordering system. However, orders are still made through dealers.
Many OEMs are concerned with "competing against their dealers." JLG has made a statement that they are focused on what is best for the end user. Approaches like this could have a ripple effect in the aerial lift industry and beyond.
11. Now or Never
The global crisis has pushed us further into a digital world, exposing businesses that are ill-equipped to serve their customers digitally. Many online retailers saw a 74% year-over-year increase in revenue in the month of March compared to March 2018.
The demand for a digital experience will outlast the pandemic. When everyone goes back to work and it's time to build, consumer behavior and expectations will have changed. Now is the time to ask yourself, what you are doing to adjust to the new consumer? Businesses that take action now will come out the other side of this pandemic more efficient and effective. Those that don't will risk getting left behind.
Now I want to hear from you. What do you think about this call to action? What are some things that your business is doing to digitize? How do you see the behavior of customers in the heavy equipment industry changing?