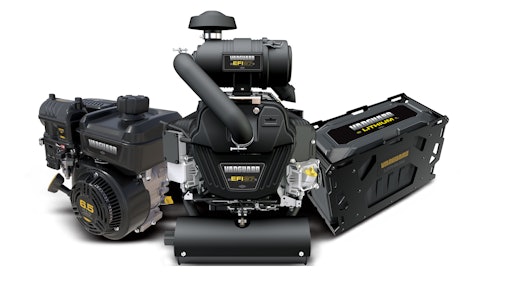 Questions answered by David Frank, vice president of commercial engine sales
What do you think is the future of the rental industry?
We are very optimistic about a strong rental market in 2021-2022. The rental industry is growing and innovation in this market is accelerating. That usually favors renting versus buying. We are seeing a strong trend of new homebuyers that are investing heavily in home investments. As far as any downside risks, rising inflation and a competitive labor market is increasingly concerning for the industry, especially when it comes to new home construction.
What is next in terms of innovation?
There are a number of areas where innovation will continue to make a significant impact in the rental market. At the engine level, we continue to make advancements on small engines to reduce fuel consumption and improve performance with Vanguard Electronic Fuel Injection (EFI) and Electronic Throttle Control (ETC).
In electrification, we'll continue to see advancements with fully electric and hybrid product offerings and a growing charging network. The IoT, or Internet of Things, will continue to be a hot topic that will help us build smarter, more connected equipment.
Telematics will provide a significant boost to rental fleet owners through usage tracking and theft reduction. Everyone is wondering when we'll reap the benefits of fully autonomous equipment, but don't overlook the impact that semi-autonomous features will begin to make an impact over the next few years. But while there are a lot of flashy possibilities for innovations over the next few years, we can't forget the innovations that will make it easier to use the equipment and reduce downtime. Those will be the most effective innovations in the near future.
What are some trends you are seeing throughout the industry today?
Integrating technology into rental products and engines will continue to be a hot trend. We are continuing to see rental yards looking to reduce downtime as much as possible. One way this can be achieved is by lengthening maintenance intervals on an engine. With the increase of DIY customers, we are also seeing more innovation that promotes the ease of use for equipment. We are also seeing more OEMs put emphasis on virtual product training for rental yards. More DIY customers are renting through local commercial rental yards over the last year, and this has contributed to a rise in mid-sized equipment rental.
Listen to Vanguard experts Chris Meyers and David Frank discuss what total cost of ownership looks like from three different perspectives.
Is there anything new and exciting on the horizon for your company that you can share with us?
Vanguard continues to expand its lineup of engines equipped with electronic fuel injection (EFI) and electronic throttle control (ETC), which improve performance and load acceptance, offer better fuel efficiency, and easy all weather choke-less starting. In addition, Vanguard continues to add to its broad V-Twin EFI engine range. The most recent addition to the lineup being the 29.9 gross kW/40 gross HP* engine featuring EFI and ETC.
Vanguard also continues to expand its commercial lithium-ion battery system, which provides an integrated electric power solution for multiple applications. Starting at a 3.8 kWh power output, battery packs are also available in 5 kWh and 10 kWh power outputs. The batteries offer flexible power solutions as the packs can be stacked to provide higher power output suited to application needs. The fully serviceable battery units also come with a battery management system and charger.
We also continue to build out extensive online training courses geared toward rental customers through Vanguard University. Reducing maintenance for Vanguard engines is also a key priority and we've addressed these in our single cylinder engines with the cyclonic air filtration system, OilGuard, and TransportGuard technologies.
* Power levels are stated gross kilowatts per SAE J1940 as rated by Briggs & Stratton