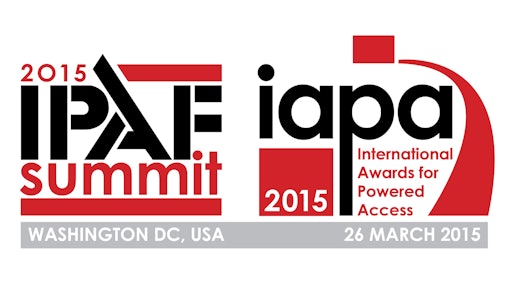 Few could argue there's significant value in getting together with peers to discuss common concerns and initiatives. Throw in a few thought-provoking speakers and a gala evening in a world-class city and the possibilities become endless. Fortunately, just such an opportunity is coming up soon in the form of the 2015 IPAF Summit and IAPAs, slated for March 26 in Washington, DC.
We at Rental look forward to this event as it presents a unique opportunity for networking with top-level rental executives as well as representatives from major manufactures and professional firms. The event is second to none in terms of its potential for meaningful face time with professionals from so many facets of our industry. Anyone who owns a fleet of equipment or is involved in the aerial equipment business, as well as safety, training and finance, would realize the same benefits from attending.
Networking is just one of advantages the IPAF Summit offers. The main event is really the line-up of top-notch speakers covering numerous topics of interest including product technology, safety, training, emerging markets and profitability, to name just a few. Heading up the list of speakers at this year's event are Jordan Barab, deputy assistant secretary at the US Department of Labor and second in command at OSHA, and top management from leading access equipment companies JLG and Riwal. See the full list of speakers at this year's Summit at www.iapa-summit.info
Following the IPAF Summit, the day concludes with a gala dinner where the International Awards for Powered Access (IAPAs) will be bestowed upon winners in several categories. More than 95 entries across 13 award categories were received for the IAPAs 2015, which are jointly organized by Access International magazine, Access Lift & Handlers magazine and the International Powered Access Federation.
Of course, high-quality speakers, professional networking and a gala awards dinner are inviting on their own, but let's not ignore the venue. This years's IPAF Summit and IAPAs are being held in the nation's capital, a city with no shortage of sights to behold - and at the beginning of the annual cherry blossom bloom, no less.
Rental's attending the IPAF Summit and IAPAs. Are you? For information on how to book, visit www.iapa-summit.info