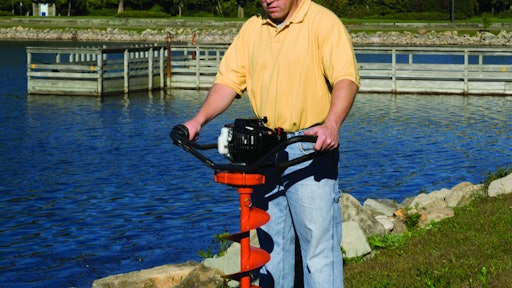 The term auger can have a number of different meanings within the equipment rental industry. The reference can be made to a wide range of products all designed to dig holes in a variety of soil classifications -- anything from a small, gasoline engine-powered, one-man machine to a hydraulically powered attachment that mounts to skid loaders, mini-excavators and even tractor-loader-backhoes.
The most popular machines within the equipment rental industry from inventory numbers and utilization rates are gasoline engine-powered, hand-held machines. Many years ago, the industry standardized on one- and two-man configurations for this type of product. The next most popular configuration is the hydraulically powered, towable units that have become quite popular in recent years. What contributes to their popularity is the fact that kickback is minimized when the auger strikes a buried obstruction. The design configuration also eliminates the need for an additional operator, especially when digging larger-diameter holes in tougher soil classifications.
Following up as maybe the least popular product (in terms of inventory numbers) are the hydraulically powered earth auger attachments that are used in conjunction with skid loaders, mini-excavators and tractor-loader-backhoes. Mounting an earth auger attachment to a prime mover is usually not the first solution selected because of complexity and cost. What is somewhat ironic is that the most productive method to dig a hole is with an earth auger attachment mounted to a skid loader, especially for larger-diameter holes in tougher digging conditions. Obviously, this method first requires the rental dealer to make the initial purchase of a skid loader or similar type equipment and then recognize the market demand that can justify the additional purchase of the earth auger attachment.
Target customer  
One of the great challenges of manufacturing hole digging equipment is that hole digging is a blend of both art and science. It's usually not a simple and easy process. And, it can also be a very physically exhausting process. Add in the uncertainty of knowing exactly what is buried in the ground along with terrain concerns and now the process can be even more challenging. Another important factor is the same product can be utilized by both the weekend warrior and experienced professional contractors. Both customer extremes can have different demands and expectations and, for us as a manufacturer, the challenge is to try to provide a machine that satisfies both. One of the effects of this current economy is that more and more inexperienced homeowners are now tackling the jobs they once paid professional contractors to perform. That includes building backyard decks and privacy fences. How does the manufacturer best address experience and training issues, not only to minimize the normal product liability concerns, but also to make the hole digging process a positive experience that will lead the customer to rent again?
It is generally accepted that portable hole digging equipment consistently ranks within the top 10 rental products. We know from our discussions with both independent and national accounts that these products characteristically provide very high ROI rates because of utilization and low operational costs. Typical payback for a one-man, hand-held hole digger can be as low as 30 days with a practical service life of up to four to five years with proper maintenance. We have documented cases where a one-man, hand-held machine generated over $5,000 in revenue per season with only normal replacement wear parts and usual maintenance costs. Granted, utilization rates exceeded normal industry averages, but it does substantiate the popularity and demand for these types of products within the rental industry.
Selecting an auger 
As with any product, the first thing that needs to be considered is the potential customer base. What percentage is homeowner or residential? What percentage is the professional contractor? Both segments have different needs they might not always acknowledge or understand. It's critically important for the rental dealer to completely understand the needs of his customer segments. For both segments, experience, cost, manpower and transportation are common issues.
Experience - Less experience historically means the homeowner will choose a smaller, hand-held type machine. Contractors typically have much more experience operating powered tools and will select a solution based upon past successes and failures.
Cost - Everyone is looking to minimize project costs. Homeowners typically select the least costly alternative. Then if it doesn't meet their expectations, they come back for the higher cost solution. Contractors typically select the solution that provides the highest ROI because time equates to money.
Manpower - Homeowners will typically chose the solution that requires the least number of people. The same can be said for contractors.
Transportation - If the homeowner can't transport the solution back to his home, he can't rent it. This factor is becoming a significant solution consideration and is already having a direct effect on our product design. Keep in mind that the vast majority of today's automobiles have small trunks and are no longer equipped with a trailer hitch. Not everyone drives a SUV or pickup truck! With contractors, transportation is usually not an issue.
After first determining customer demands, the other driving force for product selection becomes features and benefits followed by support-related activities. What machines have the features and benefits that my customers want and ask for? Do they have preferences? What machines deliver the service life and ROI that I need as a rental dealer? What manufacturer best delivers the field support that I need? These are the questions that the rental dealer needs to ask rather than continue to just purchase the same machine over and over again entirely out of habit.
Economy vs. premium  
There are very few manufacturers of hole digging equipment. The reasons are also few. It's a specialized product with higher than normal product liability exposure. Demand is less than with many other products you see loaded in the back of a contractor's truck. Machines are also typically well designed and constructed. Service life is long even with high utilization rates.  Products being sold by today's manufacturers have survived the evolution of the equipment rental industry. They all dig holes and provide their owners with ROI values that are very acceptable. There's good competition. Over the years, several manufacturers have withdrawn from this specialty market simply because they could not meet the higher expectations and demands of rental.
What will distinguish and separate both machines and manufacturers going into the future will be how their  products evolve… or do not evolve. Specifically, the challenge back to the manufacturer will be to combine advancements in technology and ergonomics into its product designs. That will include developing advances in one-man, hand-held machines that make the process easier and more productive to making changes in hydraulic components that enhance the capabilities of the hydraulic attachments. How products are transported back home or to a construction site from the rental dealer will be a driving force into future product design. We know cars will continue to get smaller. People in many parts of this world no longer want to work as hard as they once did. How does that social attitude affect performance and productivity? In  other parts of the word, the challenge will be to make the people more productive by introducing mechanization rather than doing everything with manual labor. Their lack of education and experience then becomes very important. How does a manufacturer balance all those design requirements?  The competitive nature of a global marketplace demands constant product improvement. The manufacturer that is willing to invest in new concepts and go beyond the preverbal comfort box will eventually shape and drive the market.
From our perspective, the market can expect to see significant changes in materials, component design and operator ergonomics that will result in machines that are lighter and easier to operate along with increased features and benefits. The final results will also translate into higher ROI values and decreased operating costs for the rental dealer.