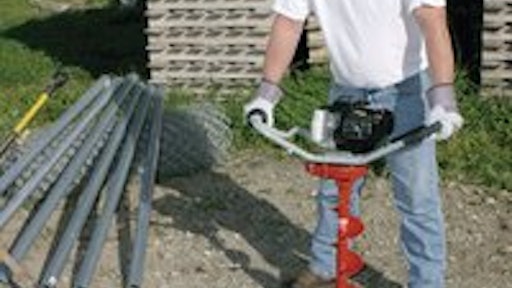 240 hole digger
The 240 Hole Digger earth auger produces 55 ft.-lbs. of drilling torque for improved hole digging performance in light construction projects.
1.6-hp Subaru Robin EH035 four-stroke gasoline engine.
Magura twist grip throttle
Comfort Zone handle designed to minimize the effects of kickback and fatigue
General Equipment
AE400H aerator
4-hp Honda GX engine
Proprietary water tank is desgined to fill and drain easily and holds up to 50 lbs. of water
Optimum weight placement makes lifting the tine assembly out of the ground easy and yields the greatest tine penetration
Billy Goat Ind. Inc.
BP60 Backpack Blower
BP60 Backpack Blower
201 mph, 517-cfm tube-end air volume
59.2-cc Kawasaki engine
67.6-oz. fuel tank
Padded adjustable shoulder straps
JOHN DEERE
E-System
Collection of electric-powered landscaping tools for professional and residential use, including a pruner, edger, line trimmer and hedge trimmer
Tools use E-System Power Head featuring a 850W double-insulated motor that offers a max speed of 8,000 rpm and a shaft length of 36 in.
Can be purchased as a complete system or mix and match to suit needs
Mantis
Earth Drills
Hydraulic and mechanical drive
For all types of soil
One- and two-person models are mechanical drive feature 7/8-in. square auger drive
HD99 hydraulic earth drill features a variable-speed forward and reverse auger rotation and can dig up to 18 in. in diameter; augers range in size from 14-, 16- and 18-in. diameters
Ground Hog
JR. Sod Cutters
12- or 18-in. cutting widths
Self-propelled with knob-tread drive wheels
135 ft. per minute speed
5.5- or 6-hp Briggs & Stratton engines
Optional trenching and mole blade attachments
Optional tote trailer for on-road trailer use
Ryan
Mighty Mac Walk-behind Blowers
Light, compact design
Quiet, balanced, high-speed poly impeller with up to 200 mph and 2,000 cfm
Loop adjustable handle assembly with cushioned antivibe grip
Kickable discharge to divert air up, down, forward, or sideways
MacKissic Inc.
Model 2000XP Stump Grinder
The self-propelled, tri-wheel Model 2000XP offers a tight turning radius with two hydraulic steering options, providing easy access to stumps in close quarters.
Three-wheeled manual, three-wheeled hydraulic and four-wheeled hydraulic steering axles
27-hp Kohler engine
20-in.-diameter cutter wheel with 18 GREENTEETH
Dual hydraulic drive motors
Optional narrow 29-in.-wide four-wheeled frame
Bandit Industries, Inc.
SA-25 Stand-Aer
24-in.operational turning radius
Hydrostatically tine and tire driven aerator
Operational and transport speed up to 4.7 mph, which translates into 50, 000-plus sq. ft. per hour
Tines hydraulically raise and lower up to a 3-in. depth with a hole pattern of 4.06 x 7 inches
13-hp Honda OHV engine
Fits through a 36-in. gate
Little Wonder Inc.
Sod Cutters
Simple controls within easy reach
Blade placed at center of machine for consistent cutting depth
Twist-grip throttle for adjustable speed control
Four front knobby-tread drive wheels ensure better traction
Cutting width options: 12-, 18-, 20- or 24-in.
Depth adjusts to cut sod to 2.5-in. depth
5.5- or 8-hp Honda engine options
Classen Manufacturing Company
Stump Grinders
Easy to use
Can handle any diameter stump
33-in. wide; can access most gated properties
Model 16-20 SP with hydrostatifc drive; Model 16-20 P is a manual push model
PowerTek Inc.
T-30 HydroSeeder
Finn T-30 HydroSeeder®
•Ideal for seeding, fiber mulching, straw tacking, dust control, etc.
•15-horsepower Kubota gas engine.
•Durable steel tank with 335-gallon capacity.
•Reversible mechanical paddle agitation for thorough, consistent mixing.
•Direct-drive, electric clutch centrifugal pump.
Finn Corporation
Tillers
All-gear driven, rear-tine tillers
8-in. dig depth
Easily adjusted handles
Power unit can become a sweeper, rotary brush mower or flail mower
BCS America, Inc.
Turf Mat
The 3 x 6 portable AlturnaMat is designed to protect against turf damage resulting from vehicles weighing up to 60 tons.
Measures 1/2 in. thick and weighs 51 lbs. each
Easy to handle via two hand slots on each side
Bold cleat tread design with cleats on one or both sides, or smooth on both sides
Designed to save repair costs to soft turf, as well as virtually eliminate vehicles getting stuck in mud
Alturnamats
TurfSavr
Cut equipment needs and labor time for turf renovation with the multitasking SourceOne TurfSavr. TurfSavr will cut and seed in a single pass. TurfSavr doubles as a premium dethatcher with an optional dethatching flail reel and removal of the seed box. The heat-treated carbon steel knives are tightly spaced to improve seed germination. There are multiple knife height setting for various turf conditions. Knives fully retract for transport and storage. TurfSavr is self-propelled with three forward operating speeds, plus reverse and neutral. Each pass is 22 in. Briggs & Stratton or Honda engine options.
SourceOne
Companies in this article