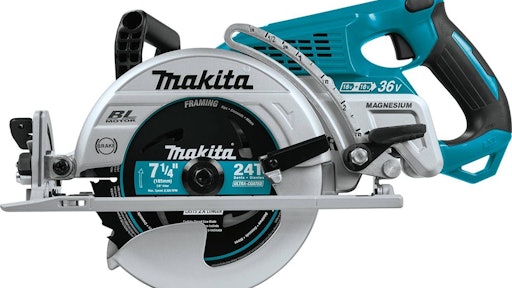 At World of Concrete 2017 Makita announced the new 18V X2 LXT Lithium Ion (36V) Brushless Cordless Rear Handle 7‐ 1/4-in. Circular Saw, model XSR01Z. It is the world's first cordless rear‐handle 7‐1/4-in. circular saw powered by two 18V lithium‐ion batteries. The new saw will be available in spring 2017.
"For users of corded blade‐left rear‐handle saws, the new XSR01Z offers true freedom from the cord for formwork, framing and more," said Andrew Camp, Product Manager, Makita USA. "The XSR01Z cuts faster than both corded and leading brushless cordless saws when cutting 2x10 SPF. In early testing this cordless saw put up big numbers in run‐time tests with up to 558 cross cuts of 2x4 SPF and up to 291 cross cuts of 2x10 SPF with two fully‐charged 18V LXT 5.0 amp‐hour batteries. With a full 2‐9/16" maximum cutting depth the XSR01Z cuts 3x lumber in a single pass." 
The new XSR01Z is part of Makita's continuing drive to address the demands of pro users.
"Right now there is increased awareness of the importance of dust management and vibration reduction," said Wayne Hart, Communications Manager, Makita USA. "At the same time, there is more demand for cordless, especially for work away from a power source. Makita is meeting demand across the board with more industrial solutions for concrete forming, drilling, surfacing, chipping, breaking, and clean‐ups with less noise, lower vibration and better dust extraction. And Makita continues to expand the LXT system with more cordless options including dust management and a 'world's first' for formwork with the new 18V X2 LXT Lithium Ion Brushless Rear Handle 7‐1/4" Circular Saw."
Additional Makita highlights at 2017 World of Concrete include the following:
More Dust Management Solutions
Makita will highlight its expanding dust management system with solutions engineered to assist in reducing respirable crystalline silica and dust on the job site. At the heart of the Makita dust extraction system is the 12 Gallon Xtract Vac Wet/Dry Vacuum (VC4710), which meets the EPA (RRP) rule for HEPA vacuums when the optional main HEPA filter is installed. Makita offers an array of attachments and shrouds that assist in improved dust management during concrete drilling, breaking, chipping, surfacing, and tuck‐pointing applications. Makita will also demonstrate new cordless dust management solutions including two 18V X2 LXT (36V) vacuums powered by two 18V lithium‐ion batteries. 
Advanced Anti‐Vibration Technology (AVT)
For reduced vibration, a padded handle just doesn't cut it. Makita Advanced Anti‐Vibration Technology (AVT) is a synchronized three‐component system that includes an internal counterbalance to reduce vibration, giving users the industry's lowest vibration levels without sacrificing performance. Makita's expanding AVT line‐up includes a solution in every major concrete hammer category – from 1" to 70 lb. – and attendees will have the opportunity to experience the difference for themselves. One demonstration will allow attendees to run the Advanced AVT 70 lb. Breaker (HM1812) against a 60 lb. pneumatic hammer. 
Freedom from the Cord
With over 150 solutions, Makita has the world's largest cordless tool system powered by 18V Lithium‐Ion slide‐style batteries – and the line‐up continues to expand with more solutions for concrete applications like formwork, fastening, drilling, cutting, surfacing, lighting, and clean‐up. For the most demanding applications, select Makita 18V X2 LXT (36V) tools are powered by two 18V Lithium‐Ion batteries for maximum power and run time without leaving the 18V battery platform. A range of 18V cordless solutions will be on demonstration for attendees to try for themselves, including the "Tilt‐Up Challenge" where users can test their concrete drilling and fastening skills – without the cord. 
Cordless Solutions for OPE and Clean‐Ups
Contractors and landscapers alike are seeking more cordless alternatives to corded and gas‐powered outdoor power equipment, like chain saws and blowers. Makita is meeting demand with an expanding line of cordless OPE and more solutions for cutting, trimming, and clean‐ups. At World of Concrete, Makita will demonstrate the 18V X2 LXT (36V) Blower and the new 18V X2 LXT (36V) Chain Saw (XCU03Z). Both are powered by two 18V batteries, with Makita‐built brushless motors for maximum performance and run time. With Makita's expanding line of cordless OPE, users benefit with zero emissions, lower noise, and less maintenance.
MM4 4‐Stroke Engine Technology
Engine seizure due to improper fuel and oil mixing is one of the most common failures of 2‐stroke power equipment. Makita is delivering a better solution with MM4® 4‐stroke engine power equipment, and for contractors the line‐up includes the world's first 4‐stroke engine power cutter (EK7651H), as well as backpack and handheld blowers. These efficient 4‐stroke engine solutions go beyond exceptional tool performance, as they require no fuel mixing so users require only one gas can for all their power equipment in the truck. In addition, Makita MM4® 4‐stroke engines run quieter, idle smoother, have lower emissions, and give users quicker and easier starts. WOC attendees will be invited to try out MM4® 4‐Stroke Engine solutions at the Makita booth, as well as the range of Makita 2‐stroke 14" and 16" power cutters.
The Right Accessories for the Job
Makita has a deep line‐up of accessories for concrete applications that are engineered to help contractors work more efficiently. At World of Concrete, Makita will demonstrate new and existing accessories for concrete drilling, chipping, cutting, surfacing, dust extraction and more including its line of optimum diamond blades.
Additional hands‐on Makita demonstrations at World of Concrete will include concrete chipping, surfacing, demolition, tuck pointing with a range of dust extraction solutions, as well as cordless solutions for rebar cutting and demolition/cutting applications.