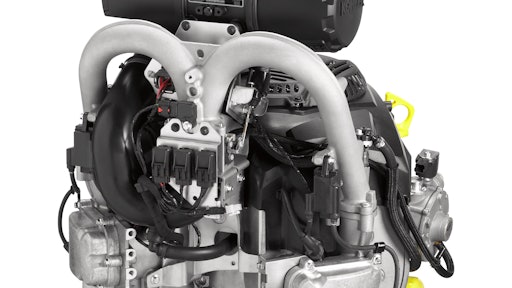 As the demand for fuel-efficient, low-emission engines continues to grow, KOHLER is pleased to announce the launch of the Command PRO EFI propane engine (Model PCV680LE). An addition to the company's strong EFI lineup, the PCV680LE twin-cylinder, vertical-shaft engine significantly lowers exhaust emissions due to an integrated catalyst and optimized fueling.  
"Low-emission technology is important for the environment, as well as users, and our goal is to ensure that alternative-fuel engines perform as well or better than gasoline- or diesel-fueled products," said Quinn Derby, marketing manager-gasoline engines. "We are continuously refining our products and developing new ones, as a way to continue to reduce emissions without sacrificing performance."
An alternative to gasoline- and diesel-fueled engines, the PCV680LE 22-hp model is a cleaner-burning, more fuel-efficient alternative for commercial equipment. It saves significantly on fuel with less downtime for refueling. KOHLER EFI low-emission propane engines produce over 80 percent fewer exhaust emissions. KOHLER closed-loop EFI technology allows the PCV680LE to optimize performance by automatically adapting to operating conditions.
EFI engines also offer automotive-like turnkey starting and the elimination of carburetors and their associated maintenance. Like all Command PRO engines, the PCV680LE feature's KOHLER's three-year commercial warranty.
Command PRO EFI Propane PCV680LE Engine
The PCV680LE engine will be on display at World of Concrete 2020, KOHLER booth C4015. 
Kohler has manufactured engines for 100 years and has continually enhanced its product lineup in an effort to help make life easier and more profitable for end-users around the globe. The company offers a full array of gasoline, diesel and gaseous-fueled engines – up to 134 hp. – which are supplied to equipment manufacturers worldwide in the lawn and garden, commercial and industrial, agricultural and construction markets. 
Companies in this article