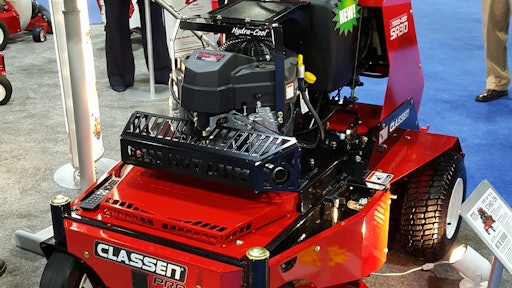 Classen unveiled its PRO line of landscaping equipment for commercial landscape contractors and rental centers at the 60th anniversary of The Rental Show in Atlanta, GA. The new line offers productivity-enhancing features, such as hydrostatic transmissions, anti-vibration grips and power steering. The product line includes five products, a new stand-on aerator, a walk-behind aerator, an overseeder, a sod cutter and a turf rake.
"Rental centers need equipment that will provide high utilization, and every contractor understands that completing more projects leads to more revenue," said Bruno Quanquin, Classen vice president of sales and marketing. "The features included with the PRO line seve both industry needs by providing flexibility and productivity for tackling more work faster, as well as producing more profits through high equipment utilization. That's why we developed the Classen PRO line."
The PRO SA30 Stand-Aer is designed to significantly reduce maintenance hassles while offering an easy-to-use machine.
The SA30 is designed to protect wear parts and significantly minimize downtime. A cover for the chain decreased dirt and debris buildup, and Classen's automatic chain tensioner reduces the likelihood of chain slippage and popping. Together the components virtually eliminate the hassle of chain maintenance, a common problem in the industry. The unit also features Classen's Hydra-Cool system, which feeds a circuit of coolant to the unit's transaxles to prevent the drive system from overheating.
A 15-hp Kawasaki engine provides increased efficiency for a variety of jobs with transport speeds as fast as 7.4 mph. Its true zero-turn maneuverability allows operators  to work close to shrubs and trees.
Request More Information
Fill out the form below to request more information about
Classen Unveils PRO Line of Turf Care Products at The Rental Show, Including New Stand-On Aerator