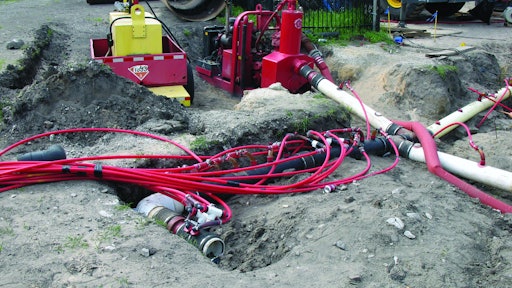 Renting the most appropriate pump to dewater a construction site depends on several variables. Doing your homework first and answering a few key questions can save you a lot of headaches later.
"When considering jobsite dewatering, the first step is to estimate how much water you need to pump, the suction lift and the distance from the water to the intended location of the pump," says Ron Askin, vice president of sales, Godwin Pumps. "Next, estimate distance to the place of discharge and any elevation changes along the line.
"Other parameters to consider include whether to run diesel or electrical-powered equipment, in which case, access is needed to power," he continues. "Finally, think about engine noise of the equipment. If it is close to residences or businesses, sound dampening may be desired."
Jobsite's Influence on Power
While gas and diesel power continue to be popular, electric power can be the better choice in certain dewatering applications.
"Increasing environmental constraints can sometimes be met with electric-powered equipment, so we recommend keeping an eye on the availability of electricity," says Askin. "Rental for temporary dewatering applications does not always need to be diesel or gasoline driven, and the use of electricity reduces environmental impact and noise."
Jobsite layout can also influence which type of pump and power source will be most practical to use. "Jobsites typically have ample room for pumping equipment," says Askin. "However, there are location and environmental factors that may impact rental choice. For example, if the suction lift on a job is greater than 28 ft., a dry priming pump will not work. In this case, you would need an electric- or hydraulic-driven submersible pump.
"Electric and hydraulic submersibles remove the restrictions of suction lift," he notes, "but require space availability at the surface for a power source. In addition, a jobsite located on a city street may require lane closures."
Site layout can influence horsepower requirements, as well. Requirements can be calculated based on a few key criteria.
"The vertical distance from the lowest point to which the water must be lowered to the highest point to which it has to be discharged will determine both the suction lift and the discharge head requirements for the pump," says Tom Minihan, vice president, Griffin Dewatering. "This, coupled with the discharge flow requirement, will determine the horsepower needed to power the pump. Very cramped jobsites may require using several smaller pumps rather than one large pump."
Jim Widrick, central eastern district manager, The Gorman-Rupp Company, explains, "All pumps are built with a certain anticipated head condition. Some pumps have a higher head capability and some have a lower head capability. It all depends on where the pump is supposed to operate. So that head condition will change what type of pump we are going to use."
He adds, "There is no one particular formula for pump size. When we input information into the computer system, that will tell us a total head condition. Each application varies a great deal."
Wet Prime vs. Dry Prime
Several factors can determine whether a wet prime or dry prime pump is best for your application.
"If the rate of recharge into the area where suction is taken varies considerably during the run cycle, a dry prime is probably a better choice," says Minihan. "If the recharge rate is consistent during the pumping cycle and the application is not critical, as would be the case in a sewage bypass application, then a wet prime may be acceptable. Other pump types offer advantages in certain applications over wet or dry prime, like hydraulic-drive submersibles or electric submersibles."
"A good general rule of thumb is if you're going to pump for more than one hour a day, use a dry prime pump," says Askin. "Self-priming dry prime pumps are always easier to use, but occasionally a job is so small that a wet prime pump is enough."
According to Widrick, "Many end users find the wet-prime pump is easy to work on. It is quite simple. It is typically used for dust control water supply, for filling water tanks and for bypassing creeks in rivers and ponds. The advantage of the wet-prime pump is it is less initial cost and it is relatively simple to use. There are fewer moving parts.
"The wet-prime pump's disadvantage is that it has to be initially filled with water," he notes. "It can't really run dry for long periods of time. That has the potential to damage the seal assembly. If the pump is run dry for long periods of time, the water will actually evaporate out of the casing and it will not prime when it is asked to come on again."
A dry prime pump will have more moving parts and is more complex to maintain, Widrick indicates. "The advantages are that it can run dry without any damage to the unit, and it is a very simple piece of equipment to operate from a novice's standpoint," he says. A dry prime pump doesn't require any water to be added — you simply hook up the suction and discharge hoses and turn it on.
"It can also run with a float switch to save fuel. You can leave a wet prime pump completely unattended, as long as you have a float control," Widrick points out. "It monitors the level of the water and will shut off by itself. When the water levels come up, it simply turns on by itself. We include float control on all of our pumps, wet or dry prime."
Common Oversights
A few commonly overlooked factors when selecting pumps include accessibility for service, plus fueling on engine-driven models, local regulations and proper hose/pipe sizing. "You should also have safety lighting of the pump site for night operation," says Minihan.
Make sure you acquire the proper permits, and have taken the necessary steps to control noise and exhaust pollution. "Have measures been taken to ensure a clean and clear discharge, with no fines being pumped if sumping or dewatering a site with wells or wellpoints?" Minihan asks.
Hose or pipe size also calls for careful consideration. "Many times, contractors have experience dewatering jobsites," Askin notes, "but may not have detailed knowledge about pump hydraulics, and routinely ask for a 6-in. pump even though something smaller or larger is needed."
Pump and hose sizes relate to a specific water flow as follows:
4 in. = 500 gpm
6 in. = 1,000 gpm
8 in. = 2,000 gpm
12 in. = 4,000 gpm
"This rule of thumb will ease the communication gap between the pump company and the contractor," says Askin.
Seek Expert Advice
Dewatering can be a complex task and there are many experts who can provide the necessary assistance.
"Once the job gets beyond a single 6-in. pump, an expert can advise on equipment choice for pumping performance and fuel consumption," says Askin. "Reputable pump rental companies will provide this application engineering and all support — with equipment, parts and service — whenever and wherever it is required."
Given changing regulations and technology, it's difficult for contractors to keep up with the latest advancements. "Because of the changes in environmental laws and permitting requirements, and because of technological advancements in pumping methods and equipment, it is best to get guidance and even a second opinion, much like seeing a doctor," says Minihan.
Companies in this article