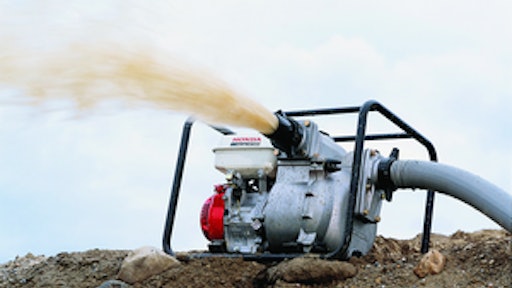 Construction and Multipurpose Pumps
This line of portable pumps includes models with discharge capacities from 80 to 433 gpm.
Easy-starting, 163- to 337cc OHV commercial-grade engines
Trash pumps feature a conical-shaped cast iron impeller, Silicon carbide mechanical seals and can pump solids up to 1 1/16 in. in diameter
WDP30X diaphragm pump has a special rock channel that allows up to 2.4-in.-diameter solids to easily pass
WMP20XA offers EPDM seals for chemical resistance, a reinforced thermoplastic pump housing and impeller and full frame protection with vibration-damping mounts
American Honda Motor Co.
Wet-Prime pumps
Wet-prime pumps are available in dewatering, trash, diaphragm, plastic and pressure models with Honda gasoline engines.
Maximum heads to 285 ft.
Maximum flows to 422 gpm
Semi-trash dewatering pumps suited for light abrasives and small solids
Trash pumps handle solids from 1 to 2 in. in diameter
Diaphragm pumps offer 2-in. solids-handling capability, yet weigh only 135 lbs.
Godwin Pumps of America, Inc.
PAV3B60C-3TNV70
The 3-in. model PAV3B60C-3TNV70 diesel engine-driven pump allows for flows to 450 gpm and heads to 130-ft. TDH, while passing 3-in. solids.
Patent-pending "Staggerwing" vortex impeller allows for large-diameter solids handling
Powered by a Yanmar water-cooled diesel that is EPA certified to meet Interim Tier IV emission standards
Gorman-Rupp Co., The
HD6 Pipeline Pump
The all-purpose, fully automatic, 6-in. HD6 Pipeline pump produces flows past 2,700 gpm and heads to 165 ft., and is able to pass 3-in. solids.
Hydraulic efficiency at BEP of 80% correlates to lower fuel costs and a smaller carbon footprint
70-gal. galvanized fuel tank with a 24-hour-plus run time
Self-contained galvanized drag skids hold any liquids that may drip from the radiator, fuel tank or engine
Primes from totally dry conditions and will continue to draw a vacuum when re-priming is required
Self-priming Pumps
These self-priming pumps are designed for use in construction site dewatering, refineries, chemical facilities and wastewater treatment plants.
Sizes from 3 to 6 in. with a maximum flow range of 450 to 1,700 gpm
Low maintenance with easy access via a large cleanout port
Emergency shutdown features
Compact Pump Series
The Compact diesel-drive portable pump series offers the benefits of the JSC series, yet is 35% smaller and 20% lighter with fewer parts and less maintenance.
Available in 4- and 6-in. sizes
Handles up to 3-in. solids
24-hour run time fuel tank
Includes Enviroprime system to keep pumpage from discharging into the environment
Available with automatic start/stop and Silent Knight sound attenuation
Thompson Pump & Mfg. Co., Inc.
Submersible Pumps
This line of submersible pumps includes diesel-driven, hydraulic-driven or electric models from 1 to 24 in.
Deliver from a few gallons to thousands of gallons per minute, with head conditions from a few feet to several hundred feet.
Capable of handling clean water, gray water or trash-laden effluent
Electric models available in 120-volt, single-phase and 230- to 460-volt three-phase versions
77-hp, 10-in. electric submersible capable of flows up to 5,500 gpm, up to 90 ft. of head and 5-in. solids-handling capacity
Dewatering and Sludge Pumps
Five models of dewatering and sludge pumps offer continuous operation at low water levels and extended dry runs without overheating the motor.
DC totally enclosed, submersible delivers up to 43 gpm, and operates on any 12-volt battery
Deluxe model has a 60-ft. shutoff head and a 110-volt, single-phase motor
Standard model offers easy disassembly with one 12mm box/socket wrench
Low Water model pumps down to 3/16 in.
Sludge model moves standing water containing sand, solids, leaves or debris at a maximum of 50 gpm
Trash Pumps
These self-priming centrifugal-type pumps are available in models with 2-, 3- and 4-inch discharge outlets.
Subaru overhead cam or overhead valve gasoline engines rated from 6.0 to 11 hp
Delivery volumes ranging from 185 to 528 gpm
3- and 4-in. models handle solid debris up to 1 1/4 in. in diameter
Feature a hardened cast-iron volute, abrasion-resistant, cast-iron three-blade impeller and replaceable wear plate, aluminum die-cast housing and heavy-duty steel roll cage
Subaru Robin
Companies in this article