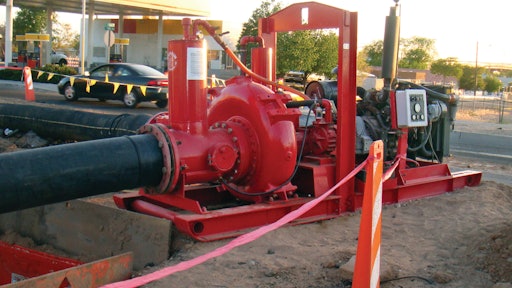 If not properly handled, groundwater on a jobsite can quickly turn a project into a nightmare, delaying the project and driving up costs.
An authority in dewatering, Water Movers Equipment Rental, with locations in Phoenix, Salt Lake City and Las Vegas, specializes in temporary portable pumping systems. "Often, we have found too little thought, time or budgetary consideration has been given to a dewatering system," says Howard Nute. "Once problems are encountered, a piece-meal approach is taken until an adequate system is finally put in place. A more thorough and proactive approach may save time and money in the long run."
In tough economic times, a dewatering plan makes even more sense. "In the current economy, most contractors have pricing squeezed, with material and labor costs increasing," says Jarrod Williamson, Southeast region manager, Xylem Dewatering Solutions. "Any lost time for a contractor, such as a wet jobsite, could mean the difference between making a profit or losing money."
"Wet jobsites can also increase the potential for injuries from slippery conditions or unstable soil conditions," adds Williamson.
Tailor solutions to the site
Dewatering should not be an afterthought. "As with any part of construction, being prepared and having a plan is critical to success," says Thomas Aldridge, Griffin Dewatering. "Factors that determine the options are typically a result of depth requirements and overall site limits. As with any construction project, each site has its own challenges. The dewatering solutions and equipment are tools to help overcome those challenges."
The basic requirements that need to be understood before selecting a dewatering solution include flow requirements, head conditions and suction requirements.
"Along with those technical considerations, it is critical to understand the site itself — terrain, elevation changes throughout the site and access issues," says Aldridge. "It is also important to know power requirements and discharge point and limits. If it is a groundwater dewatering system, the soils play a key part in both the volumes to pump and the installation methods that would be required."
Other factors play a role in choosing a pumping system. "You would also want to consider the material to be pumped, the pH level and temperature — both ambient and of the fluid," says Nute. "Desired flow, depth, discharge length, elevation change, footprint of the jobsite, available space and noise restrictions are all something that might need to be evaluated."
Also consider the volume of fluid to be moved. "Pump manufacturers continue to build larger pumps that move larger volumes of water more efficiently," says Williamson. "This reduces the number of pumps needed for bigger projects, saving the contractor money."
Nute adds, "There are continuing improvements in pumps with solids-handling capacity, including sludge and no-clog-type pumps. Many are also coming with more efficient engines for lower operating costs, in addition to pumps that are sound attenuated for better environmental conditions. Like everything, pumps are continuing to evolve and many new models with specific applications are coming into play."
Give thought to the system
Almost any earthmoving contractor is familiar with setting up a pump. "Pumps are common tools in the construction industry and the setup is usually not a problem," says Aldridge. "Understanding the pump and its application tend to be more of a challenge. There are a number of methods that can be used, so each has to be evaluated based on the needs and cost."
Most dewatering systems rely on trash pumps, wellpoint pumps and submersible pumps. Each has advantages and disadvantages depending upon the jobsite to be dewatered.
Trash pumps are by far the most widely used option found on construction sites. Most models will pass 3-in.-diameter solids without becoming clogged. They are widely used because of their versatility. A 6-in. trash pump is capable of pumping 1,500 gpm with 125 ft. of head.
But there is a difference between being familiar with a product and being able to effectively use it. "Most contractors have used trash pumps from time to time, but not always in the most efficient manner pertaining to use or maintenance," says Williamson.
"We have found many contractors will not properly set up even a single trash pump dewatering system," says Nute. "Too often, very little thought goes into making a 'system' that is efficient. Things like an inadequate suction hose, too much debris or solids to pump efficiently, too long a run of undersized hose or pipe, kinks and obstructions in the discharge line are present. Pumps are too often sized in an isolated environment and not thought of as a system."
Trash pumps often provide a good short-term solution. "If the jobsite is not too large or deep, and the project will only continue for a short duration, a simple trash pump could be an effective and inexpensive solution for your dewatering needs," says Williamson. "However, each and every jobsite presents different challenges. In the same jobsite, two excavations less than 25 ft. apart could require completely different systems to run successfully."
Another more complex solution is the wellpoint pump. "Wellpoint pumps are useful because they should handle significant amounts of air and be able to prime and reprime on a regular basis," says Aldridge. "The limits are that due to the design of these pumps, they do not handle large solids."
Wellpoint pumps are intended to pump clean water/effluent for wellpoint and sock dewatering. A typical 6-in. wellpoint pump is capable of pumping 1,500 gpm with head pressures of 100 ft. or more. The objective is to lower the groundwater table to drain excavation sites.
Unlike a trash pump, the objective with a wellpoint pump is to keep groundwater from entering an excavation in the first place by lowering its level. "Wellpoint systems offer a good way to keep water out of a jobsite, and once installed, typically require minimal maintenance," says Williamson. "Wellpoint systems may be cost prohibitive for short-term projects, but very appropriate for longer durations."
Don't overlook submersible pumps. "If electrical power is available on site, an electric submersible pump can be a simple and inexpensive dewatering solution," says Williamson. However, he cautions, "It is not always efficient to use whatever pump is available on site. Put some thought into the job and select a proper fit."
"Submersibles are an excellent choice when the static lift is greater than when an end drive centrifugal will work," says Nute. "Typically, in depths of 20 ft. plus, submersibles need to be considered. The availability of line or temporary power needs to be considred, as well as the type of product to be pumped."
In some instances, access to the site, the depth of the excavation or elevation changes create challenges for an above-ground pump. "Submersible pumps are an excellent choice in the instance when suction lift is a challenge for an above-ground system," says Aldridge. Typically, the limit for such systems is 28 ft., depending on the pump performance and flow requirements. Submersibles don't face this limitation, and will not be disabled if an area floods.
"Submersible pumps work well regardless of site depth," says Williamson. "Above-ground pumps are limited through the laws of physics to a maximum depth of 29 to 30 ft. Submersible pumps can be very efficient when sized correctly, and will use less space on a crowded jobsite. If the submersible is a quality brand and used properly, it is very low maintenance and nearly labor free."
Some of the latest advancements in dewatering revolve around submersible pumps. "Slimline submersible pumps are now available to fit inside pipes as small as 8 in. in diameter," says Williamson. "Since the footprint is so small, contractors are able to place perforated casing pipes with a pump nearly anywhere on a jobsite. Special floats can be used for confined spaces, which turn the slimline pump on and off, depending upon water levels."
Know when to call for help
The most important advice is be willing to seek professional help.
"If more than 30 minutes are lost each morning due to wet conditions and delays, or there is a need to add additional pumps again and again, professional help may be needed," says Williamson. "Some contractors or estimators assume their dewatering project will be simple, and only put more thought into system design and dewatering planning after the project is underway. Then they need to catch up. They may not have budgeted for the cost of proper dewatering. Most reputable pump companies will offer design help both before and during a project, oftentimes at no charge."
A dewatering expert can be helpful in assessing the proper approach to match jobsite soil conditions. For instance, you may encounter perched water that sits on top of clay layers or compacted materials while the soil underneath is dry. Then there is the issue of soil permeability. Some soils such as sand allow water to flow through them faster than soils such as clay. This all needs to be taken into account when a dewatering solution is chosen.
According to Nute, the rate the water recharges is the No. 1 factor in pump sizing. This means you need to accurately calculate the recharge rate. "Operate the system for a minimum of 24 hours prior to starting work to be sure that the dewatering system is adequate and safe," he advises. "Be prepared for changing environmental conditions and build a system with some level of redundancy in both hardware and capacity."
"Soil has a strong influence on performance as well as installation," says Aldridge. "Recharge sources can substantially impact a project because they change the flow conditions, as well as can impact the structural stability of the soils. So based on the combination of soil permeability and recharge source, there may be significant changes. It will also impact the overall drawdown curve of the site."
Some soils will be harder to dewater. And then there is the issue of recharge sources. "Soil consistency is very important in any dewatering system design," says Williamson. "Rocky or clay-rich soil is challenging. If the jobsite includes a natural spring or underground stream of water, a larger and more complex dewatering solution will be needed."
There are basically two ways to deal with groundwater — prevent it from reaching the excavation or handle it after it enters the excavation. "Very often, the nature of the work will determine whether you need a system that removes the water prior to entering the work space or whether you can deal with it as it enters the site," says Nute. "The two types of systems can be completely different in design, equipment used and layout.
"Preventing groundwater from reaching a site is preferred, but also requires a more elaborate dewatering solution, such as a wellpoint system," says Williamson.
Alridge agrees, noting, "It is always more advantageous to minimize flow into a site, but it's not always that easy or the most cost-effective method. However, a properly designed dewatering system will allow for better site management, more efficient work methods, and provide a safer environment to the employees. In reality, a properly designed dewatering system is a useful tool that can provide a contractor insurance for a successful project."
Companies in this article