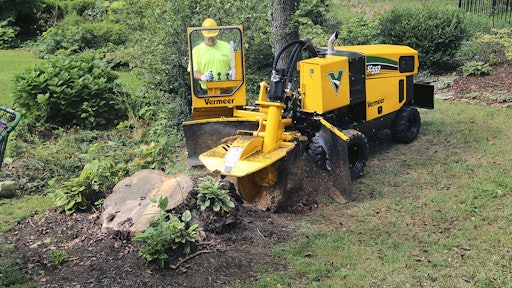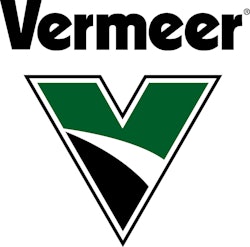 With the launch of the Vermeer SC552 stump cutter, Vermeer is pleased to offer a versatile tree stump removal solution for the tree care and rental markets. Now, contractors can choose from a range of Vermeer stump cutters — 25 to110 hp (18.6 to 82 kW) — based on their individual price points, productivity needs and business models.
Whether stump removal is a primary focus or an additional service provided, individual stump cutter operators and tree care contractors can benefit from the enhanced productivity provided by the new higher horsepower stump cutter from Vermeer. 
The Vermeer SC552 stump cutter has a 23-inch (58.4 cm) cutter wheel diameter and a 56 hp (41.7 kW) Kohler diesel Tier 4 Final engine for a maximum cutter wheel speed of 1,124 rpm.
"The market needs high horsepower stump cutters to help remove mature tree stumps and complete high-volume stump removal jobs, and the SC552 can help meet this need," said Todd Roorda, tree care, rental and landscape sales manager at Vermeer. "Contractors can complete stump removal projects faster with the SC552 than with smaller machines, enabling them to do more jobs per week." 
The SC552 is equipped with an operator presence system. Control handles for the boom swing and boom raise/lower are equipped with an operator presence handle design that provides capacitance-sensing capability. This user-friendly operator presence system is intended to help protect the operator and enhance operator safety.
The machine features the Vermeer SmartSweep™ control system, which monitors engine load and provides continuous feedback to automatically adjust the cutter wheel speed. This helps increase productivity and efficiency at the stump, while decreasing wear and tear on the machine.
The SC552 also has cutter wheels equipped with the Vermeer-exclusive Yellow Jacket™ cutter system. It features universal and reversible carbide-tipped teeth with two cutting edges on each tooth and more side pocket clearance, which limits the pocket rubbing that can cause power loss and premature pocket wear. As an added benefit, maintenance is more efficient because the operator simply loosens one nut and rotates the tooth for an almost new cutting surface. With two cutting edges on each tooth, the tooth and pocket are designed so the second edge is protected and clear of the primary wear area while cutting with the first edge. 
For increased accessibility, the SC552 has outside dual wheels that can be removed to pass through a 36-inch (91.4 cm) gate for backyard, and other hard-to-reach, stump grinding projects.
An auxiliary control station is located at the front of the machine, allowing the operator to stand in-line with — instead of beside — the stump cutter for traveling in narrow areas. To further increase efficiency, the SC552 has a four-bar linkage system that runs from the machine to the stump cutter wheel to help keep the cutter shield parallel to the ground during operation.
The SC552 stump cutter is available through the Vermeer global dealer network. For more information on Vermeer products and services, visit www.vermeer.com or email salesinfo@vermeer.com.
Request More Information
Fill out the form below to request more information about
Vermeer Introduces High-Horsepower Stump Cutter