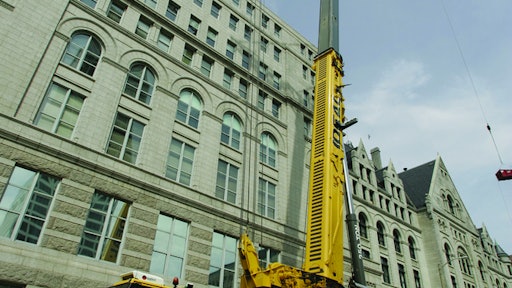 A Grove GMK6350 all-terrain crane from Manitowoc helped remodel a section of a federal courthouse located in downtown Milwaukee, WI. The crane, owned and operated by Ideal Crane Rental, worked for all subcontractors on the job.
Ideal purchased the GMK6350 from American State Equipment, a Manitowoc distributor with branches throughout Wisconsin. Dan Kueht, manager of Ideal Crane Rental's Milwaukee branch, said the crane performed very well on the courthouse job.
"We've had this crane in our fleet for just over a year," he said. "This is the longest that it has been at any single job, and it is a very impressive piece of equipment. Equipped with a luffing jib, this crane is giving us the reach and capacity needed for this high-profile job."
The remodeling project, which was managed by KPH Construction, involved the demolition and reconstruction of a courtyard area on the sixth floor of the eight-story building. During the first demolition phase, the crane lifted 10,000-lb. pieces of concrete beam up and out of the center of the building. Then, as reconstruction began, the crane lifted 8,000-lb. steel beams as well as other construction and roofing materials back into the center of the structure.
For this project, the GMK6350 was configured with 159 ft. of main boom and a 200-ft. luffing jib and used 176,000 lbs. of counterweight. This allowed the crane to lift the loads up 130 ft. over the building and then 153 ft. into the courtyard area. In the second phase of the project, the crane was reconfigured with 220,000 lbs. of counterweight to increase its operating radius to 190 ft. to deliver beams and other construction materials to the other side of the courtyard.
In addition to the usual challenges of a crowded urban setting, this project involved strict security checks, since the companies are working on a federal building. Kueht said that all his employees underwent background checks.
"The crane is positioned within 30 ft. of the entry and exit for federal judges," he said. "So even the worker fueling the crane had to be cleared by security. We have an operator, an oiler and two riggers on-site while the crane is working."