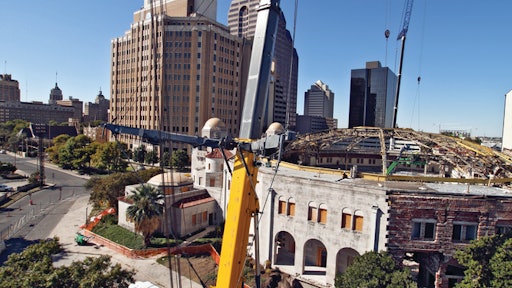 A Grove GMK7550 all-terrain crane helped dismantle the dome in the roof of The Tobin Center for the Performing Arts' in downtown San Antonio, TX. Dismantling the roof of the landmark, 1920s-era theater is one part of a $130 million renovation project.
The four roof sections, which ranged in weight from 5 to 10 US t, were dismantled in place and lifted out by the GMK7550, which was rented by Texas Crane Services in San Antonio.
Crane Provides New Opportunities
The GMK7550, which has a capacity of 550 USt, was a relatively new addition to the Texas Crane Service fleet and is also its largest all-terrain crane. It features a 197-ft. five-section boom and an 82- to 259-ft. optional luffing jib. It is available with up to 264,500 lbs of counterweight.
The crane is equipped with Grove's Megatrak suspension system. Its independent suspension and all-wheel steer system allow wheels to remain on the ground at all times so stress and weight are not continually transferred between axles.
Sterling Frymire, senior vice president for Texas Crane Services, said the capacity and reach of the GMK7550 have opened up new markets for the rental company.
"For years we've seen a growing need for a crane that can handle heavier and heavier loads. Now that we've added the GMK7550 to the fleet, we have the ability to offer these services to our existing customers, as well as a whole new set of potential customers," he said.
Reaching the Roof
Texas Crane Services crane operator John Dalton said they chose the GMK7550 for The Tobin Center for the Performing Arts project primarily for its reach.
"The challenge of the job was to take the roof apart without damaging the rest of the historic structure," said Dalton. "We could not position the crane very close to the building, so the crane had to be able to reach across the building."
When rigged with a luffing jib and inserts, the GMK7550 can achieve a maximum tip height of 430 ft. For the Tobin Center job, the crane operated at radii that ranged from 90 to 180 ft. and was configured with 115 ft. of main boom and 161 ft. of luffing jib.
The crane was also configured with Grove's Mega Wing Lift attachment. This special wing-like attachment fixes to the boom and provides rigidity when working with very long boom/jib combinations. It is particularly useful for jobsites such as this one where the crane was not able to be placed very close to the pick site.
The GMK7550 remained on The Tobin Center for the Performing Arts project for two weeks. When the renovation is complete, the domed roof will be reassembled and returned to the building for its reopening in 2013.