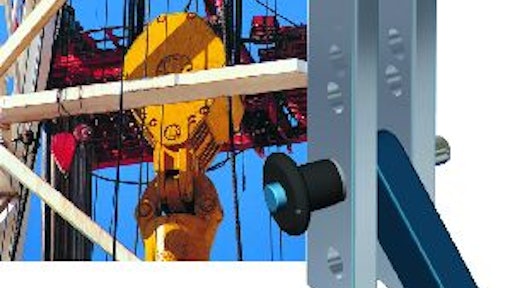 Jergens Kwik-Lok Pins
Kwik-Lok positive locking pins are designed for applications requiring frequent connecting and disconnecting, lifting, changing and securing of objects without using tools.
Suitable for use with cranes, scaffolding, drilling equipment, trailer beds and lifting equipment
Standard sizes from 3/16- to 1-in. outside pin diameters in 1/2- to 6-in. grip lengths and from 5mm to 25mm outside diameters in 10mm to 100mm grip lengths
T, L, button, recessed button and ring handle sizes available
Construction Lifters Rig-Release
The Rig-Release remote releasing hook is designed to allow the operator to release the load sling at a safe distance from the load.
Can be used with a basket or choker hitch
Capacities from 1 to 15 tons
All units conform to ASME standards
Beta Max Max Climber 6000P
This passenger hoist system has a 6,000-lb. lifting capacity and can hold a maximum of 35 passengers.
Cabin measures 156 in. long by 59 in. wide by 96 in. high
Available in single or dual cabin configurations
Can travel up to 1,000 ft. high at a speed of up to 180 fpm
Features include an overload sensing system, Variable Frequency Drive Controller and Programmable Control Systems
My-te Products 100A Winch-Hoist
The 100A standard series electric winch-hoist is suitable for pulling loads up to 8,000 lbs.
1,000-lb. single or 2,000-lb. double line lift
Worm gear reduction for positive load holding
Dynamic braking for instant stops
115-volt AC power
Low-voltage 10-ft. pendant control
Skyjack Telescopic Boom Lifts
The SJ 40T and SJ 45T telescopic boom lifts feature 40- and 45-ft. platform heights and 360° continuous rotation.
40T offers a 600-lb. platform capacity, while the 45T offers 500 lbs.
Swing-up cowlings offer unrestricted compartment access
Swing-out engine tray allows for quick maintenance and inspection
Axle drive system delivers 30% gradeability in two-wheel and 40% in four-wheel-drive configuration
Snorkel Aerial Work Platforms
The Snorkel line of aerial work platforms consists of eight models.
M1230 personnel lift can drive through standard doorways and lifts to a working height of 18 ft.
S2633 scissor lift fits through a gap less than 3 ft. wide and lifts to 32 ft. 8 in.
SR2684SL and SR3084SL incorporate Speed Level technology and offer up to a 32-ft. working height
M2032J lift has a 32-in. width and a working height up to 25 ft. 8 in.
National Crane 1400A Boom Truck
The National Crane 1400A has a 33-ton capacity rating and features a 127-ft. five-section boom.
100- and 110-ft. four-section booms with optional 25- to 44-ft. jib also available
171-ft. maximum vertical reach
Easy Glide self-lubricating wear pads
Pressure-compensated load-sensing hydraulic system
H-style multi-span out-and-down outriggers
JLG ES Series Scissor Lifts
The ES Series scissor lifts offer platform heights ranging from 19 to 40 ft.
Platform capacities from 500 to 1,000 lbs.
Long battery duty cycles can last multiple shifts
Smooth controls and fast lift
Aichi SkyTower Scissor Lift
The SkyTower SV2032C and SV2632C wheel-type scissor lifts are equipped with AC Motor Driving and a specially designed inverter for long duty cycles up to 1.5 times compared to the previous model.
500- and 800-lb. maximum platform capacities
20- and 26-ft. maximum platform heights
Travel speed 1.5 times faster vs. previous model
Proportional steering system with a 90° maximum steering angle
Low stowed height of 40.4 (SV2032C) and 45.5 in. (SV2632C)
Simple and easy maintenance
Suited for indoor applications
Altec AC35-127 Boom Truck Crane
The AC35-127 Boom Truck Crane performs like a truck crane.
Models ranging from 15 to 38 tons
Multiple mounting configurations including behind the cab, rear, riding seats and enclosed cab seats
Standard safety features built in
Genie GS-1930 Scissor Lifts
The GS-1930 self-propelled electric scissor lifts come standard with low-emission electric drives that deliver a quiet, convenient method for operation in sound-sensitive environments.
2-ft. 6-in. profile for easy passage through standard doorways
Suited for working in office buildings, shopping malls, hotels, schools and more
Work to a height of 25 ft. and lift up to 500 lbs.
UpRight Trailer-mounted Platforms
The TL37 and TL49K trailer-mounted articulated boom lifts offer 43- and 55-ft. working heights.
Lightweight TL37 features a stable in-line boom, hydraulic outriggers, jib and powered cage rotation as standard
TL49K offers heavy-duty booms and various power options, including bi-energy
Designed for simple repair and maintenance
MEC 91 Series Scissor Lifts
The 91 Series rough-terrain scissor lifts include the 2591RT, 3391RT and 4191RT.
Working heights of 31 to 47 ft.
Platform capacities range from 1,000 to 2,000 lbs.
Platform measures 180" x 91" when 48-in. roll-out deck is fully extended
Quad-Trax four-wheel-drive power
PM North America 35LC USA
The 35LC USA is equipped with two separated hydraulic control valve blocks linked to two different pumps, allowing the crane to move faster than with a single valve block.
Used for loading and unloading of concrete precast blocks
Equipped with a top seat control station
Bil-Jax X-Booms
The 36XT and 45XA self-propelled boom lifts match industry standards for gradeability, platform height, outreach, drive speed and four-wheel-drive capability.
Hydraulic outriggers and hydraulic lift systems
Patent-pending technology provides enhanced leveling capability and allows for setup in under 30 seconds
Lightweight design suitable for weight-sensitive applications
Can be towed on a utility trailer by a medium SUV or truck with no CDL required
Haulotte HA 41 PX Articulated Boom
The HA 41 PX articulated boom delivers a 65-ft. maximum outreach with an articulated jib pivot at 58 ft. 3 in.
Full proportional controls and simultaneous boom functions
360° continuous turntable rotation and 180° hydraulic platform rotation
Articulated fly jib offers a 140° arc of movement
Link-Belt 138 HSL Crawler Crane
The 80-ton-class 138 HSL lattice boom crawler crane features a 40- to 220-ft. tube boom and is available with an optional angle boom of 40 to 150 ft.
242-ft. maximum tip height with tube boom and jib or 204 ft. with angle boom and jib
Jib offsettable to 5°, 15° and 25°
Includes high line-pull front and rear drums and an optional rear-mounted fourth drum with wet brake technology
Side frames extend to 14 ft. wide and retract to less than 9 ft.
Larger, full-vision ergonomic cab
Hydraulic counterweight removal system