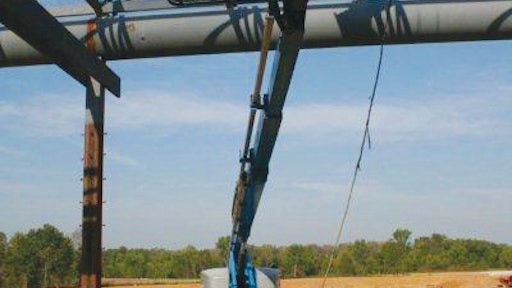 With gas and oil prices at a premium, exploring alternative energy sources is possibly one of the greatest quests of our generation. How can we live and operate more inexpensively while causing less damage to the environment?
Wind is one such source of power being exploited across our country. As an alternate natural energy source, the wind can be used to turn giant turbines that produce energy. Wind turbines are made of towers that can range 200 to 300 ft tall and a wheel with blades ranging from 60 to 135 ft.
Last fall, Mitsubishi Power Systems Americas, Inc. began the development of a $100 million wind turbine nacelle manufacturing plant in Fort Smith, Arkansas. A nacelle is an integral system located at the top of the turbine's tower and is comprised of the turbine's rotor axis, generator, multiplying gearbox, control system and electrical equipment. Not only has this project brought more local jobs to Fort Smith, but it has put close to a dozen aerial lifts in operation to build the plant.
Only fifteen minutes from the site, Hugg & Hall Equipment was the prime contender to supply the project's rental equipment. Known and trusted as a family owned and operated business for 55 years, Hugg & Hall Equipment boasts the largest rental fleet and service center in all of Arkansas. The fact that they could offer 24/7 service for the time sensitive project and were outfitted with a wide variety of the brand-specified Genie® aerials, Hugg & Hall became the equipment distributor of choice.
Approximately ten aerials including Genie S-60s, 80s, a Z-60 and an electric GS-3246 were used to build everything from hanging steel, painting, installing electrical system and building the 85 foot high steel structure. The contractor asked for these units by name specifically for their reliability and quality.
The Mitsubishi turbine facility project is expected to be completed some time this fall.
Companies in this article