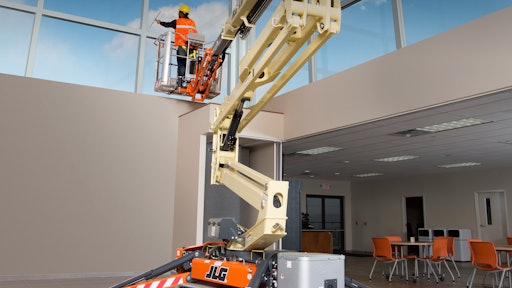 Each job has its own unique set of challenges. For those requiring the use of an aerial lift, job tasks can be made even more difficult when working in tight spaces and around obstacles and/or obstructions if the correct lift is not selected.
These constraints often abound in indoor applications, which can be riddled with doorways to pass through and narrow aisleways and objects to maneuver around. In some situations, there may even be stairs to climb and elevators to ride. Outdoor applications can be equally challenging, with narrow lot lines, overhead electrical hazards and even traffic and pedestrians.
Fortunately, today's market offers a variety of machines to address many different workplace needs, says Tony Groat, North American manager, International Powered Access Federation.
For example, the up-and-over clearance provided by an articulating boom lift aids in clearing various obstacles, says Corey Connolly, product manager, Skyjack. "For jobsites that may restrict floor loads, most scissor lifts and vertical mast lifts would be ideally suited since they combine low floor loading pressure with tight, compact dimensions," he says.
Adam Hailey, Genie director of product management, Terex AWP, agrees, offering that scissor lifts can be cost-effective workhorses for compact or high-capacity, vertical-only access. "But there are many jobs where these high-productivity machines just cannot get to," he says. "Whether you are going up and over or under machinery or structures that require the use of an articulated boom, or getting in tight to a work area that requires a narrow chassis, or reaching over large gaps that mandate the capabilities of a telescopic boom, there is an ideal aerial for nearly any job."
To ensure you have the right lift for a particular application, Groat recommends first conducting a risk assessment that clearly identifies the task, including its location and timing. "Be sure to consider constraints of the work site, ground conditions, site access and proximity to the public or other workers," he says. "Identify any risks associated with the task specific to the MEWP (mobile elevating work platform), such as the location where the work is to be carried out, the nature of the MEWP or the personnel, materials and equipment to be carried."
Groat also stresses the importance of selecting a machine that fulfills all job criteria. "There are numerous manufacturers, models and options that may offer more effective and safe operations depending on the situation and availability of choices," he says. "But regardless of availability, never select a machine that does not meet all of the objectives identified through the risk assessment."
Evaluate Indoor Applications
When evaluating aerial lifts for indoor use, consider access to the work site first, advises Paul Kreutzwiser, global category director for aerial work platforms, JLG Industries, Inc. "Measure the dimensions of doorways and aisles," he advises. "Check for overhead obstructions that have to be negotiated under."
Groat agrees, adding that many times the actual jobsite is not the most limiting factor to machine selection. "Gaining access [to the jobsite] is a significant issue," he says. For example, a task may require a machine that can reach to lofty heights, but consider its stowed dimensions to ensure it can fit through doorways and turn corners on its way to the work area. "Often, it's 'how do I get to a jobsite' vs. 'how do I work when I get there.'"
Connolly notes that Skyjack's newest electric model, the SJ30 ARJE, is well suited for various indoor applications. "Its narrow frame and low stowed height allow it to pass through a 48-in. double door, and also navigate through tight aisleways," he says. "Its compact dimensions and rotating jib also make navigating a tight turning radius much easier."
The next consideration is to evaluate working heights, says Kreutzwiser. "How high do you need to reach?" he asks.
Also assess load limitations and flooring surfaces the machine will be driving over. "Make sure the surface can support the weight of the machine without causing damage," says Groat. "Some of these machines are very heavy."
For example, while self-propelled machines may not require outriggers, they tend to weigh a lot, Groat points out. And a narrow machine that can reach high needs weight to support that ability. As such, they can crack tiles and, more catastrophically, cause a floor to collapse. "While you may be able to physically get into a space, be careful to not cause damage along the way, or tip over," he cautions.
If sensitive floors need to be crossed, a compact crawler with low ground bearing pressure might be an option, says Kreutzwiser. "These machines are typically more expensive than other types of aerials," he acknowledges, "but they also do things other aerials cannot do — for instance, travel over very sensitive floors, through narrow doorways and aisles (depending on the model) and up ramps and over stairways. They can also level themselves on uneven surfaces."
Fuel sources must also be addressed when working indoors. Battery power is typically the optimal power source for confined space work, says Groat.
"However, the jobsite may or may not have power available to charge electric machines," says Hailey. "Therefore, you may need an LPG or hybrid power source."
"If liquid propane is permitted, that opens up the possibility of bringing in machines with dual fuel power," adds Kreutzwiser.
Outdoor Jobsite Considerations
Many of the same factors that influence machine selection indoors also apply to exterior jobsites, with the added consideration of more diverse ground conditions.
If the machine is going to be operated only on a flat, slab-type surface, you may look to a lift similar to those used for indoor applications, says Connolly. "If a smaller, electric boom, scissor or mast unit is being considered, the contractor will need to factor in any restrictions that may be caused by wind limitations on the machine, or any limitations to charging capabilities," he continues.
Groat warns that some slab machines have zero wind speed ratings and should never be used outdoors exposed to wind loads.
If the machine will need to navigate over various types of rough terrain, a scissor or boom lift designed specifically for handling these types of ground conditions will be needed, says Connolly.
It's important to remember that even though a machine may be designed to handle rough terrain, it isn't necessarily designed to work in challenging conditions. "A lot of people don't make that connection," Groat says. "A machine may have extra features that allow it to be driven over rough terrain to get to the work place; but when it is in an elevated position, it needs to be on a hard, level surface."
Also, consider that ground conditions will likely change over the course of a job. "The beginning of a job may be on untouched ground, but then you go in and dig and trench, adding conduit, pipes, etc.," says Groat. "It isn't the same compact ground it once was when you started the work."
There are a few considerations that can make a difference in machine selection during the early stages of jobsite development. "When selecting a machine for outdoor applications, two approaches will help you narrow down the features that will determine the machine best suited for the job," says Hailey. The first approach is related to the ground. He advises that you ask:
Has the jobsite been improved, or is there significant variation in terrain that will require a rough-terrain machine?
Is there sufficient space to directly approach the work site, or will a larger machine be required to avoid obstacles?
"Asking these questions will help determine the driving and positioning capabilities of the machine," he says, "coupled with the second approach — working in the air — to hone in on a solution."
Once the machine is positioned, Hailey suggests asking how the platform will reach the working area. "Direct access vertically could provide a range of cost-effective scissors," he indicates. "They are compact, maneuverable and highly productive. However, once you throw obstacles into the mix, the capabilities of either articulated or telescopic booms may be required. The versatile platform positioning power of articulated booms means they can weave their way into many hard to reach areas, while telescopic booms are notably strong in higher capacity or further reaching applications."
Connolly agrees, adding that if a job requires that a machine only needs to go straight up, a rough-terrain scissor lift or telescopic boom lift may be sufficient. "But if it needs to reach up and over an obstacle, a contractor will likely look for an articulated boom," he says. "When considering jobsite obstacles outside, the contractor will not only need to consider obstacles that impact driving, but also lifting/raising the machine."
Compact crawler booms can work well in tight spaces as well outside as inside. "Operating outside, if on grass or other soft terrain, the low ground bearing pressure of the crawler tracks minimizes damage to the ground surface," Kreutzwiser points out. "Some models have tracks that can be extended for better stability when traveling, then retracted for a narrower profile to permit traveling through narrow passageways or gates."
Many boom lifts are also available with smaller two- or one-person platforms so the platform can be positioned into tighter openings or into a narrow space between structures, Kreutzwiser continues. Many AWP models — including JLG's Jib Plus models — are also equipped with a jib that pivots vertically and horizontally, which enables the platform to be positioned up and over, up and under and even out and behind structures.
Enhanced Flexibility and Safety
Features, options and technologies have been added to aerial lifts that maintain lift capacity while offering greater flexibility and safety for working in tight spaces and around obstacles.
Several potential hazards, including crushing and fall hazards, can be addressed partially with equipment design, notes Groat, as well as identified and mitigated through risk assessments and training. "The potential of hitting an overhead object creates a crushing hazard," he states. "Secondary guarding is now generally available on most new boom-type lifts and is optional equipment for existing equipment. Scissor lifts are starting to offer secondary guarding options, as well. Ultrasonic sensors that can identify obstacles to prevent incidents are also new."
Articulated booms, extension decks and other features can prevent overreaching and falling hazards, and the use of exterior fall protection anchorages can help to ensure safety when exiting an elevated work platform.
Contractors can find different lifting and extending mechanisms, such as rotating and extending jibs, on certain Skyjack models, notes Connolly. Multiple steering modes and chassis types/axle extensions for operating and transporting in confined spaces are also available.
Kreutzwiser offers that various controls can provide the ability to slowly and smoothly operate all functions, with the awareness of nearby structures, when positioning a platform in or around tight spaces. "JLG boom controls may be easily operated whether using the proportional joysticks for drive, boom lift or turntable swing, or by using the variable speed dial to control the speed of the toggle switch functions like telescope, jib, etc.," he says.
Platform load weighing, or load sensing, is also making its way to North American markets. The technology has been available throughout Europe, Australia and parts of Asia for over a decade.
"It is being employed in markets around the world, but will soon be seen for the first time here in 2017/2018," Hailey says. "While the concept is not new, some of the solutions to the standards requirements will be. By utilizing accurate and robust load weighing systems with full integration into the operation of the machine, we will be able to get more capacity and a larger range of motion without impeding the work our end users are trying to do. These systems can be seamlessly integrated into the operation of the machine and will only actively alert the operator when an operating parameter is exceeded, minimizing nuisance and the potential to inhibit productivity."
Precautions to Promote Safety
There are certain precautions contractors should take to further minimize challenges and/or reduce the risks of operating in tight conditions and around obstacles, both indoors and outdoors.
 "The first step to executing safe and productive work is to plan!" says Hailey. "Make sure there is familiarity and understanding of the work that needs to be done, who is going to do it and what materials and equipment are involved."
Before any job starts, the operator should understand the work area conditions, be trained and familiarized with the equipment and be aware of any risks. "Even as aerials become more and more sophisticated, the onus is on the operator to properly assess the working area and avoid unnecessary risks," Hailey emphasizes.
"Familiarize yourself with the specific machine you are operating, and identify not only how the machine operates, but also know its capabilities and limitations," Connolly adds.
 "Operators should take full advantage of operator training that is provided by the manufacturer's training center, the rental house or whomever provided the aerial work platform," Kreutzwiser advises. "In addition, before operating in tight quarters or congested jobsite conditions, any operator must practice operating the controls on the machine he/she will be using until he/she is confident and competent with the product."
Aerial work platforms are the safest means to access temporary work at height, Groat asserts, providing a risk assessment is performed, the correct machine is selected for the task, the machine is operated by a trained and familiarized operator and the work is supervised and monitored for compliance to the standards and requirements of the manufacturer.
"I would be remiss if I did not state that any operation must be under the supervision of a qualified person and operation of the aerial work platform performed by personnel trained and familiarized according to the requirements of the ANSI A92 standards," he states. He notes that new ANSI A92 standards will be published in early 2017 that will require supervisor training and clear requirements for operator training.
Companies in this article