Genie
Ladders and scaffolding have long been staples on construction jobsites as a means to access heights at lower levels. But even as their designs have evolved, these tools continue to present risks of injuries related to falls from height. As Chad Kritzman, product manager, JLG Industries, Inc., points out, falls from height violations ranked three times in OSHA's Top 10 list of violations for 2019, with fall protection No. 1 at 7,014 citations, scaffolding third with 3,228 citations and ladders sixth at 2,766 citations.
Fines due to violations can prove costly, but workplace injuries are far more so as workers compensation claims and lost productivity add up. The 2019 Liberty Mutual Safety Index estimates serious non-fatal injuries cost $189.81 million per week in the construction industry. Falls to a lower level accounted for 25.29% of injuries and $2.5 billion in compensation.
Costs escalate dramatically in the event of a jobsite fatality. The National Safety Council estimates each fatality costs companies more than $1 million — and unfortunately, there are hundreds of fatal falls occurring every year, Kritzman indicates.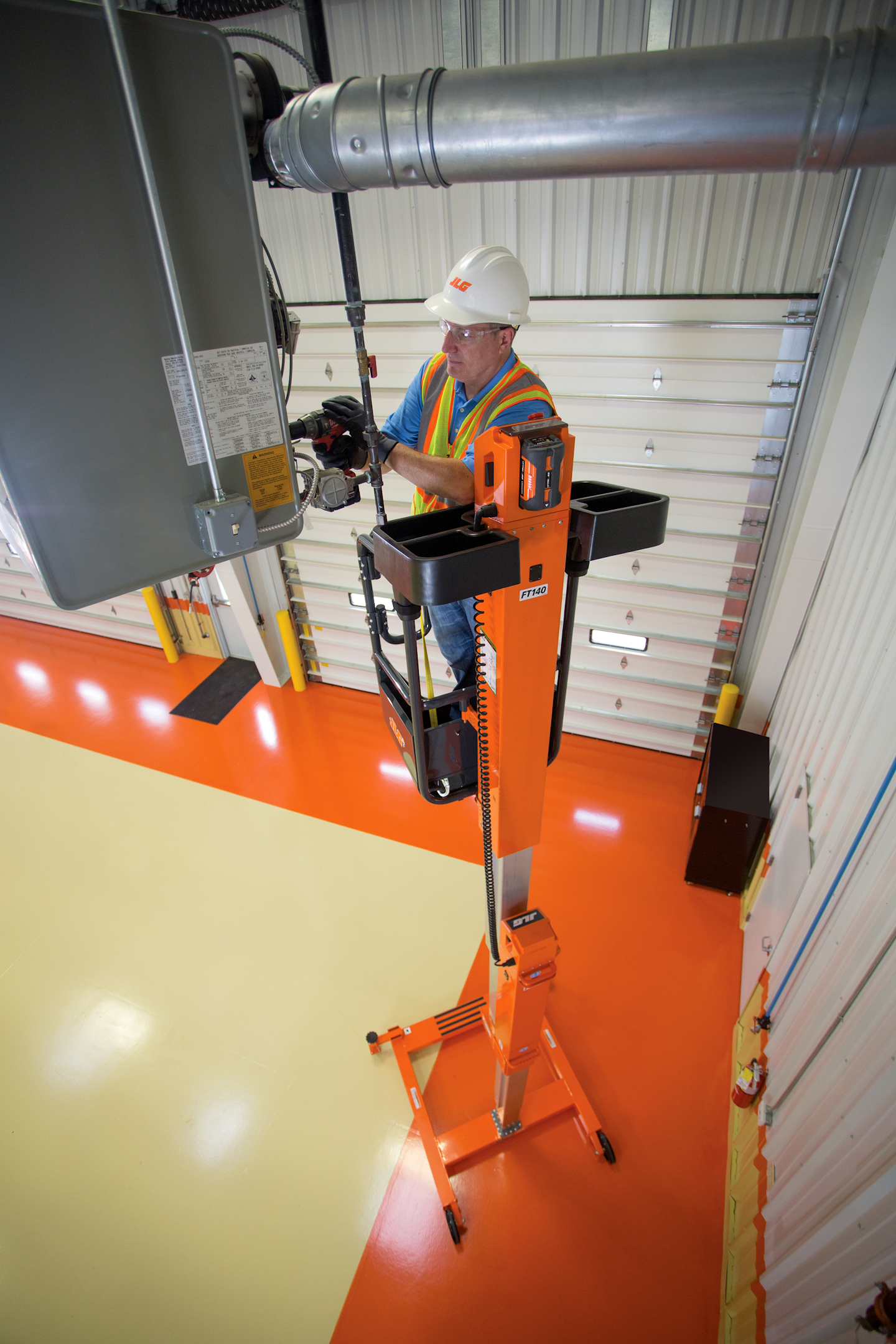 JLG LiftPod FT140Such human and business risks have led the industry to seek safer options. "The increasing awareness of philosophies such as 'Ladders Last' — which encourages workers and companies to identify safer methods to work at low-level heights rather than defaulting to the use of ladders — is helping to drive the adoption of low-level access products in the U.S.," says Matthew Elvin, CEO, Xtreme Mfg. and Snorkel.
Mike Flanagan, product manager, Genie, also sees a growing trend. "As facility owners and jobsites continue to emphasize fall prevention, use of ladders is frequently being discouraged," he says. "There is a growing need for lightweight, productive machines — driving innovations in both manually and self-propelled MEWPs (mobile elevating work platforms) that can get into restricted access applications with low floor loading requirements."
While such equipment is currently under utilized on jobsites, this is expected to change. "As environmental and regulatory standards become more stringent, we anticipate an accelerated adoption rate of ladder and scaffolding replacement products such as low-level access lifts," says Kritzman.
Factors Behind Rising Demand
Low-level access equipment is a fairly recent addition on U.S. jobsites. "The UK and Western Europe were the first regions to embrace the low-level access concept in 2008 with the introduction of push-around mini scissor lifts with working heights ranging from 12 to 18 ft.," Elvin notes. "Many major contractors now specify these products for multi-story construction projects, as they offer proven safety and productivity benefits over other forms of low-level access, including podiums, scaffolding towers and ladders.
"These contractors, who often work internationally, have helped to drive demand for the products in other regions, such as the U.S., Middle East, Australia and New Zealand," he points out, "which in turn has seen these products become available through the rental channels."
Safety is certainly a factor in their growing use. "As OSHA and other regulatory groups have continued to implement stricter regulations to enhance worker safety on the jobsite, there has been and will continue to be a need for safer solutions when working at height," says Kritzman. He believes incentives may even be offered in future for contractors that replace ladders or implement no-ladder policies on projects.
"With their ability to provide greater safety to workers and help mitigate the costs of occupational injuries, manually propelled low-level access lifts are continuing to gain in popularity," Kritzman says. "Available in a variety of configurations, [they] offer contractors an alternative to ladders and scaffolding to help minimize slips, trips and falls associated with more traditional methods of working at height."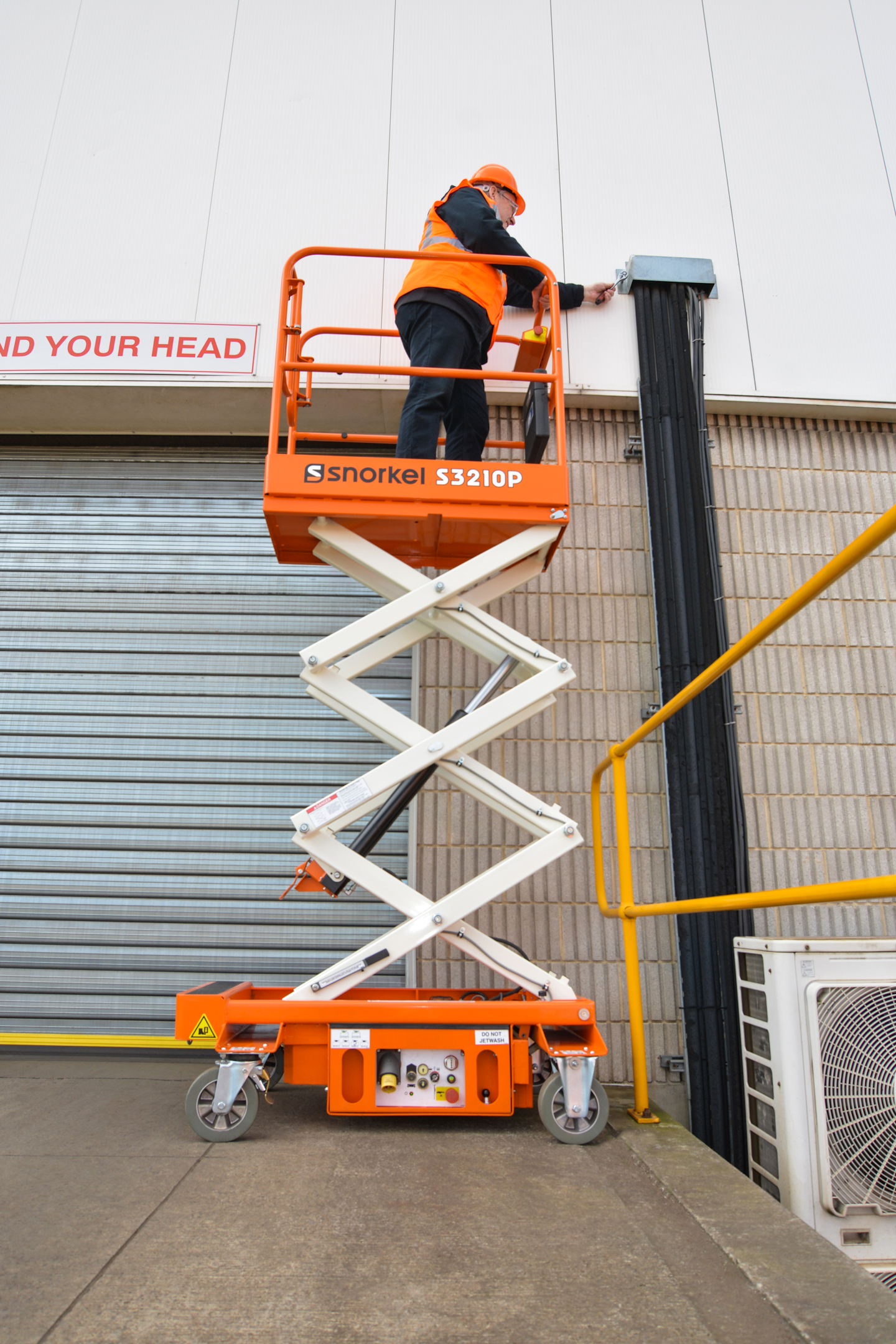 While most are designed for indoor use, some low-level access models, such as the Snorkel S3210P, are rated for outdoor applications.SnorkelSafety isn't the only reason behind interest in these products. "The growing demand for low-level access equipment, like vertical masts and some scissor lifts, can be explained through a number of reasons," says Kristopher Schmidt, product manager, Skyjack. "Low local floor loads typically come hand in hand with low-level access equipment, like Skyjack's SJ3215/19 with a psi (rated load included) of 159 and 168, respectively. These low psi ratings make this equipment easy to use on a wide variety of jobsites."
Compact size is another advantage. "Their small on-site footprint enables them to seamlessly work around other large on-site equipment while effectively completing a task that was historically saved for ladders," says Schmidt. "There are also manufacturer-approved accessories, like Skyjack's ACCESSORYZERS, that make those tasks at height easier and increase the versatility of these machines."
The lifts make it easier to transport items to the work area. "A benefit of low-level access MEWPs is the ability for the worker to carry tools or materials in the platform," says Flanagan, "something that is not possible when using a ladder."
Productivity can be enhanced, as well. "Powered lifting requires less setup time [compared to ladders and scaffolding] and enhances maneuverability to boost productivity," says Kritzman. "Additional productivity benefits include the ability to both take more tools and materials to the work area and to provide the operator with a large, enclosed platform to work within, allowing them to work with a 360˚ range of motion using both hands."
Workers not only avoid the need to make frequent trips up and down ladders, they also have an ergonomic work position that reduces strain and helps lower risks of musculoskeletal injuries.
As more contractors see the benefits, uses for low-level lifts continue to expand. "Applications that use low-level access products are wide ranging, and can include new construction or renovation projects in industrial and institutional environments," says Flanagan. "Restricted access applications in older buildings often require operators to use lighter weight, low-level access machines, and in many applications, 19 ft. of platform height is not necessary for most jobs."
Variety of Access Options
Several products fall under the low-level access classification. "Low-level access typically means equipment under a 19-ft. platform height and could include anything from vertical masts, scissor lifts and the emerging micro scissor lifts. These are typically used for work with drop ceilings and electrical tasks, and are sought after as some can fit on a standard-sized elevator and through standard-sized doorways," Schmidt explains.
Snorkel offers four mini push-around scissor lifts ranging from the S3006P with a 12-ft. 6-in. maximum working height, 529-lb. lift capacity and weighing less than 815 lbs., to the outdoor-rated S3210P, which measures 32 in. wide, has a maximum working height of 15 ft. 10 in. and platform capacity of 529 lbs. and weighs 1,036 lbs.
These push-around mini scissors have proven popular in multi-story construction projects, and are often used by tradespeople such as electricians, plumbers and HVAC installers during the fit-out stages, Elvin notes. "The size and weight of the low-level access lifts make them particularly suited to multi-story construction applications as they can be brought onto the project at the start and can be easily carried in elevators to the next levels as they are constructed, enabling various tradespeople to safely use them for overhead installation work," he adds.
With multiple potential users, ease of operation is essential. "Low-level access products are designed to be very simple to use, with push button-style controls, making them suitable for those who are not regular access equipment operators," says Elvin.
Non-powered vertical mast lifts, like JLG's EcoLift Series, offer an eco-friendly alternative for low-level access. "With no batteries, hydraulics or oil, they are completely leak-free machines and appealing for use in environmentally sensitive environments," says Kritzman, such as on sensitive flooring or in clean rooms. "They are also quieter since they can be pushed into place and lifted/lowered with the turn of a handle."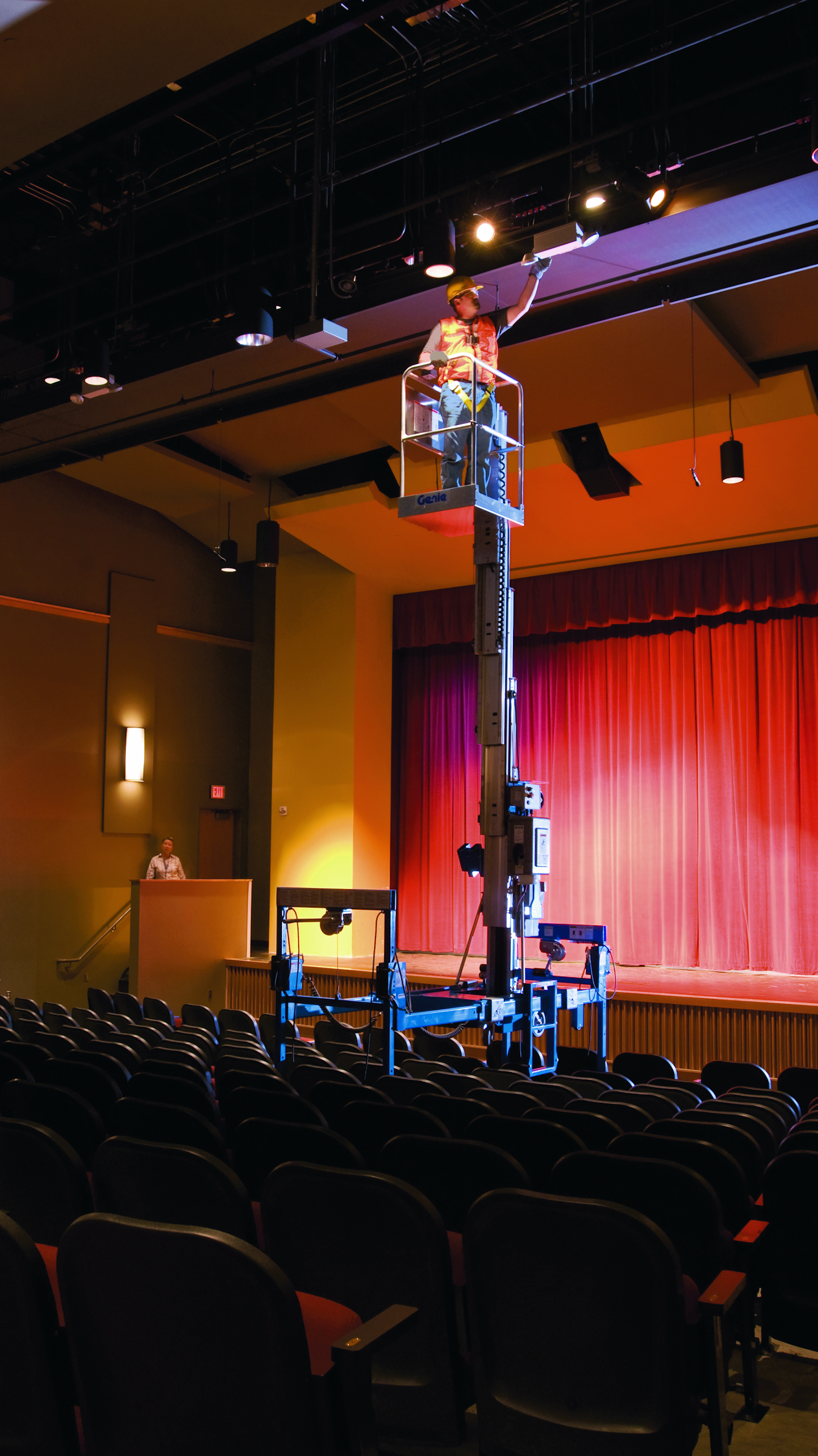 Genie offers manually propelled low-access models with its AWP and IWP product lines.GeniePowered low-level access equipment offers many of the same benefits but with added versatility.
"Powered low-level access lifts like the JLG 1030P and 830P are frequently used for construction finishing work, electrical work, HVAC duct work and retail and routine maintenance in indoor spaces, particularly on sensitive flooring," says Kritzman. "The compact footprint of these lifts provides versatility throughout the workday, allowing them to move into and out of tight spaces with ease and into narrow elevators for movement between floors."
These lifts combine height and reach capabilities with low ground bearing pressure. "All JLG low-level access products are designed and manufactured to be lightweight and compact in size for use in space-restricted areas that even a ladder [would] have a hard time getting into," Kritzman comments.
Genie offers both manually propelled low-access models with its AWP and IWP product lines, as well as self-propelled models like the GR-12, GR-15 and GS-1330m scissor lifts. "The GS-1330m scissor lift can deliver productive power in a lightweight, compact footprint," says Flanagan. "As a result of innovations like the GS-1330m, applications that historically could be tackled only by manually propelled MEWPs are now open to new ranges of machines that can meet requirements for low floor loading, while also boosting productivity with drive-at-height capability."
Snorkel's S3010E is a drivable mini scissor lift with a maximum working height of 15 ft. 11 in. and a 500-lb. platform capacity. It offers skid steer, a zero inside turning radius and "point-and-go" joystick controls.
"Self-propelled mini scissor lifts will often be chosen for maintenance applications in large facilities where the lift can be driven between tasks rather than pushed," says Elvin. "They are also popular in retail and warehousing due to their simple, intuitive controls, compact size and ability to easily maneuver in tight spaces and aisles."
The lightweight S3215L and traditional S3215E electric slab scissor lifts offer a 15-ft. working height and include a variable tilt function that enables them to reach their working height and maximum platform capacity while outdoors. "This innovative feature allows Snorkel scissor lifts to be operated on greater side-to-side slopes while the platform is below its set height," Elvin notes. "As the platform is elevated, the degree of side-to-side slope on which the machines may operate decreases accordingly."
This three-point design enables the lift to tilt at different angles at varying heights. "Adjusting the envelope provides a larger margin without adding weight and still permits outdoor usage," says Elvin.
To Lift or Not to Lift?
What you choose to use in a given low-level access situation is based on a variety of factors.
"As with any equipment selection, contractors should consider the work to be done, the height requirements, what materials and tools they will need to take to the work area, along with any constraints such as narrow doorways, sensitive flooring, noise and emissions sensitivity, etc.," says Kritzman.
Look at all aerial access requirements, says Flanagan, including maximum platform or working height, required occupants and capacity, as well as whether the application is indoors or outdoors. Floor loading and weight specifications will drive demand toward lighter weight, low-level access products. "Restricted access such as elevator capacity requirements or doorways may require more compact machines and may limit choices when it comes to MEWPs on the jobsite," he points out.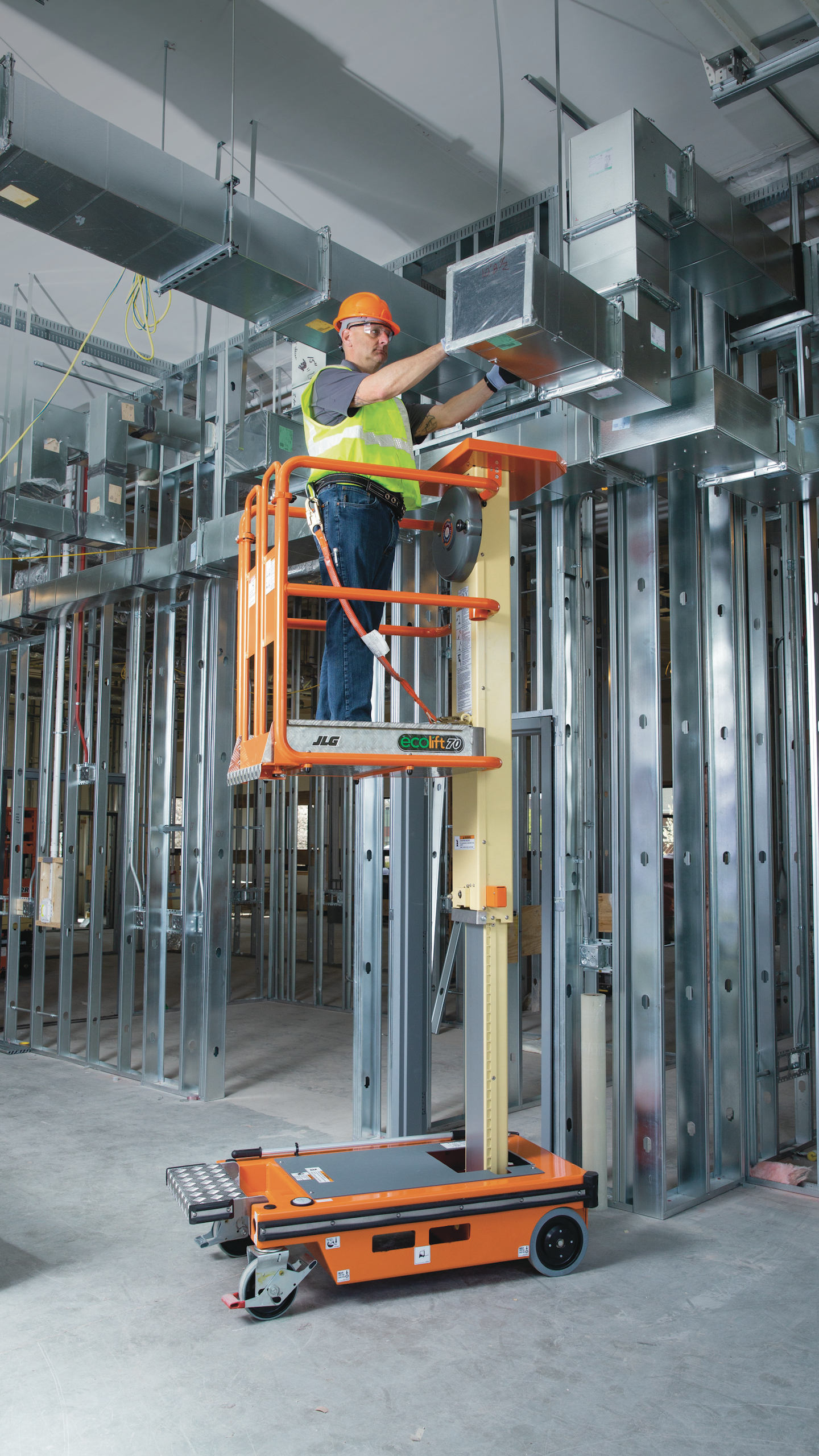 Non-powered vertical mast lifts, like JLG's EcoLift Series, offer an eco-friendly alternative for low-level access on sensitive flooring, in clean rooms, etc.JLGProgress on the project can also be a consideration. "Most low-level access equipment is designed for indoor use only, with zero wind rating," says Elvin. "This means that the equipment should only be used in fully enclosed areas — which may determine when they can bring the equipment onto a new build construction site, or that they need to specify low-level equipment that is outdoor rated."
In some situations, low-level access equipment may not be the optimal solution. Consulting an access expert can help you assess when to use a lift or stick with traditional methods.
"Speaking with a rental company about the applications is the first step in helping a contractor determine how much use access equipment will be on the jobsite," says Schmidt. "The space around the application and the duration of the job are both deciding factors for access equipment. Having trained personnel on site is another, as low-level access does require familiarization and knowledgeable operators.
"They are a safe and simple way of working at height," he states, "but these are the main factors that will impact a contractor's decision as to whether or not low-level access equipment is the right solution for them."
The objective is to evaluate all of the alternatives that could help maximize safety and productivity on projects. "A large population of contractors and workers are quite comfortable with ladders and scaffolding, but know they are not the safest method for working at height," says Kritzman. "We encourage people to try new things that improve business practices and processes, as well as worker health and safety. Low-level access products fit this category."