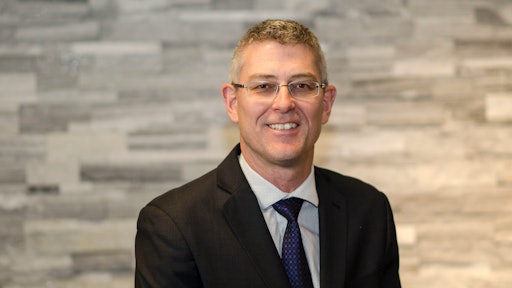 IPAF is an organization at a crossroads. What started as a humble effort to promote powered access safety and training in the UK back in 1983 has expanded to a global presence. That being said, it struggles for a robust foothold in North America. 
Enter Brad Boehler, perhaps the most dynamic leader in the powered access industry. Well-known for his fun-loving and down-to-earth style as much as he is for being president of Skyjack, the Canadian native was inaugurated to a two-year term as president of IPAF this past March at the IPAF Summit in Dubai. One could easily argue there's no one better suited to taking IPAF to the next level in North America.
A history of commitment to safety
Boehler started his career at Skyjack in 2003 as director of product safety where, because he was essentially a one-man department in a relatively small company, he was able to provide a consistent opinion on safety everywhere he went.
"It was a good introduction for me," he recalls. "I traveled the globe with sales and support staff as well as executives, seeing the world through different eyes."
Later, Boehler was promoted to vice president of engineering, vice president of sales and marketing, and then in 2012, president of Skyjack. Throughout his tenure, he was aware of accidents happening on powered access equipment.
"What I found out very quickly is that most incidents came down to a lack of operator training and/or machine maintenance," he says. "I realized the more people who become properly trained, the better off the industry will be, and the better off Skyjack will be. So I looked at our operator training program and it was due to be revised and updated. That's when I became familiar with IPAF and found the organization was perfectly aligned with what I wanted to do at Skyjack."
He adds, "I was very happy to get behind the IPAF mandate of promoting the safe and effective use of powered access around the globe."
Soon after, Skyjack became an IPAF training center and Boehler became more personally involved with the organization, serving in many capacities before becoming president this year.
Up for the future
During his term, Boehler says he plans to focus on fulfilling IPAF's current three-year plan, which emphasizes engaging more effectively with its membership, developing career paths for young people entering the industry, finding ways to reduce fatal and injury incidents related to MEWPs, and continuing to explore and develop the ever-changing digital world relating to Smart PAL Cards, online training and "extended reality" possibilities.
All of this is happening at a time when IPAF as an organization is seeking a new CEO/managing director. Tim Whiteman, who held the reins since 2004, recently stepped down to pursue other projects. Boehler says this creates an opportunity for a renewed focus on North America and the challenges owners and users of powered access equipment face here. "However, we must also not lose sight of ensuring we continue to add value to our UK and European base as well," he says.
"I want IPAF to be a more approachable organization, more responsive to its membership," Boehler explains. "We talk a lot about concepts, but we need to get staff to a place where it's getting things done, or at least honestly communicating what we can realistically do."
He continues, "IPAF has 1,300 member companies and we need to be able to respond to all of them."
The goal is measured growth
The powered access industry continues to grow on a global basis, with more and more MEWPs in service every year.
"The challenge is to ensure that proper training grows with the industry, so people use the equipment that way it's supposed to be used," Boehler says. "From an IPAF perspective and as an industry, we need to make sure we don't get left behind as technological change sweeps over us. Some think we're not moving fast enough, while others believe we're moving too fast, so we need to strike a balance. We need to stay current but a bit on the cutting edge too."