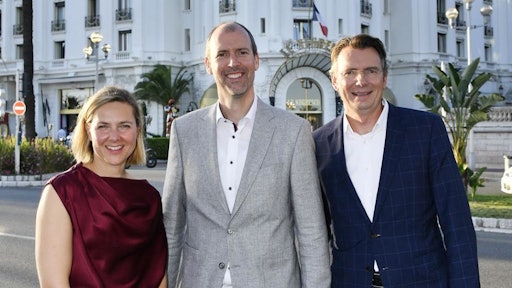 IPAF
Back in April, IPAF announced a new presidential team, with Norty Turner of United Rentals instated as the new president during the Federation's 2020 annual general meeting, held as a virtual meeting due to the COVID-19 pandemic.  
Turner succeeded Brad Boehler, who stepped down in October 2019 after leaving his role with Skyjack.  
In his inaugural address, Turner said, "I would like to reiterate our thanks to Brad Boehler, who selflessly stepped down last year after leaving his role with Skyjack. His tenure as president was shorter than planned, but his leadership and dynamism over many years with the Federation will not be forgotten, and we at IPAF wish him well in his future endeavors."  
Turner also mentioned his key objectives for his presidency, first mentioning supporting the entire IPAF team and all the Federation's members worldwide through the COVID-19 public health pandemic and assisting the industry in whatever way they can in order to recover. Secondly, he mentioned increasing sustainability, while also embracing and integrating new technologies into everything IPAF does.  
"The way the world learns is evolving due to the pandemic, and ever adaptable, IPAF will bring forward new innovations, including but not limited to a digital app for operators and managers, paperless IPAF courses, and adapting more of IPAF's training program into both eLearning and virtual reality applications," he said in his speech.  
Turner also mentioned that IPAF will consolidate and bolster its core markets and membership in the UK, while continuing to grow in developing markets outside of the UK. 
Lastly, he plans to continue championing initiatives and industry-relevant apprenticeships to attach young people to the industry and assist members in retaining, developing, and planning for succession in their workforce — a notable cause that has deeply affected the industry the last few years.  
I was lucky enough to ask Turner a few questions about his career as well as his anticipated impact on the industry as IPAF president.  
AB: First, can you tell me a little bit about yourself and your background?  
NT: Sure thing – I'm originally from North Carolina, attended UNC where I met my wife.  We have three daughters and now live in Connecticut.  I started in the rental industry in 1995 with Hertz Equipment Rental where I worked in a variety of roles for 17 years, culminating in the position of VP HERC EMEA, based in Paris, from 2008 thru 2011.   
I left HERC to join Riwal as CEO. Riwal is a Netherlands-based aerial rental company with operations in 16 countries including Europe, the Middle East, India, and Kazakhstan. I was with Riwal from early 2012 to late 2018, at which time I left them to join United Rentals where I am SVP of Services and Advanced Solutions. It was early during my tenure at Riwal that I joined the IPAF board (in 2013) and became interim president in September 2019. 
AB: What have you learned throughout your career that helps you as president of IPAF?  
Focusing on customers and their needs is paramount to success in this business, and a non-optional imperative for each customer in the industry is a focus on operating safely. Focusing on the well-being, health, and success of employees is another critical success factor that has always been a major driver.  
Another focal point is on operational excellence in terms of fleet, as well as business processes, and if you focus on those, then it becomes easier to show your customers the value that you can bring them.  I've also learned a tremendous amount from various leadership positions regarding working closely with teams with everyone pulling in the same direction yielding the best results. 
AB: What do you plan to focus on during your term? What is your main goal that you would like to accomplish?  
We are focusing on some select initiatives and innovations such as our new digital app for operators and managers as well as paperless IPAF courses. We will also adapt more of IPAF's training program into both eLearning and virtual reality applications. Additionally, we will consolidate and propel our core markets and membership such as in the UK, and we will also push international growth in developing markets with a primary goal of realizing at least 50% of IPAF's revenue outside of the UK. Further, we will keep pushing the IPAF Roadmap to Qualified Service Technician or Engineer Status and industry relevant apprenticeships to bring more young people into the industry. 
AB: What do you think some of the biggest challenges are facing the industry today? What do you see as being the solutions?  
A few things come to mind. Obviously, the COVID-19 pandemic is the foremost challenge for the industry right now. Following guidelines laid out by health leaders is the best path in advance of a vaccine which ultimately will come forth. 
Other challenges involve the aging technician and operator workforce.  Attracting younger folks with actions as mentioned above to take on these roles is paramount. The world is also moving faster and faster from a digitalization perspective. I think the mantra of the world has never moved this fast and it will never move this slowly again holds true. Adapting quickly, gaining a crystal-clear understanding of one's customers' unmet and under-met needs, and then applying technology to meet those needs is a good path to embark upon. 
AB: How has the COVID pandemic affected powered access safety and training, and will it change the industry moving forward? How so?  
In-person, instructor-led training took a pause during COVID. And with crises and challenges come opportunities. Virtual and online training have picked up to a large degree. The good thing is that virtual training (via Zoom, Webex, etc.) and online training are here to stay and will allow the industry to reach far more operators once COVID is beaten. Reaching more operators with safety training will equate to safer work sites and more people going home at the end of day in the shape in which they arrived.  
Other innovations are emerging as well due to COVID including how we conduct practical evaluations.  Opportunities to be more efficient are emerging and will allow more people to be trained. 
AB: If you could tell the industry one thing, what would it be and why? 
That if you're in this industry, which has such a focus on safety and on ensuring people complete their jobs to be done in a safe manner, you are working in an industry with a noble purpose of which you can be proud to be a part. Every day that the folks in this industry come to work, their efforts ultimately lead to operators being safer. We save lives and dramatically reduce injuries. Everyone in the industry should take pride in that fact.