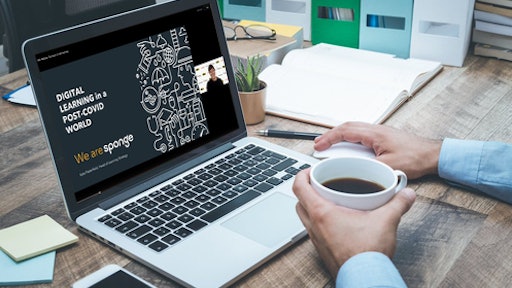 IPAF
Like most organizations, IPAF has had to make a sizeable shift in the way we do things during this global coronavirus pandemic. The Federation has had to protects its teams around the world, allowing key functions of the organization to continue and maintaining support for our members and the wider industry globally.  
Throughout 2020, IPAF has continued to work with national governments, health and safety bodies, and international standards organizations to ensure safety and best practices continue to be maintained and shared. In terms of supporting our members, and in turn helping them support their customers, while keeping all parties as safe as possible from risks posed by the pandemic, many initiatives that IPAF has been working on for several years now have come into their own.  
One of the biggest sea-changes we have experienced is the rocketing demand for eLearning or remote learning led by an IPAF instructor, delivering our globally recognized training program. In the first few weeks of the pandemic, demand for IPAF's existing eLearning training increased up to five-fold. IPAF already offered MEWP operator theory as an eLearning module, followed by candidates needing to attend an IPAF Training Center to undertake their practical assessment. This has now been further enhanced with the addition of face-recognition technology, to give maximum confidence that the person undergoing the online course is indeed the delegated trainee, eliminating the requirement for face-to-face retesting on theory knowledge prior to the practical.  
IPAF Training Centers have also successfully trialled online instructor-led training, with multiple participants joining in via video conferencing, allowing interaction and doing away with the need for Training Centers to accommodate all candidates together in one COVID-secure classroom, eliminating face-to-face risk or impracticality.  
Having completed the eLearning theory module, operator trainees need only attend an IPAF Training Center in person to complete their hands-on practical instruction and assessment. As these can be conducted in secure and well-ventilated indoors areas or outdoors, social distancing and COVID security measures can be maintained. It is intended that this extra flexibility will give confidence to trainees and employees, and allow Training Centers to meet ongoing demand for training and keep up with a backlog that might have arisen during periods when training could not be completed due to business restrictions or lockdowns. 
IPAF has also updated MEWP supervisor eLearning training, a new requirement for MEWP users in the new ANSI A92.22 Safe Use standard, which went into effect as of June 1. This training course can be completed either as individual eLearning or an instructor-led group session via video conference to suit the candidate's needs. The eLearning course offers facial recognition to ensure security and means to comply with the new ANSI standards with confidence and convenience, at their own pace and in their own home or workplace, using a laptop, desktop PC, or handheld device. While IPAF Training Centers around the world are still offering physical instruction, albeit under the added safety restrictions required to manage and mitigate the risks posed by coronavirus, as set out by IPAF a few weeks ago (www.ipaf.org/resources), these new options of remote learning will no doubt be of great comfort and convenience to training candidates as the world gets used to the "new normal" and confidence slowly returns to our economy. 
IPAF is not resting on its accomplishments to date, rather, it's looking to bring more of its training program into eLearning or even eXtended reality (XR) environments. Already, phased trials are underway to translate the IPAF PAL+ advanced operator course into a MEWP simulation, working alongside IPAF member firm, Serious Labs. And IPAF is also looking at updating its Load and Unload safety training into eLearning.  
The future may be challenging, but as always, it is our duty to rise to those challenges and offer solutions and opportunities to our members, their customers, and all users of powered access worldwide. We thank all our members for the invaluable role they continue to play in achieving these objectives and helping keep people safe while working at height. 
For more information on IPAF's eLearning offer, visit www.ipaf.org/elearning