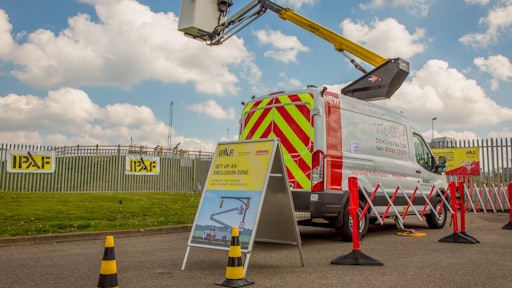 IPAF
The global MEWP accident reporting portal was launched by IPAF in 2012, with the hope of becoming the definitive source of data on worldwide incidents specifically involving powered access equipment. This project collates, analyzes, and presents findings that informs all the work IPAF does. It is important to emphasize that all incidents recorded by IPAF are completely anonymous, so no individual or company can be identified or judgment made about the incident.  
In 2020, IPAF published a new, enhanced Global MEWP Safety Report, presenting key findings from the detailed analysis of accident statistics. As in previous years, the most common underlying causes of incidents involving MEWPs are identified, but the new report also looks at lost-time incidents, not just fatalities. Incidents have also been categorized in terms of where they happened, in what industry sectors they occurred, and broken down in more detail by type of incident, such as loading/unloading, MEWP tip-over, crushing/entrapment, etc.   
What's 
N
ew?
There is a new methodology to the analysis and the way the findings have been presented, as the report contains key recommendations to mitigate commonly known risks. One major change is that, rather than comparing a full year's accident data to previous years, the most recent three full years of available data have been combined to produce an aggregate and average number of incidents in order to better identify trends rather than looking at minor fluctuations. The number of reported MEWP accidents and deaths worldwide is relatively small, so combining data into a larger overall set allows trends over time to be more readily identified.   
Another change in methodology is that, while data is still predominantly reported by IPAF's members through the accident reporting portal, data gleaned from publicly available sources such as OSHA accident reports in the U.S. have been looked at in more detail. Indeed, several accidents not initially classified as MEWP-related have been discovered through this painstaking re-examination of reports, with the result that several new accidents not previously recorded have been identified and added into the database. Incidents were reported from 25 countries worldwide.  
IPAF is committed to encouraging all members worldwide to realize the importance and value of feeding into this database, especially recording near-miss and non-injury incidents in addition to more serious ones resulting in injuries and/or fatalities. By tracking more of this information around the world and across different industries, IPAF and its members can help focus the safety and training agenda accordingly, and effectively influence the development and implementation of MEWP design and safety standards.   
This was an enduring project, and there's much more that can be achieved, but by presenting our analysis in this way, it is hoped that more of our members and the wider powered access industry will be encouraged to engage with the ongoing MEWP Accident Reporting project, in turn, providing more data and enlarged detailed analysis that can help keep the industry as safe as it can be.   
The 
F
indings
The 2016-18 Global MEWP Safety Report takes a different approach to those previously published by IPAF. There is more information presented, and data is broken down and compared in different ways to show trends and compare accident statistics across industry sectors. Using an aggregated data set to create an annual average across the three years under study shows us that the five main causes of deaths in MEWP incidents were falls from the platform, electrocutions, entrapments, MEWP tip-overs, and MEWPs being struck by another vehicle. This is broadly in line with the previous years' fatal accident analysis and demonstrates yet again that the industry should focus on ways to reduce the underlying factors common to these types of incidents, and they should always be a consideration in site risk assessments as known potential hazards.  
Analysis of the data shows how serious these accidents tend to be, with the outcome almost always fatal. Currently, accident reporting is most likely to take place when a death or serious injury occurs, but less likely in cases of minor injury or near miss. If this is the case, it reinforces the case for reporting all incidents, including near misses, not just those that result in serious injury or death. Additional data aids closer analysis and affords vital lessons that can be used to prevent all accidents and ultimately save lives.  
Accidents by 
I
ndustry 
S
ector and 
L
ocation
IPAF's data analysis shows that a slightly lower proportion of total reported accidents are fatal in construction than in tree care. Is there something in the working practices on controlled construction sites that is saving lives that could be applied in other sectors such as tree care? Is it perhaps due to the type of accident that occurs more commonly in tree care? For instance, electrocutions are by far the most common cause of death in this sector, with machines coming into contact or proximity with high-voltage powerlines. The variance may also point to wider reporting of non-fatal accidents on construction sites. This highlights the need to improve reporting across the board, with vital lessons to be learned from near misses and incidents with less serious outcomes.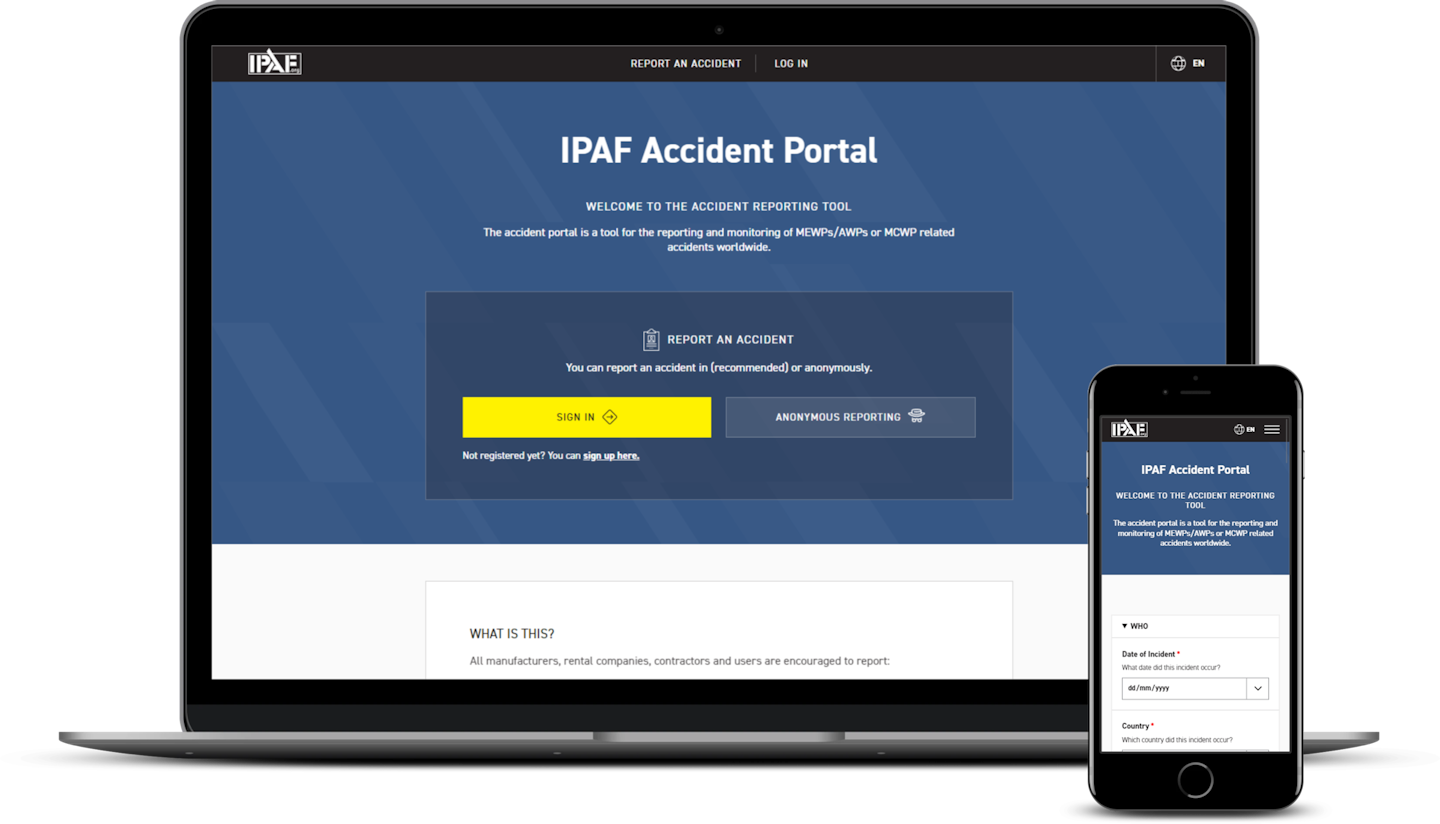 The new report also looks at the location of reported incidents. This indicates two things: The greater overall usage of MEWPs operated on controlled work sites or rental company premises means there is proportionally a higher number of serious incidents and fatalities when MEWPs are operated in areas such as alongside roads or in public places. This aligns with the messages in IPAF's Street Smart safety campaign, which highlights the heightened risk involved in working near highways, rail tracks, and public places and outlines key measures to mitigate them.   
It is worth noting that incident reporting culture seems to be a standard operating procedure in a factory or warehouse, on a construction site or on equipment rental premises, but perhaps is not so important wherever MEWPs are being used away from controlled and regulated environments.  
This provides additional incentive for IPAF and its members to gather as much data from across the whole spectrum of MEWP usage to help formulate safety campaigns, tailor training and best practices guidance to mitigate heightened risks, and reduce the number of incidents occurring away from controlled sites, such as in tree care or alongside highways for ad-hoc maintenance.   
A final point to consider is that around three-quarters of the data in this report has been supplied by IPAF members. Therefore, it bears the potential to be skewed by the areas or sectors that IPAF's members most typically operate in. This underlines why IPAF needs the help of everyone in the powered access industry, whether members or not, in order to engage with the reporting project and help improve the available data.   
All people, including users and owners of MEWPs, are encouraged to report incidents involving MEWPs, mast-climbing work platforms (MCWPs), lifts, and hoists. Specific details such as names, precise location, and machine brand are not required to report an incident. To ensure objectivity, all identifying information is automatically redacted prior to analysis. This project does not apportion blame or responsibility.  
Reporting is available in multiple languages. Users can sign in to the IPAF portal or report anonymously with one click. Anyone who is aware of an incident that should have been reported, but wasn't is urged to go to www.ipaf.org/accident to report it now.