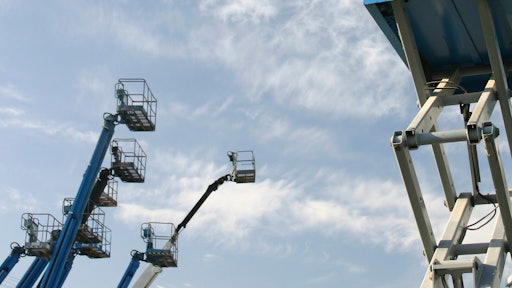 iStock
Technology can make our lives easier and evolve how companies do business. Of course, it can be hard to predict what will take off next and what will fiddle away.
Matt Fearon, president of Terex AWP and Genie, gave his predictions of three new technologies he believes will take off in the aerial lift industry while speaking at the Access, Lifts and Handlers (ALH) Conference & Awards in San Diego on September 12-13, 2019.
"I'm not going to say I have a crystal ball about where the aerial industry is going to go," said Fearon. "But most of the technologies I'm going to talk about are in place in some form right now."
After 25 years of working in the rental industry, Fearon said he has seen various changes in the way the new generation of rental company owners approach the business. He said the new generation has a different expectation for speed than he grew up with.
He explained that their approach to information is just so much faster, and he believes they expect that from everyone else in the industry.
"They are going to expect it from us as OEMs, they are going to expect it from rental companies and safety experts in the industry. The speed has changed so we are going to have to change with that," Fearon said. Fearon also noted that there aren't enough service mechanics to take care of the growing number of fleets. The new generation of mechanics no longer wants to approach those machines the same way either.
"So, we have to use technology to solve those problems, and I think we can," said Fearon.
He predicts that people will soon be able to see new technologies going into machines to make them better, and jobsite productivity will also get better.
The industry will simply have to use technology to help bridge and balance the new production and service requirements.
 Here are three new technologies Fearon believes will grow and change the aerial industry.
1. Everything is going electric
Electric drive is nothing new, but incorporating electric drive has been a slow, expensive process.
Over the years there has been an ever-increasing number of electric models being introduced that fill a growing demand for sustainable solutions in emissions-sensitive and indoor applications.
Electrified power has been adopted by some because it's a good solution for zero emissions and lower noise. Plus, with the growth of technology around the world, especially in China, the price of going electric has steadily gone down.
Fearon said his company has been looking at electric drive for a long time and finally the cost of electric motors, electric controllers and gear boxes have started to decline.  
"The time is right for electric, and you're going to see it in the next few years," Fearon said. "It's just going to move through the industry.
2. Lithium batteries are lasting longer
Right behind electric, Fearon believes are lithium batteries.
Battery packs are a high-cost maintenance for fleet rental companies, said Fearon. So, he has found lithium batteries to be a better alternative to traditional lead acid batteries.  
He explained that they last longer, charge quicker and the battery life lasts longer so companies won't have to replace them as often.
Fearon acknowledged that there are still some obstacles to working with lithium batteries. But he feels hopeful about their future in the industry.  
"I think lithium batteries will come forward. There are still some battery management issues that need to be worked out, but I think our industry is big enough to support batteries that are right for our industry," said Fearon.
3. Hybrid technology is beginning to outperform diesel power
Hybrid models offer an alternative to full diesel power. So Fearon believes that hybrid models will become a better option as the market starts to demand more environmentally friendly equipment.
Hybrid scissor lifts typically refer to equipment powered by battery and electric options. This means that since lifts are often indoors, these hybrid options eliminate many environmental concerns diesel and gas create like fumes and noise.
Diesel engine technology only continues to grow in cost and complexity with new emission standards. And hybrid technology simply isn't as difficult to work with as diesel.
Not only that, it is beginning to outperform diesel technology as well. Fearon said hybrid technology has good battery management and traction control with processors.
Whether Fearon's predictions become true or not, there's no denying these technologies are already gathering pace. Electric power, lithium batteries and hybrid technology are all products that have slowly been adopted to meet evolving needs and expectations, and they don't show signs of stopping anytime soon.  
Companies in this article