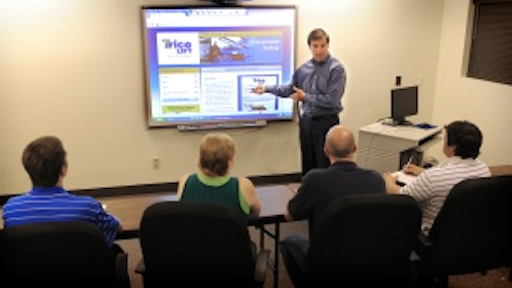 Both general training on safe aerial-lift operation and then familiarizing operators with specific models of machines they will be using have to be taken very seriously. Steve Phillips, vice president for safety at New-Jersey-based aerial work platform (AWP) provider Trico Lift, says these two distinct steps can be a matter of life or death.
"Many lift accidents are caused by lack of proper training and/or familiarization," says Phillips, a credentialed trainer and former manager of safety programs for Halliburton/KBR. He insists there are 11 common operator errors that raise AWP risk:
Top 10+1 Lift-Operator Errors
Assuming different models and brands of lifts operate the same
Failure to use required fall protection
Not conducting a thorough pre-use inspection and function test
Failure to maintain safe clearance around overhead power lines
Not conducting a thorough job-site inspection
Using platform mid rail and top rail to gain additional height or reach
Driving the machine elevated when it's possible to lower it
Not using ground guides
Not securing the work area to prevent other people or objects from entering the area
Placing the platform in an unsafe position – below falling objects, other elevated equipment, etc.
Filling platforms with excess tools and materials, creating a tripping hazard for occupants, falling hazards for people below and overloading the machine, which increases the risk of tipping.
Phillips explains that ANSI/SIA A92 standards require two kinds of training. All aerial-lift operators must receive general training on the type of AWP equipment to be used. Instructions should include the inspection, application and recognition and avoidance of hazards associated with that equipment. Plus, each operator must be familiarized with the specific machine model he or she will be operating.
What constitutes general training and what should be covered in familiarization are outlined in the AWP industry's new Statement of Best Practices of General Training and Familiarization for Aerial Work Platform Equipment. Phillips co-authored the document.
"In the new guidelines, we compiled information which clarifies accountabilities for the safe operation of aerial lifts including operator and end user responsibilities. We've also detailed the American National Standards Institute or ANSI and OSHA requirements governing aerial work platform safety," says Phillips. "It offers a clear differentiation between training and familiarization and that's information all users need to know."
Download a PDF copy of the Statement of Best Practices at www.tricolift.com or contact Phillips at (800) Go-Trico [(800) 468-7426] or sphillips@tricolift.com to get a free hard copy.