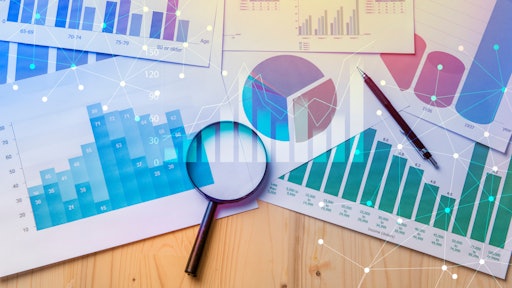 stock.adobe.com - tonefotografia
In 2022, the US MEWP rental market boomed to exceed pre-pandemic levels, though some key indicators such as rental and utilization rates have yet to return to levels seen in 2019. Uncertainty around inflation and energy prices, as well as persistent supply chain issues and the ongoing conflict in Ukraine cloud the outlook slightly for 2023 to 24, according to the latest analysis conducted for the International Powered Access Federation (IPAF) by Ducker.
2022 was a year of rapid growth in the U.S.; with both the wider economy and construction activity at elevated levels, most main indicators returned to pre-pandemic levels or even exceeded them, the 2023 IPAF Rental Market Report indicates.
MEWP rental revenue reached a record high, a direct consequence of the country's rapid market growth, rising by 15 percent to reach U.S. $13.6 billion. Total fleet size expanded, while rental companies were able to increase rental rates by an average of five percent in 2022. Utilization rates increased to an all-time high of 73 percent, though these are expected to fall back once supply chain issues abate.
Rental market value grew 15 percent year on year and is expected to remain at these elevated levels over the next two years, owing to the U.S.'s continuing strong economy. Rental revenue increased as a result of rental companies increasing rental rates and expanding fleet size in line with increasing demand in the market. Demand is expected to remain high, though revenue growth is expected to slow down over the next few years owing mainly to decreasing demand.
Cross hire grew slightly in 2022, owing to growing demand and continuing delays in the fulfilment of orders for new MEWP machines. Whereas in many countries in Europe, Chinese manufacturers have stepped into the breach where long lead times and delays to OEM fulfilment have stifled fleet growth, restrictions in the form of tariffs have meant this has not been a viable alternative in the U.S. As in Europe, some companies have enjoyed the increased fleet flexibility offered by cross hire.
Overall, the U.S. total fleet size increased by around ten percent across 2022, adding more than 70,000 units to the country's estimated total MEWP fleet. The U.S. fleet is forecast to continue growing in 2023, sustaining record years of growth. Wherever
possible, MEWP rental companies expanded their fleet in 2022, owing to peaks in demand. The total number of units in the U.S. MEWP fleet is expected to reach almost 850,000 units by the end of 2023.
By way of comparison, the European fleet stood at a total of approximately 340,000 units at the end of 2022. In 2022, on the back of the strongest growth out of the 10 European countries under study, France maintained its position as having the largest MEWP rental fleet, exceeding 67,000 units after growing by approximately 5,000 units. Second in terms of size was the German fleet, at close to 62,500 units, followed closely by the UK fleet, at almost 60,000 units (low-level access units excluded).
Within the total U.S. fleet, all MEWP categories saw similar increases in 2022, with the exception of particularly robust growth rates reported for spider/tracked lifts, owing to their versatility and suitability for use in tight spaces or on rough terrain. Spider lifts are increasingly used in forestry, gardening, painting, and industrial cleaning. Overall fleet mix remained broadly the same as in previous years and is expected to remain relatively unchanged in years to come.
Average revenue per MEWP unit rose by five per cent in 2022, exceeding pre-pandemic levels, despite rental companies increasing their fleets, following increased demand in the market. After a sudden drop in 2020 at the height of the pandemic, average rental revenue partially recovered in 2021. As rental companies expect to be able to further increase rental rates and, amid ongoing levels of demand, they expect it to drive up average revenue per unit by three per cent in 2023.
With unprecedented market demand and both inflation and MEWP purchase prices rising, rental companies were forced to substantially increase rental rates in most European countries, leading to an average rise of around 4 percent in 2022. Only the Nordic region experienced challenges, owing mainly to consolidation activity, increasing already fierce market competition, which suppressed rental rate growth.
Euan Youdale, Editor of Access International magazine, writes in his expert commentary: "The U.S. economy is strong, as is demand for access equipment. One thing getting in the way of this is lead times on new equipment, with companies still reporting record backlogs. Despite indications they may be improving through the work carried out to optimize production and relationships with suppliers, it may take the rest of this year or longer to iron these out."
The American Rental Association (ARA) strikes a word of caution. Following 2022's vibrant equipment rental markets across the U.S. and Canada, the construction and industrial industries should prepare for limited revenue and growth this year, according to expert economists who provided an updated outlook during the 2023 ARA Show.
"There's no joy coming out of the housing market," said Scott Hazelton, director, S&P Global Market Intelligence. "We're not out of the woods yet."
While the IIJA infrastructure bill, introduced in 2021, is set to inject up to £1.2 billion into related projects, its impact will not fully be felt until 2024 and even then, the industry will only see 1.9 percent growth for construction and industrial rental. Peak spending related to IIJA work will not surface until 2025.
Despite these ripples, the long-term market in the U.S. looks incredibly positive. Following JLG's 2022 full year results, parent company Oshkosh's president and CEO John Pfeifer said demand remains "very strong" for JLG products and is being driven by "strong utilization rates, elevated fleet ages and the large number of mega projects underway across the United States".
The percentage of access equipment in rental fleets deployed in mega projects defined as projects with a value of $400 million or more has more than doubled over historical levels. Ashtead is increasing its capital investment this fiscal year to U.S. $3.5 to $3.7 billion, slightly ahead of its previous guidance and will further accelerate its 2023-24 investment to between $4 billion and $4.4 billion.
The U.S. MEWP rental market remains oriented towards construction applications and exhibits around a 75:25 ratio between construction and nonconstruction end uses, which has remained largely unchanged since 2015 and is expected to remain so over the next few years. Both construction and non-construction subsectors experienced a healthy level of activity in 2022. While commercial remains by far the strongest construction market, in nonconstruction sub-sectors, warehouse activities and wind energy were reported to be experiencing the strongest growth in end-use demand.
After a significant increase in 2021, MEWP rental companies were able to further increase investment in 2022. The growth of investment highlights companies' intent to develop their fleets and keep up with growing user demand. An additional increase in the amount of investment is expected in 2023, despite equipment price rises, also reflecting higher rates of fleet renewal/MEWP replacement.
In terms of ongoing market consolidation, Youdale references "a major acquisition in the U.S. this year was that of Ahern Rentals by United Rentals. A commonly held view is that, while this was no doubt perfect timing for owner Don Ahern to sell the business he had built over decades, it was also an opportunity for United Rentals to add much needed equipment to its fleet. Indeed, the need for more kit has become a primary reason for acquisitions, rather than the traditional desire to move into new geographical locations or build market share."
Chinese manufacturers were affected considerably by the tariffs imposed last year by the U.S. Government on MEWPs made in China entering the U.S. However, this has not stopped them from seeking business in the country and looking at ways around the issue. A solution being adopted by some of those manufacture is building factories in Mexico, where labor is less expensive. It must be noted that Mexico has also been identified as a more cost-effective solution by North America-based manufacturers, which have set up major facilities in the country.
MEWP fleet size in the U.S. grew by 10 percent, as rental companies resumed increasing fleet size in a bid to cap utilization rates from further rises. Utilization rates rose to 73 percent on average, previously unseen levels in the U.S. market. Despite lead times improving on new OEM MEWPs, rental companies reported backlogs persisting in 2022-23.
Average payback period of MEWPs remained steady in 2022, after previously declining by around nine months, reflecting the quite high utilization rate for rental equipment in the U.S., which largely returned to prepandemic levels over the course of 2022.
Meanwhile, the average retention period increased by six months in 2022, to stand at five years and eight months on average, compared to five years and two months in 2021. Lead times on the delivery of new equipment recovered slightly, but backlogs remain, meaning the retention period is likely to stay at similar levels until OEM lead times return to pre-pandemic levels. Restrictions on the importation of Chinese-made machines, in the form of tariffs, reduced the supply into the U.S. market even further.
Another issue in the U.S., pointed out by Italian spider lift manufacturer CTE Lift, which is seeking to expand its sales in North America, is rising interest rates, a factor being experienced around much of the world, combined with the direct extra cost of power, and borrowing rates. This has had a particularly detrimental effect on smaller "mom & pop" rental companies, which do not have the financial reserves or the backing of larger companies.
Exhibitions continue to demonstrate their value post the Covid pandemic. The 2023 edition of ConExpo-Con/Agg was confirmed as a resounding success. Along with the collocated fluid power, power transmission and motion control IFPE show, a record breaking 139,000 visitors were registered through the gate at the Las Vegas showground.