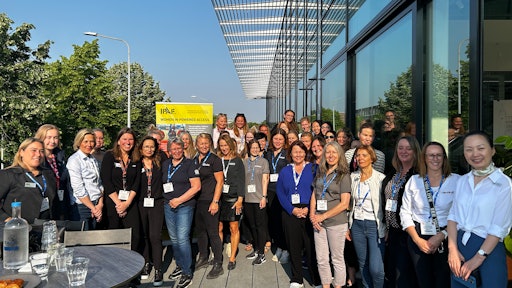 IPAF
Since 2022, and the inauguration of Finland's Karin Nars as the International Powered Access Federation's (IPAF) first female president, the federation has been celebrating the contributions of women and highlighting the rewarding career paths that are open to all through its Women in Powered Access initiative.
"We cannot afford to exclude anybody from the conversation surrounding safety in our industry," says Nars, who also serves as managing director at Dinolift.
After becoming the first woman to be named IPAF president, Nars set out a clear priority to bring more women into powered access as part of a wider drive to improve the sector's diversity.
Already suffering a skills shortage, the powered access and wider construction industries desperately need to attract a wider pool of candidates as well as do everything to retain those already in it. IPAF's Women in Powered Access initiative was launched in May 2022 both to celebrate the contributions of women in the sector and to highlight the career pathways available.
The initiative's goals
The initiative has four main goals:
Celebrate and raise awareness of equality, diversity and inclusion (EDI) initiatives, as well as diverse individuals across the industry
Raise awareness of women in powered access and their roles
Provide EDI support including materials, guidance and signposting
Promote the wider industry to attract more women and diverse candidates
After 18 months, the focus has been on raising visibility of women by publishing their career stories on the IPAF website and sharing them via social media (see panel).
"It seems like a small thing, but it's important to make women visible and feel they can also belong," says Nars. "We know there are incredibly passionate and professional women in the powered access industry, and we want to make them visible so they can act as role models for women of all ages to join our industry and see that there are lots of opportunities. We also want to show different paths to start a career in access and how that can develop into something meaningful."
For the year ahead, the focus is on promoting the industry to young people, presenting to schools and colleges, as well as the new IAPA EDI Award, and developing EDI support materials for the industry.
A mentorship scheme is potentially in the pipeline and a LinkedIn group is already established.
Also, a well-attended women-only breakfast event was held during the APEX 2023 event in Maastricht, Netherlands, in June.
To ensure that words lead to actions, IPAF is targeting 40 percent female speakers at its five main events this year, including keynote speakers, and also aiming for 30 percent of the attendees to be women.
Nars acknowledges that quotas can be a divisive move.
"But, as long as we have such a huge gap between men and women in this industry, we need quotas, because it might be the only way for a person to get in," she argues.
For her, it's not a box-ticking exercise, but about promoting inclusive working cultures and better leadership.
"Everyone should feel like they belong, that they are listened to, that they are making a contribution," Nars says. "That's also how you make a woman feel comfortable in an industry where she might not, at first sight, feel that she belongs."
Companies need to be thinking about inclusivity across the entire recruitment process, from the language and pictures used in media to the interview process, and then retaining those women.
"It doesn't help if you have policies around diversity, equality and inclusion if you're not then showing that you are actually living those policies in your actions," Nars says.
Nars ultimately hopes to make changes that ignite a long-term shift toward a more inclusive future.
"I want to make sustainable change and show that diversity and inclusion should be on everyone's agenda, because it makes our companies perform better. We make better decisions in diverse teams, and we make fewer mistakes, because we are able to see things from different angles," she adds. "It's not about excluding someone or promoting one group instead of another. It is about including everyone, improving work cultures and making a positive impact on safety in our industry."
Women at height: Five career stories
Charlotte Brogren, Chief Technology Officer, Alimak Group, Sweden
IPAF: How did you come into the industry?
Charlotte Brogren: I have worked in R&D and innovation management since I graduated with a Ph.D. in the 1990s.
After 15 years in the automation and robotics industry, I was thrilled to take the opportunity of becoming the chief technology officer of Alimak Group to be part of driving change, innovation and digital technologies for our sector.
IPAF: What attracted you to it?
Brogren: It's all about people, and working with experienced colleagues, customers and suppliers with enormous know-how, with new talents bringing in new perspectives and technologies. Together we can develop new solutions, improving productivity and working conditions while minimizing the effect on the environment.
IPAF: What advice would you give to women in or thinking of entering the industry?
Brogren: First, you must believe in and have a passion for what you do. Second, make sure you have a manager who believes in you and gives you opportunities to grow. Then the sky is the limit!
El Ioannou, Operations Manager, Mr Plant Hire, U.K.
IPAF: What is your role in powered access?
Ioannou: My role is to ensure we are working to and maintaining the IPAF Rental+ certification. The department has 23 members of staff; my role is to support the manager and guide him through the regulations and legislation.
IPAF: What do you find inspiring about your role?
Ioannou: Making a positive change in the industry. Not only working in London servicing some incredible sites, including hospitals during the pandemic, but also becoming chair of the IPAF Rental+ committee in 2022.
Standardizing safety and excellence in our industry is the goal, U.K. and worldwid and helping my colleagues develop in their own careers. Nothing is more satisfying than seeing someone grow.
IPAF: What's one piece of advice would you give to other women in/thinking of entering the industry?
Ioannou: Never let your gender get in the way of your ambitions. When you believe in yourself, others will believe in you.
Marzia Giusto, Managing Director, Loxam, Italy
IPAF: How did you come into this industry and what attracted you to it?
Giusto: In the beginning, I was joining the family business, and then I became fascinated by the need for adaptability to the different dynamics that arise, the need to have a high aptitude for problem-solving. Relationships with customers, employees, suppliers and colleagues are a fundamental part of this business.
IPAF: What do you find inspiring about your role?
Giusto: The possibility to continually improve the way we do business (there is always room for improvement). It is very important to be able to make a difference and to make a contribution to safety for workers in the lifting world.
IPAF: What advice would you give to women in or thinking of entering the industry?
Giusto: Jump into this business; it will fascinate you. There are no obstacles and no barriers to what you can achieve; it depends only on you!
Catherine McCreedy, Apprentice Engineer, Speedy Powered Access, U.K.
IPAF: How did you come into this industry and what attracted you to it?
McCreedy: It sounded like a challenge, and I like a challenge!
IPAF: What do you find inspiring in your role?
McCreedy: There are so many opportunities out there and I feel that I can amount to anything — the opportunities are endless.
IPAF: Where do you see yourself in five years? What do you want to achieve?
McCreedy: My goal is to be a competent, qualified engineer, working in a job I enjoy.
IPAF: What advice would you give to women in or thinking of entering the industry?
McCreedy: You can do anything if you stay focused and work hard. Mainly I would say try and enjoy it!
Anna Sara Costa Morais, Training Instructor, Mills, Brazil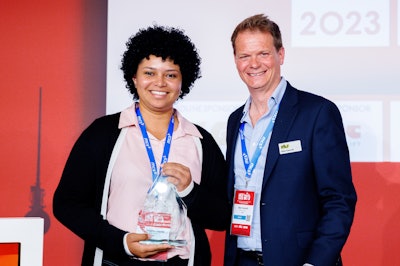 IPAF: How did you come into this industry and what attracted you to it?
Costa Morai: I had the opportunity to work at Mills, which here in Brazil, is a well-known business in the MEWP rental and training sector.
I embraced this opportunity as the perfect professional development project, to specialize more and more in safe methods of operation of MEWPs to work at height.
IPAF: Where do you see yourself in five years? What do you want to achieve?
Costa Morai: I see myself in a few years to still be in the continual learning process. More and more new technologies keep arising to benefit safe operation, and I want to continue to learn and to share my knowledge.
IPAF: What advice would you give to women in or thinking of entering the industry?
Costa Morai: I have increasingly been keen to identify and encourage other women who want to specialize in MEWP operations. This demonstrates that there are opportunities for women to develop our skills.
Difficulties still exist, but our perception, resilience and plurality only add value to work teams, allowing us to dream big and to go far!