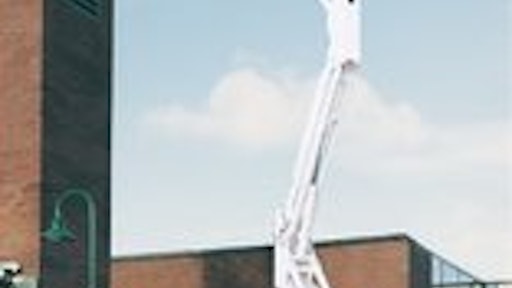 AB46 Articulated Boom Lift
The updated AB46 articulated, self-propelled boom is offered as an electric two-wheel-drive or diesel-powered four-wheel-drive version.
52-ft. 9-in. working height and 24-ft. 7-in. outreach, with a 5-ft. 140° jib
Multi-functioning boom operation via two separate pumps
1-ft. 11-in. inside turning radius
Improvements include a stronger jib weldment, traditional pinion and swing bearing, Helac rotary platform actuator, fully proportional controls and electric emergency lowering unit
Snorkel
LiftPod
The LiftPod combines the portability of a ladder with the stability of a work platform.
Enclosed platform with a work tray and a 14-ft. working height
Can be transported between work sites in a truck, and around the work site on wheels
Each of the three modules weighs about 50 lbs. and can be assembled in less than 30 seconds
Elevation controlled by a battery-operated drill or optional battery pack
JLG Industries, Inc.
S-80 and S-85 Telescopic Booms
The redesigned S-80 and S-85 feature a virtual pivot boom design that keeps the weight of the boom over the chassis' center of gravity as it elevates.
Eliminates need for extra counterweight and reduces overall weight
Improved control system with boom angle sensors
Shotgun-style cylinder boom assembly replaced with a single cylinder and sequencing cable system
Active oscillating axle provides better traction in rough terrain
Fixed-width axle allows for an 8-ft. 2-in. total width
Genie Industries
SJ 61T/SJ 66T Boom Lifts
The SJ 61T/SJ 66T offer greater terrainability utilizing the axle-based four-wheel-drive system, which features a "Detroit Locker" type rear differential and limited-slip front differential.
Intuitive direction sensing drive and steer control system and 45

° steering angle deliver a very tight turning radius

65-hp Deutz diesel engine

Features include 50% gradeability, an oscillating axle, 360

° turret rotation and

proportional controls

Optional 3.5-kW generator and welder-ready package
Skyjack
TL37 and TL49K
The UpRight TL37 and TL49K trailers are articulated boom lifts featuring 43- and 55-ft. working heights.
Lightweight TL37 features a stable, in-line boom and hydraulic outriggers, jib and powered cage rotation as standard
TL49K offers a robust, heavy-duty boom and a variety of power options, including bi-energy
Designed for simple repair and maintenance
UpRight USA
UniLift Boom Lifts
The UniLift battery-powered, trailer-mounted boom lifts feature working heights up to 42 ft. with 360° effective coverage.
Telescopic and articulated models available
Enable quick conversion for use as a universal crane
Power jack setup option allows for quick, easy outrigger setup
Built-in charger with automatic shut-off
Unit weights less than 3,000 lbs. enable towing behind a pickup truck and easy maneuvering in and out of tight areas
LDC Industries, Inc.
X-Booms
The self-propelled 36XT telescopic boom and 45XA articulating boom provide 45% gradeability, 3.5-mph drive speed and four-wheel-drive capability.
Hydraulic outriggers allow setup in less than 30 seconds
4,900-lb. 36XT offers a 43-ft. working height and 32-ft. maximum outreach
4,580-lb. 45XA provides a 51-ft. working height and 27-ft. maximum outreach
No CDL required for towing
Bil-Jax, Inc.