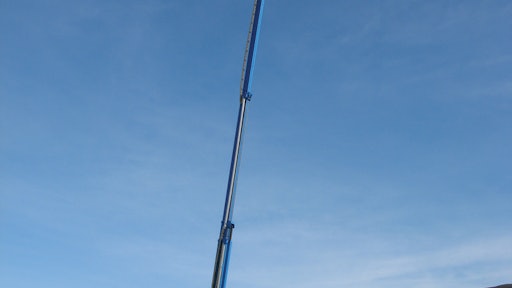 Members of the press were recently invited to visit Terex Aerial Platforms (AWP) at its Redmond and Moses Lake, WA facilities to get a sneak peak at Genie's new 69-inch bi-energy (BE) hybrid rough-terrain, electric scissor lift series, officially planned for unveiling at the Rental Show in Orlando, February 10. Also during their visit, press members were awarded the rivilege of being some of the first to experience the full extension of Genie's new SX-180 Super Boom. The SX-180 was officially launched at Bauma in April and went into production in mid-January.
Hybrid scissors expand versatility
The next evolution of the current Genie 69-inch RT and DC scissor lift series, the new Genie BE69 models offer exceptional jobsite versatility, says Mark Powell, scissors product manager, Terex Aerial Work Platforms (AWP). They are the first rough-terrain, high-performance electric scissor lifts with an onboard integrated generator to charge the batteries and supply power to the platform and chassis. The new Genie GS-2669, GS-3369 and GS-4069 BE hybrid scissor lifts will be available in early second quarter in all global markets.
Document: Genie Hybrid Scissor Lifts Specs
"The new Genie hybrid scissor lift is a best in-class series that provides users with a true 'start to finish' machine," said Powell. "In the early stages of construction, the scissor keeps itself charged and can supply full AC power when onsite power is not available. As the jobsite progresses it can switch to hybrid or electric to meet rough terrain or indoor slab environments. This type of versatility ultimately leads to higher utilization for rental companies."
Height and Capacity -- The new bi-energy hybrid scissor lift series is available in 26-, 33- and 40-ft. models. All units provide the ability to drive at full height for jobsite efficiency and uptime. A 5-ft. slide-out deck on all three models provides end users with plenty of room to accomplish what they set out to do.  The simplified 3-4-5 link stack design provides commonality across the entire range to help simplify parts-stocking for fleet owners. The Genie GS-2669 BE hybrid scissor lift provides an unmatched lift capacity of 1,500 lbs to provide end users with the ability to lift more with greater efficiency.
Jobsite Versatility -- The Genie BE scissor lift series features two operating modes. This selectable feature meets the needs of both outdoor jobsites with no onsite power, and indoor jobsites with sensitive noise and emission environments.
When  the power management hybrid operation is selected, the system automates the charging function of the integrated generator, maintaining the battery charge and allowing the operator to focus on getting the job done. All models are also equipped with an onboard charger for wall power charging. A standard feature supplies 120V, 15A power from the integrated generator to the platform and chassis. End users can power additional tools from the scissor without needing onsite power.
Electric Rough Terrain Performance -- The series' AC sealed electric drive motors provide full performance in both operating modes. "Compared to DC motors, these AC motors contain fewer parts and require zero maintenance due to a brushless design," said Powell. "They run cooler and cleaner which translates to longer life and high reliability for internal parts such as wiring, brakes and bearings."
A front active oscillating axle helps  keep all four wheels on the ground during operation providing the end user with more machine control and power when climbing hills and jobsite obstacles.
Non-marking foam-filled rough terrain tires provide the versatility needed to start the job on rough terrain and finish on indoor slab surfaces.
Full swing-out doors and trays provide excellent serviceability access to electronics, manifolds, hydraulics and batteries. A Genie SmartLink control system provides improved troubleshooting and easy aftermarket updates.
SX-180 goes higher than no other 
Breaking through all industry records at 180 ft., the revolutionary new Genie SX-180 self-propelled telescopic boom lift was introduced at the bauma 2013 trade show in Munich, Germany last April, but it wasn't until a few weeks ago that members of the press were allowed to take a ride up in the what is the tallest boom lift on the market. Suited for applications in the oil and gas industries, commercial construction, industrial construction and maintenance, and general maintenance, the SX-180 is designed to be productive, reliable and easy to transport.
"Customers are always looking for new and innovative ways to carry out their work more efficiently and more effectively. In concert with customer input, our engineers have been able to reach new heights for this next generation of Genie telescopic boom lifts," said Scott Krieger, senior product manager, booms and telehandlers, Terex Aerial Work Platforms (AWP). "We have pushed the limits of innovation in the aerial industry by successfully producing results beyond expectations."
The Genie SX-180 is built to safely and quickly lift operators higher than any previously offered self-propelled boom lift. With a 180 ft. vertical reach and 80 ft. horizontal reach, the Genie SX-180 provides a working envelope ideal for the most extreme access jobs. The 8- by 3-ft. platform has an  unrestricted capacity of 750 lbs. The 10-ft., 180-degree, rotating jib positions workers and gear exactly where they are needed.
The machine is designed to be driven at full height. Travel speeds vary based on boom position and range from 2.5 mph with the boom in the stowed position, 0.4 mph below 125 ft. and 0.1 mph above 125 ft.                                                  
The newly designed X-chassis extends and retracts to provide both stability on the job and a narrow profile for transport. The boom lift's stowed dimensions are 10 ft. in height and 8 ft. 2 in. wide. With a stowed length 42 ft. 7 in., the 54,000-lb. machine requires no over width or over height permits, allowing it to be easily transported on a truck. "This X-chassis design is also used on our new Genie ZX-135 articulating boom introduced earlier this year," said Krieger. "This allows our big booms to share many design features providing parts and operating commonality."  
The Genie SX-180 is designed with reliability and serviceability in mind. There's easy access to important systems and components, robust hose and harness routings and access to slew bearing bolts from topside. The rotating jib offers a robust slew bearing and worm drive arrangement. 
New platform controls consist of toggle switches and fully proportional jib and boom controls. The ground controls offer an updated function diagram layout and tactile membrane switches. Customers may choose from either a Deutz or Perkins engine. A 50-gallon fuel tank for longer run time and a 7.5 KW generator are standard equipment. 
According to Frank Schneider, super booms product manager, Terex Aerial Work Platforms (AWP), the SX-180 is a full 30 feet taller than the next tallest self-propelled boom lift. It offers 80 ft. of outreach; 70 ft. at 120 ft. in the air. "This results in an unparalleled range of motion," he said. "And because it only takes four minutes to fully extend the boom, the SX-180 takes no more than 15 minutes to go from trailer to work site."
The commonalities between Genie products means operators can get familiar with the SX-180 quickly. "If an operator is familiar with the S-60, they'll be confident on the 180," Schneider said.