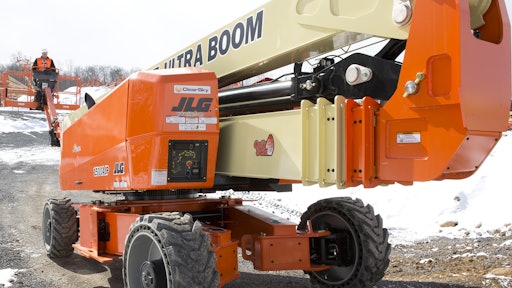 Today's boom lifts can elevate workers and materials from a relatively short height of 10 to 20 ft. to a more astounding elevation of nearly 200 ft. Coupled with choices that include telescopic and articulated booms; power sources that range from electric motors to gasoline or diesel engines and hybrid options; and the ability to operate on rough terrain or smooth surfaces, it can be overwhelming to determine which machine to use for which task.
Contractors typically have a variety of boom lifts offering a mix of features and capabilities, with rental filling any gaps for specific tasks. However, whether you're renting or selecting from models in your fleet, assessing the proficiencies of each unit and asking a few questions about the task can help determine which size and type will best fit a particular application.
A good place to start is to assess features related to size, such as the required lift/reach.
"Are you working 10 to 20 ft. in the air inside a building, or are you working 150 to 180 ft. in the air on a bridge or stadium?" asks Corey Raymo, global category director, JLG Industries. "Boom lifts come in a variety of heights to 185 ft. so there are a lot of choices."
Knowing how far and where you need to reach will influence boom type. "For jobs that demand long reach or high capacity, telescopic booms should be your first choice," says Adam Hailey, Genie product manager, Terex AWP. "For jobs that are in difficult to reach, tight spaces, articulated booms will be your best bet."
Articulated booms provide the ability to reach up and out. "If you are working on the side of a building, a straight (telescoping) boom will be just fine," Raymo notes. "But if you need to work on the top of a warehouse or to reach into a building, an articulated boom will be needed."
Jobsite Influences
Jobsite conditions play a role when matching a boom lift to an application.
"Knowing any specific restrictions to a jobsite — such as emissions, terrain, hostile environments — can help determine any features or options that may be required," says Hailey. "Available configurations like hybrid power, 4x4 drive with active oscillating axles and hostile environment packages mean that nearly any job can be accessed safely and efficiently when the right equipment is provided."
Whether the job is indoors or outdoors can determine if a unit with a gas or diesel engine, electric motor or a combination of both is the best solution.
"Depending on the jobsite, there may be restrictions that limit what machine is acceptable or not," says Corey Connolly, product manager, Skyjack. "Indoor applications may prohibit the use of engine-powered machines, and thus require the use of an electric or hybrid lift."
That said, the availability of power on site can affect equipment needs, particularly as it relates to electric booms. "If you have an electric machine that needs to be charged, and there is no power on site yet, you'll need a generator or a combustion or hybrid machine," Raymo notes.
Size and weight restrictions further influence lift selection. "It will have an impact on which models can be safely used on the job," says Matthew Elvin, CEO, Snorkel. "For example, on an indoor project with restricted floor loadings, the only option may be a lightweight electric articulated boom, such as the Snorkel A38E."
Note that total weight goes beyond the machine. "When you consider capacity requirements, don't forget to include the weight of personnel, materials and tools," Connolly advises.
Also consider the dimensions of the work area. Pay attention to any entryway/access restrictions that can affect machine dimensions, such as height and width.
"If you're working in tight quarters, such as inside a warehouse or between buildings, you might want to choose a more compact machine," says Raymo. "Our compact crawler units have booms and outriggers on the chassis that fold in. You can go above 80 ft., but still fit through a doorway."
Terrain becomes an issue in outdoor applications. "On a rough-terrain outdoor site, a boom lift with four-wheel drive and high-grip tires would be required," says Elvin. "The terrain also often has an impact on the size of booms available, as machines suitable for indoor use tend to reach up to 40 ft., whereas a diesel boom with rough-terrain capabilities can reach up to 185 ft."
Ground conditions factor into the equation when evaluating tire, drivetrain and machine weight requirements/restrictions, says Connolly. Skyjack uses an axle-based drive on all of its 40-, 60- and 80-ft. booms so that driving on more rugged ground conditions is much easier for the operator to navigate.
"If the ground is soft or sandy, a typical boom with standard tires may not do well," notes Raymo. "In these ground conditions, a contractor may want to consider a tracked boom, or one with high-flotation tires that spread out the weight of the boom to improve travel."
Jobsite accessibility and condition can also change as the work progresses. "Versatile machines can sometimes mean a significant advantage in getting work done efficiently and cost effectively," says Hailey.
"On a jobsite that may require significant work on unimproved surfaces at the onset, and then work on a flat level slab in an enclosed area for later stages, multiple machines would typically be used," he comments. "Most booms in the 45- to 85-ft. range offer significant performance on rough and uneven terrain and would be able to access nearly any area around an early jobsite. For work done in enclosed areas, electric machines will be able to work efficiently with limited exhaust or noise emission."
Lifts such as the Genie Z-60/37FE articulated boom offer both of these capabilities in a single unit. "It offers two machines in one package for indoor and outdoor applications," says Hailey, "combining the benefits of advanced diesel power, four-wheel-drive performance and low-weight, electric power."
Enhance Safety and Ease of Use
Sometimes, how high or how far you need to reach to get to a work area is only half the equation.
"On many jobsites around the world, how you will get the machine to the working area is a consideration in and of itself," says Hailey. "Many features, like the extending Genie X-Chassis design, zero tailswing or variable steering modes mean that even the largest machines can dexterously maneuver and work around tight jobsites or in confined spaces."
Connolly notes that accessories can make jobs easier and safer to complete. For example, Skyjack offers a range of Accessoryzers — factory warrantied and tested accessories and attachments — that improve machine performance and allow work to be undertaken more efficiently.
Elvin agrees, adding that Snorkel offers power-to-platform outlets that remove the need for external power leads that can be a hazard on the jobsite. New boom lifts, such as the 660SJ, are fitted with power-to-platform outlets as standard.
Features and accessories that improve jobsite safety are critically important, as well, says Raymo. He cites JLG's SkyGuard control panel protection system, which stops and temporarily reverses most functions that were in use at the time the system is activated. "It's basically a sensing system that serves as a secondary guarding system to help avoid entrapment," he explains.
Snorkel offers Snorkel Guard as standard for booms with working heights above 40 ft. The spring-loaded rail cuts out the machine operation if the operator is involuntarily pressed against the platform controls.
"Safety is a key consideration when selecting equipment," says Elvin. "There are a number of safety devices available to provide additional levels of protection for operators."
Reliability and ease of operation are also important. "A machine that is constantly down or is too complex to service and operate leads to unwanted downtime and associated costs," says Connolly.
While safety features and accessories are important, Hailey says it's critical to develop a detailed plan for the application. "When selecting the equipment for any job, a detailed plan of how the work is going to be done in a safe and efficient manner should always be the first step," he emphasizes. "This includes understanding the hazards and restrictions that may be present on a site, as well as any obstacles that may make normal access difficult.
"Understanding where a working area will be accessed from — how far to reach out, up, over or down — as well as what tools will be needed to do the work can help further refine the machine selection," he adds. "A solid plan coupled with the right gear is the best path to completing the job safely and on time."
Criteria for Working at Extreme Heights
Special considerations must be given when working at or near the maximum heights available with today's boom lifts.
"You need to be extra careful when working at extreme heights," says Raymo. "Tasks are a little more difficult, and any little movement from the machine below translates into a bigger movement above."
Smooth control is essential. "You don't want any fast movements, or your boom to jerk around," says Raymo.
"When you are that high in the air, operator confidence and comfort become important," he continues. Part of this is ensuring relevant information about machine operation is relayed to the operator. "Clear error messages, clear machine statuses, etc., let the operator know what is going on with the machine, which translates to added confidence. Our larger booms come standard with an LCD panel that provides more text information... to let the operator know where he is in the work envelope."
There are also added dimensions associated with extreme reach capability. "The higher you need to reach, the bigger and heavier the lift gets when compared to machines used for lower heights," says Connolly. "The impact of these specifications needs to be taken into consideration when evaluating the size of the jobsite and the surroundings of the machine, e.g., structures, other equipment, hazards, etc."
Elvin agrees, noting, "Larger booms tend to weigh more and have a larger footprint, requiring additional logistics planning on site. Additionally, as with all booms, contractors should consider any work area obstacles, such as overhead obstructions. For working at extreme heights, it also becomes very important to evaluate the distance between the operator and the work area, as many larger booms have restricted working envelopes."
To maximize productivity, Hailey recommends evaluating the speed and capacity of the lift. "Jobs done at extreme height need special consideration when determining how to accomplish the work in as safe and productive a manner as possible," he says. "When it is necessary to regularly go up and down to retrieve tools or materials, the speed and capacity of a machine really make a difference."
Hailey points out that the Genie SX-180 Super Boom has a 750-lb. capacity throughout its full working envelope, and can cycle from ground to full height in under four minutes. It can also be driven at full height and features a rotating jib for positioning workers and gear.
The ability to achieve such fast cycle times is important. "If you have to go up to 185 ft., it can take a while to get there," Raymo comments. "[JLG's] biggest unit can cycle in four to five minutes. If a machine is 50% slower than that and takes 10 minutes, that can be a significant loss in productivity."
Companies in this article