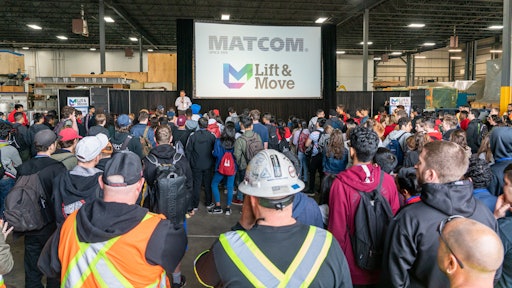 Matcom
On May 30th, 2019, Matcom hosted Lift & Move, a career fair dedicated to inspiring students across Ontario to pursue careers in the trades. The event was hosted in Matcom's facility in Vaughan, Ontario, and provided students with a comprehensive outline of career opportunities in the crane, rigging and specialized transport industries. By hosting Lift & Move in partnership with the Crane Rental Association of Ontario and Anderson Haulage, Matcom hoped to provide students with all the information necessary to start a lucrative and fulfilling career in our industry.
Lift & Move USA Sets 2019 Career Exploration Events
During this full-day event, over 200 students from 12 high schools and colleges across Ontario circulated through 10 career stations that showcased a variety of different trades work such as welding, rigging, project management and heavy hauling. Each station demonstrated the necessary skills of a particular trade, discussed its compensation and described its necessity to the Canadian economy. This allowed students to understand the full spectrum of positions available in the trades and enabled them to experience a day in the life of trades workers.

From 9:00am-2:00pm, students were given the opportunity to speak with dozens of industry professionals about the benefits of blue-collar work. Students engaged with over 20 local businesses, entered contests, won prizes and used state-of-the-art industry simulators to replicate trades like welding and trucking.

By hosting Lift & Move, Matcom hopes to resurrect the forgotten trades. As an industrial solutions company, Matcom is fueled by tradespeople. A decline in the number of students pursuing careers in the trades prompted Matcom to join forces with Life & Move to create a comprehensive event that outlined career opportunities in the trades. Not only did the event serve to recruit students into trades positions but also to raise awareness surrounding the need for trade workers in Canada. As the host of the first ever Lift & Move event north of the United States, Matcom is paving the way for the future of the trades in Canada.

"Popular shows like 'How It's Made,' represent only a small part of the industrial sector. It's time to show the next generation of workers how the industrial machines they were watching were installed in factories. With the help of Lift & Move, Matcom and its partners will deliver a peek inside the world of rigging, heavy hauling and cranes. Students will learn that this industry is the backbone of the industrial sector, and how these services impact their daily lives," said Matthew Rix, President of Matcom.
Events like Lift & Move bring clarity to the next generation about the trades industry and help to explain how such jobs are exciting, rewarding, and noble.