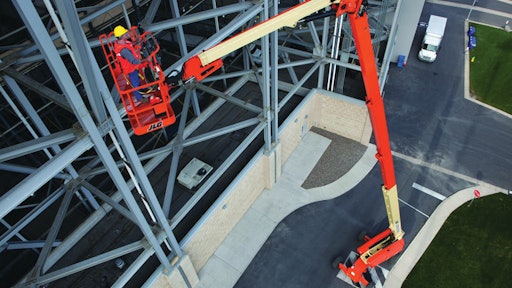 Hagerstown, MD - JLG Industries, Inc., an Oshkosh Corporation company and a leading manufacturer of aerial work platforms and telescopic material handlers, announced that Popular Science magazine included the 1500SJ boom lift among the top 100 innovations in its Best of What's New 2011 list, in the engineering category.
"We are honored to be named to this list, which demonstrates the originality and innovative design incorporated into this product," said Jeff Ford, JLG Industries product director. "The 1500SJ is the first straight boom lift that can take workers up to 150 feet that requires only a weight permit for transport, providing an expansive work area at high elevations."
The 1500SJ has the capacity to handle up to 1,000-pound loads, and a 25-foot telescoping jib adds extra horizontal and vertical reach. In addition, the lift has three steering modes and exceptional terrainability, making it ideal for general contractors, glaziers, window cleaners, welders and more.
The 24th Annual Best of What's New award comprised 12 categories. Industry experts in each category, along with Popular Science editors, evaluated each product for the significance of its innovation, the quality of its design and the final product, its originality and the product's scope and ambition. Winners were listed in the December issue of Popular Science, and also appeared on the website www.popsci.com/bown/2011.
Companies in this article